Planning for Rural America's Economic Future
In Pottawattamie County, the agricultural sector is proving that innovative regional strategies can start anywhere.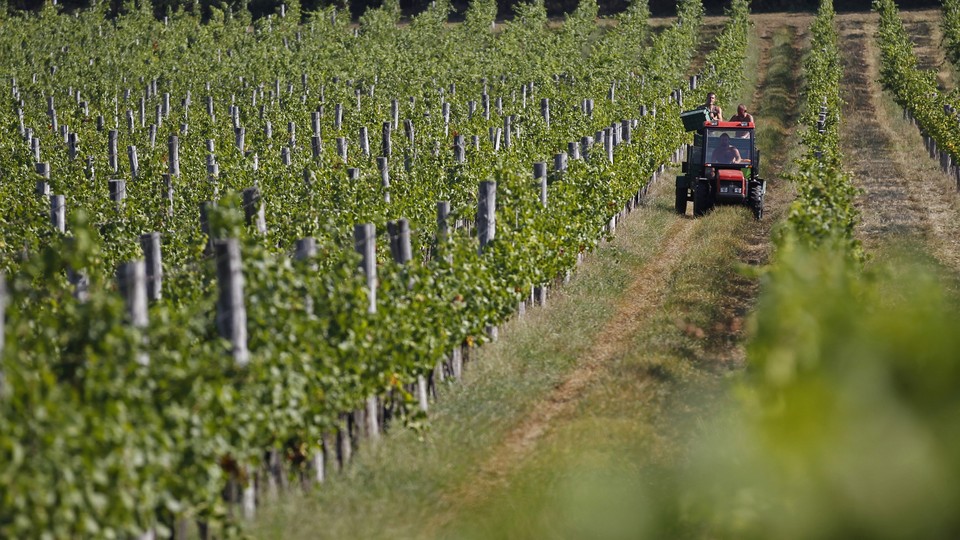 Pottawattamie County, Iowa, is not the first place one would necessarily think to look for examples of innovative regional economic development. The county is home to just under 100,000 residents (not counting chickens) and thousands of acres of farmland. For years, the main local crops were corn and soybeans. It's not the kind of place one envisions as a hub in a diverse regional economy that reaches into nearby Nebraska.
And yet, in the last several years, the county has become just that. Pottawattamie County has collaborated with towns and cities beyond its borders to boost the reach of its local farmers and to foster a different kind of agricultural sector that grows fruits and vegetables for its own residents to buy and eat. It has worked to train the next generation of farmers and to help existing farms with small-business coaching. Now, the county even collaborates with nearby Omaha, Nebraska, to help attract and keep corporations in the region instead of engaging in an economic border war across state lines, a development that too often plagues regional economic development.
The end goal, as the National Association of Counties writes, is for Pottawattamie and its partners to "successfully [combine] their economic efforts with the hope of together forging a stronger economic region than either could create independently."
The first seeds of this effort were planted around 2005 and 2006 when a handful of longtime farmers formed a group to think through the future of farming in southwest Iowa. Denise O'Brien, owner of Rolling Acres Farm, was among them. (She grows fruits and vegetables on her farm, with 10 acres currently in production.) "We brought everyone together to talk about how much money was going out of our area," she remembers. "What if that money stayed?"
Part of the strategy to keep money in-state was to shift the type of farming that southwest Iowans engaged in from large industrialized farms to smaller operations that grew food that local people could eat. From this initial series of meetings was born the Southwest Iowa Food and Farm Initiative. The group has grown to a roster of more than 50 farmers, O'Brien says, with a smattering of local food-policy councils.
Known as SWIFFI, the group does both education and outreach. It has helped traditional farmers develop their business savvy through workshops and coaching. The nonprofit has set up local farmers' markets and CSAs ("community-supported agriculture" networks) throughout its corner of the state to connect residents to local farmers. For a while, it even identified and mentored aspiring farmers, and trained roughly 50 young people in farming with the hope that they'd remain in rural Iowa.
Now, the group tries to help farmers sell produce and connect with nearby restaurants, schools, and hospitals. In doing so, it has created a new market for locally grown food at a time when "eat local" is all the rage. "Even though Iowa is an agricultural state, a lot of it is commodity crops," says Lance Brisbois, project coordinator at the Golden Hills Resource Conservation & Development, the nonprofit that runs SWIFFI. "If you want to buy local produce, it is hard unless you know a farmer. If you go to a grocery store, you're buying produce from California and South America."
SWIFFI aims to change that equation. "We are seeing the results of this. Chefs want to take our food, and we're taking our produce in today for community-supported agriculture," O'Brien says by phone from her barn. "SWIFFI helped to build the infrastructure to be able to market" in nearby areas, including Omaha, a 45-minute drive from Pottawattamie County.
More recently, starting in 2014, Pottawattamie County and southwest Iowa began to think about collaborating more closely with Omaha to boost the local economy. For years, the two regions had competed with tax breaks and various other incentives to lure company headquarters from one state to the other. But since so many people in Southwest Iowa work in Omaha and vice-versa, it made sense to begin to work collaboratively. "The new word is 'cooperation,'" says Melvyn Houser, the Pottawattamie County supervisor. "You're still fighting for your own piece [economically], but you understand that there's an advantage to your neighbor also winning the war."
One regional group called the Western Iowa Development Association helped to foster this collaboration. This group works with a number of diverse communities throughout Iowa (some as small as 1,600 residents) to ensure that the region builds a good economic future.
One early success story involved a local company called Lone Mountain Truck Leasing Company that originally had offices in both Iowa and Nebraska. The company wanted to consolidate its operations, says Lori Holste, executive director of the Western Iowa Development Association, so she and her colleagues in Omaha worked together to keep the company local. Lone Mountain Truck Leasing Company ended up in Carter Lake, Iowa, with 64 jobs in total. The state of Iowa gained about 50 new jobs in the process; Holste considers it a win for the region since all of the jobs stayed in the general vicinity. "I think part of the success is building a strong relationship with accountability," Holste says. "It has happened the opposite way, too, with companies going to Nebraska."
It makes sense for Pottawattamie County to work with nearby counties and Omaha to both expand the reach of its local farmers as well as bolster its own economic development prospects. And in doing so, the county has created new markets for fresh fruits and veggies, and new jobs for county residents; that's a much different economic portrait for a rural county once just rooted in corn and soybeans.