Beyond the Chief Sustainability Officer
Companies are full of roles—big and small—that should be charged with thinking about the environmental and human costs of doing business.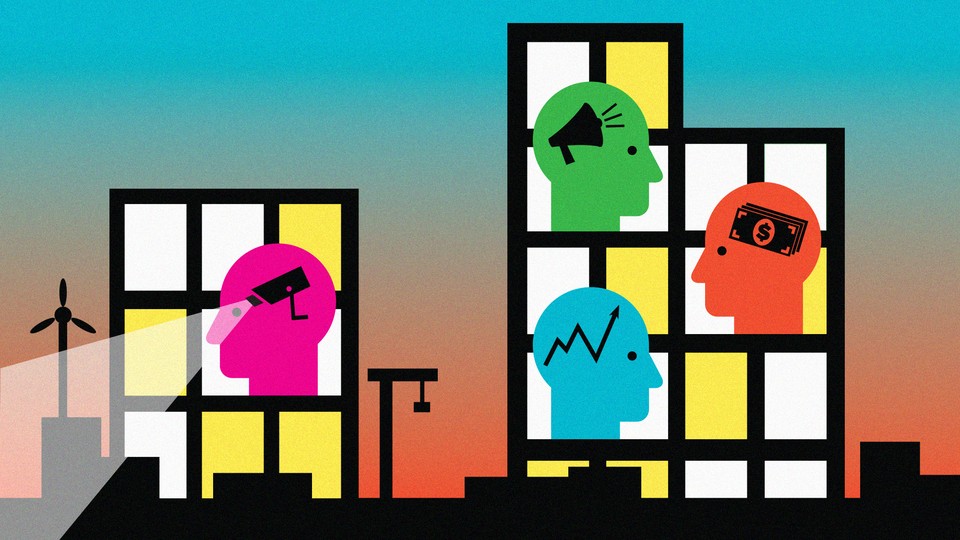 So far in this series, I've explored the potential of chief sustainability officers, lawyers, human-resources departments, product designers, supply chain managers, and chief executives to drive a company towards more responsible and sustainable practices. There are other roles that deserve discussion as they also have the potential to drive change. In this, the penultimate post of the series, I look at a few.
1. Chief Financial Officers
One obvious place to look to see who drives positive change in a company is the man or woman who holds the purse strings: the chief financial officer. As Verizon's CFO Fran Shammo recently told strategy+business, "We're there to make sure that [the CEO and other business leaders] see the full picture, and the direction we're going is right."
Yet, in my all my time in the field of corporate social responsibility, I've never heard of a CFO who was leading the charge toward more sustainable practices. Nina Gardner, a lecturer at Johns Hopkins who has researched the role of CFOs in driving sustainability, told me this might be changing: "CFOs are starting to see how sustainability affects the risk and resiliency of the company, which requires long-term thinking."
2. Compliance Officers
The compliance function in a company sets the rules for what employees can and cannot do. Serving as the corporate police hardly sounds inspiring, but just as some supply-chain managers are attempting to move beyond just checking whether rules are followed, some compliance officers are also trying to be more proactive.
Cynthia Cetani, a chief compliance officer for the pharma giant Novartis, began developing a system to track company payments to physicians in 2005, well before the Physician Payments Sunshine Act was signed into law in 2010. Perhaps she saw a hint of the regulation that was to come—indeed, she told me that Novartis had "a competitive advantage when that law was ultimately passed because we already had a system in place." Regardless, Cetani's ability to increase transparency and accountability shows the potential of compliance to drive positive change.
3. Marketing Executives
If compliance has an eye on the outside world to see what legislators might demand, marketers are focused on a different external constituency: the consumer. Ryan Eckel, vice president for brand at the retailer Dick's Sporting Goods, told me that marketers "have always reported in on what the customer is thinking. But what's changed is that customers want their companies to do good—it's table stakes these days."
His company kicked off a program to match donations to underfunded youth sports teams, largely driven by an internal desire to find a cause for employees to rally around. But the tearjerker ads they ran to promote the campaign were a surprise success, winning a prestigious Clio Award and other accolades in the ultra-competitive category of sports ads, and testing "higher than any spot that we've ever done before," Eckel said. "That gives us more confidence to keep going." This summer they'll launch the next phase of the program, which Eckel said will be a "significant partnership with a significant financial commitment that we wouldn't have been able to do beforehand."
Is this truly transformative? Perhaps not: Dick's Sporting Goods doesn't appear to be run in a dramatically different way from its competitors. But $25 million to youth sports teams, and the company's recent commitment to hiring Olympic athletes to give them employment with the flexibility that they need to train, is far from insignificant.
4. Strategists and Futurists
While marketers steer a company to where consumers want to go, strategists and so-called "futurists" are meant to steer a company toward, well, where the world might go. Sheryl Connelly is chief futurist for Ford Motor Company, studying trends ranging from aging populations to concerns about water scarcity. (Disclosure: I was recently paid by Ford to keynote a conference at the University of Michigan Ross Business School and speak at Ford headquarters.) Of course her job is to help Ford react to those trends, but she told me that she's careful not to prescribe to her colleagues what that reaction should look like:
The trends team started in early 2000 and I joined in 2004. In the early years, we felt a compulsion to be relevant and helpful, with the best of intentions. But if I would go into a design team I'd say, "Here are the trends, here are the implications, here are the opportunities; let me tell you now how to design a better car." They'd go, "Where did you go to design school?"

So somewhere along the way a very deliberate decision was made never to talk about cars. Now if I want to talk to you about aging I'll say, "Let me show you what cellphones are doing. Let me show you what the government of Japan has done. Let's talk about how the travel industry is responding." Now you're much more likely to collaborate with me. I'm not stepping on anyone's toes and it just becomes a springboard for ideation.
With regard to aging population, Connelly cited examples of features that benefit older drivers as well as car buyers and safety more broadly, such as cameras that show the driver what's behind the vehicle and adaptive cruise control (which reacts to a car in front slowing down even before the driver registers the change).
5. Directors
Executives like Connelly can help their companies focus on what might prove critical to the company and society in the future. This is also the role of what some consider the most powerful corporate branch of all: the board of directors.
Mark Moody-Stuart is a former managing director at Shell who has served on a number of boards, including Anglo American and Saudi Aramco. He told me about serving on the board at HSBC, which he did from 2001 to 2010:
HSBC had the proud claim that it was the first bank to be in its own operations carbon-neutral, by buying offsets and so on. I used to tease them: I'd say, "Listen. It doesn't amount to a row of beans, your operations; don't compare yourself with a fossil-fuel company. You have an influence, but the influence is not in your own operations. It's through the Equator Principles [a set of environmental and social standards that banks commit to applying to certain kinds of client projects and loans]. What are we doing with the Equator Principles?"

HSBC is a strong supporter of the Equator Principles. They took it very seriously. But that's the influence of a bank. You have to be careful that you're focusing on the things which really make a difference.
With all of the corporate roles that we've explored in this series, what lessons can we derive about who really drives change? We'll discuss in our last post in this series, later this week.