New York City's Public-Housing Crisis
Many of the city's enormous low-income residences are in need of millions and millions of dollars of repair work. Why are they still standing at all?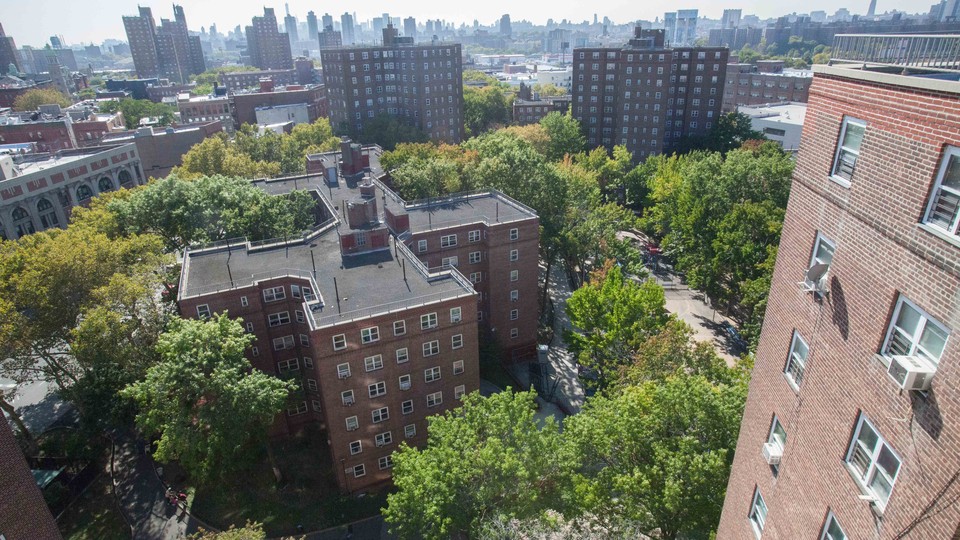 For a long time, many American cities housed their poorest residents in giant public housing towers that had little going for them except for the fact they were affordable. Crime was rampant and indiscriminate, drugs were everywhere, and children who grew up in housing projects often had little access to educational opportunities that would allow them to live a better life than their parents did. Perhaps the most illustrative story of the horror of the housing projects was that of Dantrell Davis, the seven-year-old boy shot to death on his way to school one morning in the Cabrini Green project in Chicago.
Many of these projects are now gone. The HOPE VI program, developed by Congress and the Department of Housing and Urban Development in the 1990s, sought to dismantle huge problem projects and replace them with single and multi-family homes. Families received vouchers as the projects were torn down, allowing them to move to other neighborhoods, in a process that policymakers hoped would decentralize poverty. The Richard Allen Homes in Philadelphia, Cabrini Green in Chicago, the Techwood Housing Project in Atlanta, and dozens of others are now gone, replaced by smaller-scale housing developments.
Not so in New York City. Walk around virtually any neighborhood in New York, and you'll see a handful of brick high-rise buildings, usually clustered around a small green space. Many are in need of dramatic investment: There's Castle Hill Houses in the Bronx, which has 5,000 residents and needs $23 million of immediate repairs, according to The New York Times. Baruch Houses, the largest project in Manhattan, located on the Lower East Side, needs $241.9 million in repairs over the next five years.
Still, when Mayor Bill de Blasio today unveiled his plan for New York's troubled housing authority, NYCHA, dismantling these aging towers was not a piece of it. The plan calls for charging more for parking, redeploying staff to other agencies to save costs and leasing land within the housing complexes to private developers to save money. As I've written before, studies have shown that residents of poor neighborhoods who are given the opportunity to move to higher-income areas or even mixed-income areas have better outcomes than those who remain in areas of concentrated poverty. HOPE VI might still be controversial among urban planners, but it's hard to argue that decentralizing poverty from dilapidated high-rises was a bad idea. So why does New York City still have so many high-rise housing projects?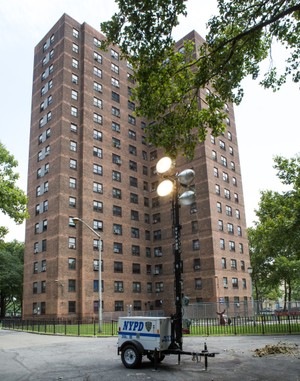 For one thing, NYCHA is a much bigger entity than any other public-housing authority in the country, which allowed it to escape some of the regulatory mandates in other cities, said Susan Popkin, a fellow with the Urban Institute who has written extensively on public housing. For another, just about everybody in New York lives in dense housing. So it's hard to argue that poor people are being discriminated against by being relegated to high-rises. And some housing projects are located in some of the wealthiest areas in Manhattan, which gives public housing residents a chance to access some of the same services as wealthier New Yorkers, such as schools (assuming that wealthier New Yorkers send their kids to public schools).
"NYCHA just didn't have the same level of isolation as other cities—they didn't have a Cabrini Green," Popkin told me.
New York did receive three HOPE VI grants and built high-density, mixed-income units with them. But compared to other cities, this money was a pittance, nowhere near enough to transform the city's public housing. The $88 million New York received for the projects, was just a fraction of NYCHA's budget. The Boston Housing Authority, by contrast, has received $157 million for HOPE VI projects. To put those numbers in context, today NYCHA's budget is around $2.6 billion, the Boston Housing Authority's budget is $300 million.
What's more, real estate in New York City is so ridiculously expensive that there would be no way to affordably create enough public housing if the city were to tear down the high-rises.
But now New York City is in a bind. It didn't have to tear down its high-rises under HOPE VI. But it also didn't receive federal funding to improve its public housing, as HOPE VI recipients did (in the first decade of the program, the government dispersed $5 billion through HOPE VI). Now, NYCHA is left trying to figure out how to maintain decades-old buildings and reduce the number of people on the waiting list for public housing, all as federal funding for public housing continues to drop.
Popkin, with the Urban Institute, worries that this means that certain high rises in New York's public-housing system are becoming as bad as the worst projects initially targeted in HOPE VI. Brownsville, in Brooklyn, is now the largest concentration of public housing in the country, for example. Brownsville also has the lowest median household income in New York City. In many other areas of the country, an area of one square mile of public housing would not be allowed to exist anymore. In New York, it still does, even as violence worsens and gangs take over. And the city doesn't have the funds to change that, let alone improve other public housing buildings.
"Right now, they're just in an impossible financial situation. Unless there is some serious investment, I worry that it's just going to continue to get worse," Popkin told me. "I worry about places like Brownsville."