New Balance Bought Its Own Commuter Rail Station
Instead of asking the cash-strapped public-transit system to add a stop, the company simply paid for one itself.
BOSTON—If you were in a generous mood, you might call the public transportation system here troubled. Otherwise, you'd call it an ancient, broke, disorganized, mess. The MBTA owes $9 billion in debt. Trains are old. They often can't run in the snow, which is problematic in a city that got 109 inches last winter.
Still, the city of Boston is growing as Millennials and Boomers alike look for walkable, dense places to live. Boston needs more transit, but the state can't help much: Governor Charlie Baker has proposed cutting $26 million from the state Department of Transportation and $14 million of MBTA funding.
So when athletic company New Balance decided to expand its headquarters and build retail, a hotel, a track, and skating rink in one Boston neighborhood not served by public transit, it didn't wait for the city to agree to build new train stations or add bus routes, which could have taken years. Instead, it decided to build a commuter rail station itself.
Today, the company is breaking ground on the new Boston Landing station, starting a process that will add another stop on the commuter rail line between Boston and Worcester by the fall of 2016. New Balance is paying to build the station, which will cost between $14 million and $16 million, and will then pay for its maintenance costs for at least the first decade after the station opens.
The cost of the station is a relatively small piece of the $500 million, 15-acre real estate development planned by NB Development Corporation, a real estate company owned by New Balance. But the partnership between the company and the state, whose transportation officials supervised and approved the design of the station, is significant.
New Balance has its roots in the Boston area. As the company grew from six people making 30 pairs of shoes a day to the 5,000 it now employs globally, it expanded into real estate, said Matt LeBretton, a company spokesman.
The company is outgrowing its current headquarters, and is nearly finished with the first big piece of its Boston Landing project: A new, 225,000-square-foot building that slightly resembles a hightop sneaker. The company hopes to move into the new building in September. It plans to open a ice skating rink that will serve as a practice facility for the Boston Bruins by September of 2016, alongside a 190,000-square-foot office building which NB Development Corporation will lease out to other tenants. The company also plans to build an apartment complex with 275 units, a track and field complex and a boutique hotel. Along the way, it will add 80,000 square feet of retail, which will include a New Balance experience store.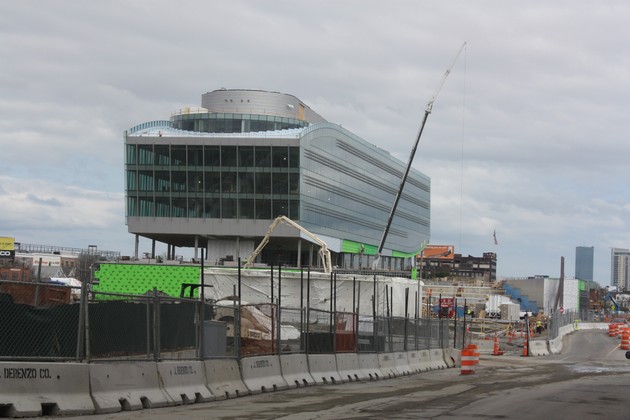 New Balance wasn't always on the hook for the transit station. Indeed, when it floated the idea of building a hotel, track and field arena, and hockey rink by its current offices, residents complained about the lack of transit in the area.
"We need a commuter rail station. The MBTA does not want to talk about this. At all," wrote Tom Crowley, a blogger for Allston Brighton Newsflash, in a March 2012 post about the New Balance plans. "The state is going to get a lot of revenue from this development. Some of it needs be used to build a better transit system, here."
By May, the Massachusetts Department of Transportation and New Balance had co-signed a Letter of Intent that stated that New Balance would pay for the permitting, design, and construction of the new commuter rail stop.
As cities and states continue to struggle with budget issues, experts say that the practice of private companies working with public entities on transit and transportation projects will—for better or for worse—become more common. Already in Boston, Harvard University and Boston University had agreed to help fund a separate commuter rail station, though BU pulled out, as the Boston Globe reported earlier this year.
"The idea for moving to these partnerships—is that you start to truly balance between risks and rewards and not have the public sector on the hook for all of the design, building, operating, and maintaining things into the future," said Robert Puentes, a senior fellow with the Brooking Institution's Metropolitan Policy Program, where he has studied public-private partnerships for infrastructure projects.
Public-private partnerships for infrastructure are common in Asia and other regions of the world: Tokyo's railways and Metro system are privatized, for instance, and a light-rail line in Ottawa is being built by a private company in partnership with the government. But such partnerships are less common in the U.S., in part because there has often been public money set aside for such projects. When there's not, a strong tax-free municipal-bond market provides incentives for states and cities to borrow money and build on their own.
The concept of governments building transit is, in some ways, un-American, Puentes says. The government uses taxpayer money to build a rail line or a highway, which then increases the property values of private homes and businesses nearby, putting money into the pockets of landowners who didn't have to spend a penny making their real estate more valuable. Early infrastructure investments in the U.S. were made by private companies, including some New York City subway lines. But as the federal government started to put more and more money into roads and highways, private companies took a step back.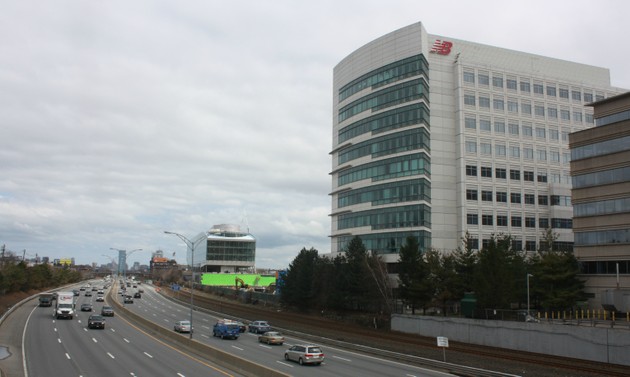 Today, though, the government simply can't afford to build transit. Funding for the National Highway Trust Fund, for example, is set to expire May 31 unless Congress takes action. Bridges and roads across the U.S. are crumbling, and the nation's public-transit infrastructure received a grade of "D" from the American Society for Civil Engineers.
Luckily, the private sector can afford to build transit. And doing so is becoming a more attractive proposition as Americans move back into urban cores and demand walkable, transit-oriented development.
"People are demanding better and more access to public transit, driving up the real estate value," Puentes said. "It becomes much more attractive to the private sector, to make these kind of investments."
To be sure, the recent history of public-private partnerships for transit in the U.S. hasn't been a rosy one. In 2009, the city of Chicago signed a $1.2 billion, 75-year deal that leased its 36,000 parking meters to a private company backed by Morgan Stanley. Soon, parking rates increased to $8 for two hours in certain areas. The city realized that because it hadn't properly vetted the deal, it was locked into a contract that stipulated that it could not build new parking lots for 75 years and that it was responsible for compensating the company every time there was a parade or festival and the meters couldn't be used. The Chicago parking-meter deal is often held up as an example of an unmitigated PPP disaster.
In other instances, it wasn't just the city who lost out on these deals—some private companies lost their shirts as well. For example, the company that built a monorail in Las Vegas as part of a PPP filed for bankruptcy in 2010. The private entity behind the South Bay Expressway, a private 9.2-mile toll road, filed for Chapter 11 in 2010 as well. Last year, the private operator of the Indiana Toll Road also filed for bankruptcy.
But, Puentes pointed out, at least the government isn't posting these losses: If these partnerships are structured the right way, taxpayer dollars aren't being wasted on a project that doesn't work. As more cities and states try these deals and then learn from them, Puentes said, they'll figure out what works and what doesn't. Chicago is now a leader in public-private partnerships, having learned from the parking-meter debacle. Many cities and states are starting to bring people on staff who are familiar in these types of partnerships, and are savvy enough not to get swindled by private companies offering up sweet deals.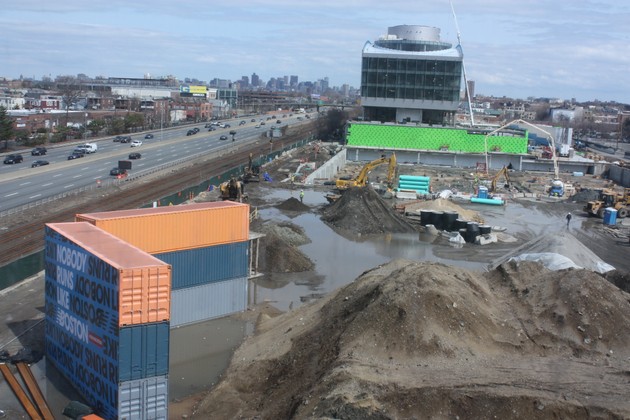 Still, private companies can't yet pay for transit and roads everywhere across the U.S. Only 23 states have legislation that allows public-private partnerships for transportation projects, according to a recent report by the Federal Transit Administration. And many Americans still think that governments are being cheated by partnering with private companies, auctioning valuable resources to the highest bidder.
"The challenge we have is changing the mindset that the public sector is somehow selling off valuable assets," Puentes said.
In Boston, though, response has been largely positive to New Balance's development moves. That could be because people know the pitiful state of the MBTA.
"The MBTA can barely manage what they have—building new stuff is almost impossible," said Ali Carter, the executive director of Brighton Main Streets, a neighborhood-revitalization group. As for New Balance, she said, the company has been proactive, asking for community input about its building plans and making sure the transit station would be accessible for people who could walk from nearby, but that it also wouldn't overload the neighborhood with cars.
"I couldn't imagine having a better multinational corporation to be in your backyard," she told me.
There was some grumbling when New Balance announced that the transit station would open in 2016, rather than 2014, as originally planned. The Boston Globe focused on how public-private partnerships can be delayed without penalties—as opposed to private construction projects, where punitive risk packages are built into the contract so that a company has a financial incentive to finish on time.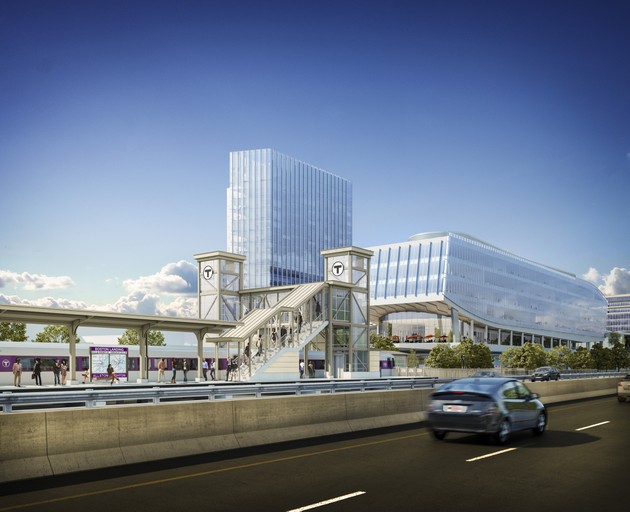 But building a transit station is harder than it sounds, even for a private organization. Though the station will basically be a "structured shelter," LeBretton said, the company had to design a center platform, access points, stairways, and an elevator. It had to figure out signal protections that provide the stopping mechanism for the train. It had to conduct rider surveys to ensure that enough people would use the station to justify the extra five minutes that will be added onto farther commutes, since the train usually just passes through Brighton.
Some commentators have speculated that New Balance is building the transit station because without it, the city of Boston would have vetoed its development plans.
But New Balance insists that isn't the case.
"There was no quid-pro-quo. For us it just makes sense," LeBretton said. "This part of the city is completely underserved from a commuter perspective in dealing with mass-transit."
The development will make New Balance a better place to work, LeBretton said. Employees will be able to take public transit, rather than drive, and they'll have places to eat and drink at night and during the day, as well as a green space where they can lounge outdoors during nicer months. The company envisions a Google-like campus where employees enjoy spending time, but that also welcomes the outside community, which is underserved by retail and transit.
"This is a real-estate deal but not a real-estate deal," he said. "It's about giving back to the community. It's about attracting and keeping a workforce. But really becoming more embedded and doing more in and around our neighborhood."
The company will likely get some tax credits for the project, though LeBretton said those hadn't been ironed out yet. For the time being, it's focusing on getting its new office opened, its ice rink built, and its train station running on time.