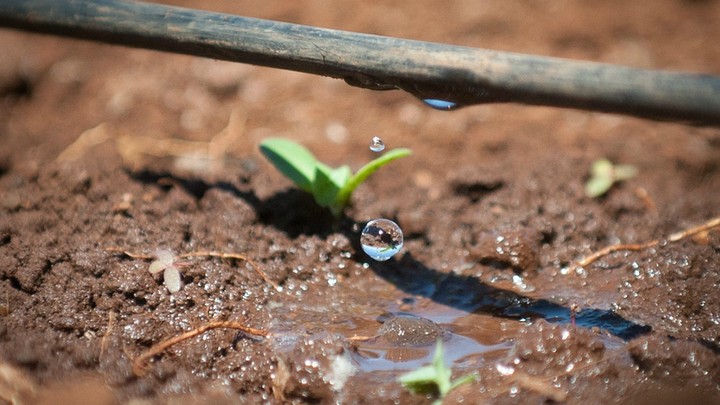 The Israeli farmers who pioneered the revolutionary technology known as drip irrigation weren't trying to solve one of the world's most urgent problems. They were just trying to survive. They lived in the desert, and they didn't have enough water to grow their crops. One day, they met an engineer named Simcha Blass who told them about his amazing new invention.
In its simplest form, it was little more than a hose with holes in it. But behind each hole was a sophisticated little device called a dripper, a sort of button-like valve that emitted just the right amount of water. Snaked along a row of crops so that the holes were positioned directly above the roots, the hose could direct each precious drop of water directly to the plants, growing a bigger bounty while using a fraction of the water.
The farmers decided to start manufacturing these hoses, and over time, they improved upon the technology, perfecting the drippers that regulated the flow of water, and connecting the pipelines to computers that could determine exactly how much water each plant needed and when.
By the late 70s, they understood that they had stumbled upon something big. If the global population kept growing, the rest of the world would increasingly resemble their little community in the desert—a bunch of farmers with barely enough water to grow the crops needed to feed their families. So they began selling their irrigation systems in other parts of the world, eventually expanding to more than 110 countries. Today, their products are helping farmers in India and Africa grow bigger, better crops with less water. The company says it's lifting people out of poverty and conserving water at a time when the importance of doing so has never been clearer.
The company, Netafim, was founded in 1965 on a kibbutz in the Negev Desert in the south of Israel, near Beersheva, and is today based in Tel Aviv. Although the company won't share its profit records, there's no question that Netafim has done very well as the global demand for water has grown increasingly intense. In the last 35 years, Netafim's revenues have climbed from $60 million to more than $750 million, and its workforce has grown from a handful of kibbutzniks to more than 4,000 people on every continent but Antarctica. With a 30 percent market share, it's the leading drip-irrigation company in the world.
Unfortunately for humanity, the natural forces fueling Netafim's success aren't likely to slow down anytime soon. If current population and climate trends continue, vast regions of the world will soon face "potentially devastating consequences for human life and health, business and agriculture, international relations, and the environment," a recent report by McKinsey grimly predicted. In India, the problem is especially bad: By 2050, the country's demand for water could exceed supply by 50 percent, according to a United Nations report.
The mass adoption of drip irrigation won't save the world by itself. To avoid the coming catastrophe, nearly everybody will, in some way, have to "do more with less," as the Netafim slogan goes, perhaps through embracing other novel technologies, like desalination. Otherwise, it's going to get ugly.
Israelis know this as well as anyone. In 1965, the year Netafim was founded, a skirmish broke out between Israeli and Syrian soldiers over a spring in the Golan Heights—one of the few sources of freshwater in the region. Two years later, the fallout from the conflict helped ignite the Six-Day War, during which Israel took control of the region's main water supply.
Palestinians are still suffering the consequences. In Gaza, just 20 miles from the kibbutz where Netafim began, Israel's bombings last summer exacerbated what was already a desperate situation, destroying 30 percent of the territory's water pipes, as well as 23 municipal wells and 500 septic tanks. A recent UN report warned that within the next five years the lack of fresh water will make Gaza uninhabitable. It's precisely the type of disaster that Netafim could help prevent, but the current political reality makes doing so impossible.
In other parts of the world, the impending crisis spells opportunity for Netafim. After the U.S., India is already Netafim's largest market, the lynchpin of its growing empire in the developing world. The company is also expanding its operations in China, Brazil, and throughout sub-Saharan Africa.
"We are working more and more with small farmers, and we are irrigating staple crops, not high value crops," said Naty Barak, the company's director of sustainability.
Gone are the days when drip-irrigation was almost exclusively used to grow expensive niche products like wine grapes and oranges. "We are irrigating maize, sugar cane, potatoes, cassava, soybeans, and corn," Barak said proudly. "I think we are doing more business now in the developing world than the developed world."  
In most parts of the developing world, farmers still get water to their crops by flooding their fields. It's a terribly inefficient process, but it's relatively cheap. Although farmers who convert to drip irrigation usually reap the returns on their investment within a year, the switch requires an outlay of funds that most small farmers in poor countries just can't afford. It's not just the technology that is costly. Operating it takes skill and knowledge. When a farmer busy an irrigation system from Netafim, the company sends its experts to his or her farm to analyze the soil and the water, to recommend a specific model, and to train him or her in its use and care. All that work is reflected in the bill.
In India, a drip irrigation system for a family farm costs around $500, about the same it as costs in Texas or California, never mind that the average Indian earned just $1,140 in 2014.
That's where governments and NGOs come in. The Indian government is subsidizing the shift away from flood irrigation, paying for half of every system purchased from Netafim and its competitors. In Africa, where farmers often tend plots just large enough to feed their families, Netafim relies on NGOs to organize the farmers into larger groups. "You cannot sell to one family here and one family there," said Barak. "Sometimes I sound like I am working for an NGO, but I have to remind myself, 'We are a business.'"
We want to hear what you think about this article. Submit a letter to the editor or write to letters@theatlantic.com.
Saki Knafo is a writer
based
in
New York
. His work has appeared in
The
New York Times Magazine
and
GQ
.