Mexico's Wage-Boosting Experiment
In the Mexican state of Baja California, the government is moving toward subsidizing workers' pay. Could that catch on in America?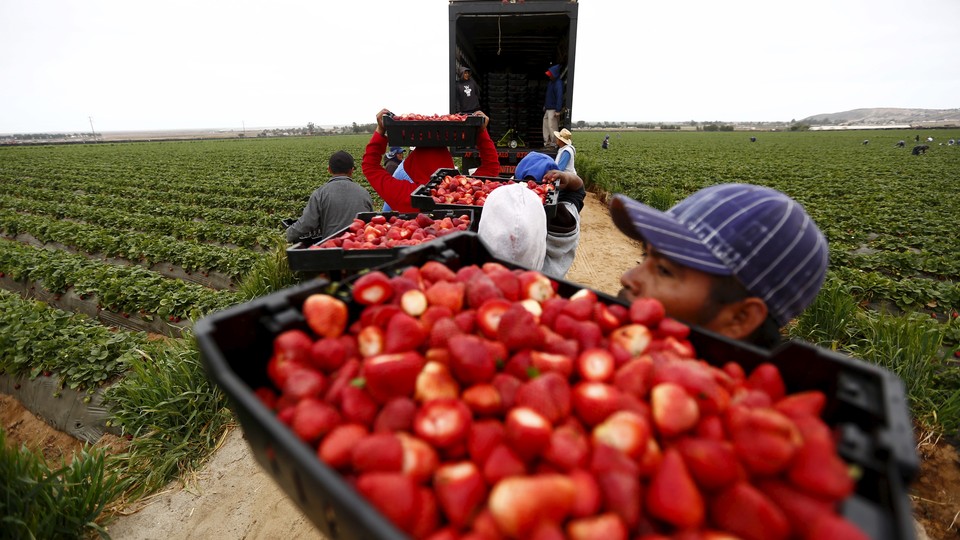 In the U.S., those agitating for better worker compensation have pursued a logical, time-tested path: urging the government to require companies to pay their employees better. So far, this has at the very least made the minimum wage a more salient talking point, and some employers, such as The Gap, Walmart, and McDonald's, have felt pressured to raise theirs by a dollar or so—progress, but not a lot.
In the Mexican state of Baja California, which exports huge amounts of strawberries, cucumbers, and tomatoes to the U.S., labor is taking a different tack that might take some of that pressure off of employers, for better or for worse: The local government is reportedly leaning toward paying a portion of farmworkers' wages, bringing them up to 200 pesos (about $13.30) per day.
The terms of the agreement between farmworkers and the government have yet to be nailed down (for example, how much of the wage increase will be shouldered by government versus industry) but it is refreshing to see a government recognize that significant amounts of workers simply don't make enough money to live comfortably, and to try to do something about it. And wages are only one part of the equation. The agreement would also have the government take pains to make sure workers are receiving the healthcare and social-security benefits they're guaranteed by law, and hopefully would make it rarer for crew bosses to sexually harass female farmworkers.
Having the government step in to fill the gap between reality's wages and livable wages might seem foreign to Americans, but the U.S. government in a sense already does this—just less directly. A recent study from UC Berkeley's Labor Center found that nearly three-quarters of people participating in government programs such as Medicaid and food stamps are in families headed by workers. The authors, calling this a "hidden [cost] of low-wage work in America," estimated that through these programs, taxpayers provide these families with about $150 billion in public support. Additionally, programs such as the Earned Income Tax Credit essentially subsidize the wages of workers whose income is below a certain level.
Shouldn't companies be making up this difference instead of taxpayers? That's how some state legislatures feel. Starting next year, California will publicly name any company that has more than 100 employees on Medicaid. And in Connecticut, state legislators are considering a bill that would require large employers to pay a penalty for each worker on their rolls earning less than $15 an hour.
Ultimately, what the government of Baja California intends to do is improve the situation that workers are in—something, one would hope, that companies start feeling the pressure to do as well.