When Tax Credits Are About More Than Money
A new study finds that the EITC can have emotional and psychological benefits for low-income Americans.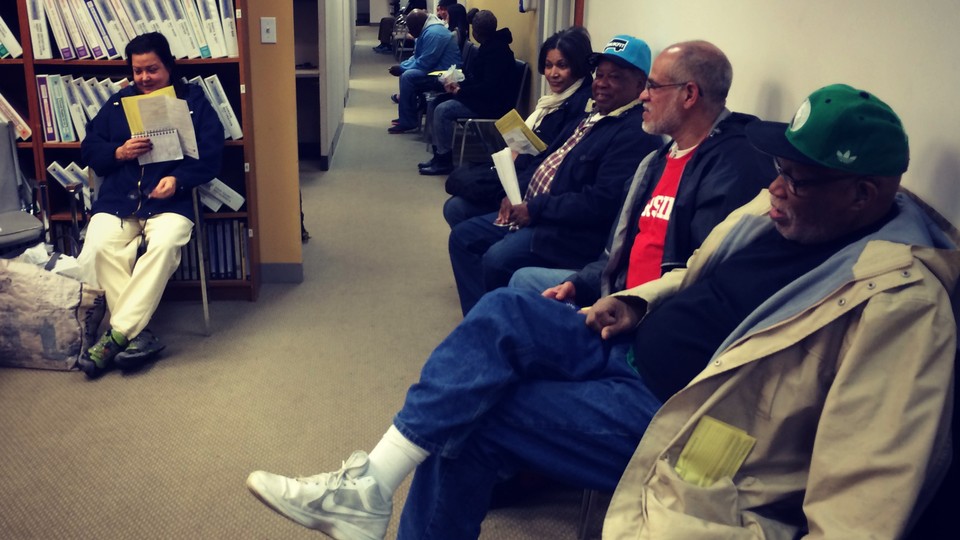 BOSTON—For many Americans, tax season means sorting through reams of paperwork and receipts, only to find out you owe money to Uncle Sam.
But for the dozens of people crowded into chairs lining the hallway of this tax-preparation office, tax season means something else entirely: a rare time when they may have a few extra thousand dollars in their pocket, alongside the emotional lift that can accompany a financial windfall.
The people waiting here at the Roxbury Center for Financial Empowerment will find out, with the help of a cast of volunteer tax preparers, whether they qualify for the Earned Income Tax Credit, a program that makes available $55 billion annually to the working poor.
"I'm going to save it. I want to take a trip, sooner or later, down to see my family in the South," Dorothy O'Neill, a 47-year-old woman who works for an industrial-cleaning company in Boston, told me outside the tax-prep office. She hadn't gotten the tax credit before, but she'd been working for more than a year, and after a friend told her about the tax credit, she'd headed down to the office to check it out. She was waiting to find out how much she'd receive.
The Earned Income Tax Credit began in 1975 and was expanded dramatically in 1993 as part of President Clinton's anti-poverty policy. Put simply, the credit is a subsidy the federal government provides to those who work but earn very little. Single workers with one child can earn up to $38,511 and still be eligible; those who have three or more children and are married can make up to $52,427 and still be eligible. Some workers can receive as much as $6,143 in a single check.
But the EITC can also lead to something more significant than money this tax season—a feeling of social inclusion and citizenship that might otherwise elude them. According to a new study, people who receive the Earned Income Tax Credit, which provides bigger refunds to low-income workers with children, are, for a time, privy to the optimism of the American dream, a sharp contrast to the feelings of stigmatization associated with receiving government benefits.
The Earned Income Tax Credit is, for many, "a just reward for work, an opportunity for upward mobility, and a chance to provide recipients' children with some of their 'wants' and not just their 'needs'," write the authors of the study, "Dignity and Dreams: What the Earned Income Tax Credit Means to Low-Income Families," published in the April issue of American Sociological Review. "This meaning encourages spending patterns that create feelings of social inclusion and citizenship."
The EITC has been found to have a host of benefits—encouraging household heads to work, improving health, and boosting school achievement. In some cases, the EITC can be equivalent to three months' worth of income for filers.
But the EITC also has an intangible effect, say researchers Jennifer Sykes, Katrin Kriz, Kathryn Edin, and Sarah Halpern-Meekin. It allows the working poor to plan for upward mobility. Though they may not be able to spend the refund on the house downpayment or savings bond that they hope to, even the feeling that they could make a big change in their finances is a big mental boost.
To conduct the study, lead author Sykes became a certified tax preparer and talked to low-income workers while helping complete their taxes at a site in Boston. She and her colleagues talked to 115 household heads who received refunds of at least $1,000.
They found that about a quarter of the EITC money was used to pay down debts or pressing bills. About a tenth is used for "treats" or extra consumption, and the rest—nearly 40 percent—of the remaining refund is used to purchase things associated with upward mobility, such as durable goods like a new fridge or a car.
Even the ability to purchase small "treats" around tax time had positive social associations, they found, allowing families to feel included in the same league as Americans who spend on dinner or trips without thinking twice about it.
One mother told the researchers that she can usually provide her children with what they need, but not what they want. With the refund, she was able to take them to T.J. Maxx and let them pick out their own clothes.
"It might have been a couple of dollars more expensive, or it might have been even double the price, but the point was they got what they needed and at the same time they felt like a million bucks. Because they got actually what they wanted. My kids felt like a million dollars," she said.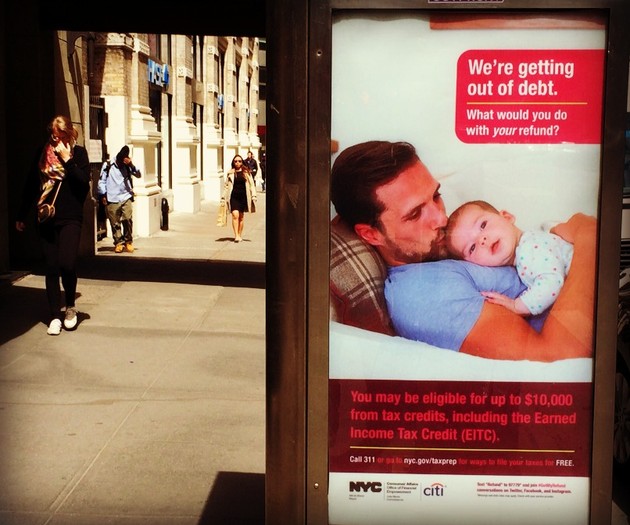 "Just having that money, extra money like that, it's a good thing," another woman told the researchers. "Just going into the store and just basically buying what you like, you know, not necessarily what you need. ... I'm 43 now. What have I done [for myself]? I want to live comfortably!"
The credit can also help working parents feel validated as providers, the authors say.
"Parents associate this sort of spending behavior with being a full participant in U.S. society. These allocations make people feel they are part of the mainstream, instead of just watching from the sidelines," the authors write.
Often, people can't spend their refunds in the ways they'd like because they have bills to pay. But families can still indulge in dreaming about how to spend their money, which has a function in and of itself. For instance, families will dream of saving the money and putting it toward a down payment on a house, even though they end up using the money to pay off bills when the refund arrives.
"It's a complicated story because they have dreams that are perhaps bigger than the EITC dollars allow them to realize," Sykes told me, in an interview. "I think this goes to how powerful the American dream aspirational narrative is."
The ability to indulge spending fantasies also can also lead to feelings of social inclusion because families are able to feel that they're not poor, and that they're consumers just like other Americans.
Furthermore, the EITC is not given out through the welfare office, but rather is earned by people who go to a tax-prep center just like many other Americans. And those who benefit from it receive a check from the government, just like people whose wages were over-withheld. In that way, there's no "scarlet letter" on checks distinguishing those who overpaid from those receiving a "handout," the authors say.
The authors talked to people who had received Temporary Aid to Needy Families, or TANF, and who more recently qualified for the EITC. There was a stark contrast to how they felt about each government program. Past welfare recipients often had to offer an excuse for their time on welfare, and that spending welfare on a special treat like a dinner out was a "moral failing." But spending the EITC on such treats was acceptable, because workers had earned the money.
One of the things that struck me about the EITC was how it made a process that is, for most people, a complicated and stressful headache, with boxes to check and dependents to name, a positive experience for many low-income workers. People can go to a center dedicated to helping low-income people file their taxes for free, and become knowledgeable about how much they earned because they work. Some centers have resources to help people learn how to save that money, too.
"You know when you work the whole year and you know you're going to get a good amount, you're beating down the door" to the tax center, one woman, Fulicia Stevens, told me, at the Roxbury center. "My oldest son, his birthday is in January, so I'm totally depleted by that time of the year."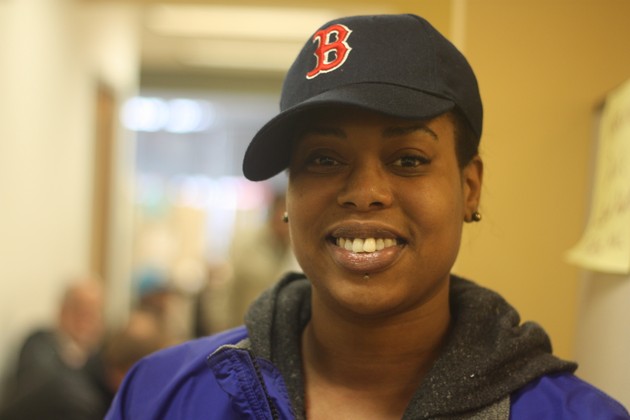 The Earned Income Tax Credit isn't universally embraced by policymakers. The House GOP tax reform introduced last year would have replaced the program with a monthly wage supplement. Twenty-six states have their own EITCs, typically structured as a percentage of the federal credit, but some of those have been cut back in states such as Wisconsin that were facing budget problems after the recession.
And some states—including Massachusetts—are talking about expanding the EITC. Republican governor Charlie Baker recently released a proposal to double the amount of the state credit.
Doing so could put more money back into the hands of the working poor—and could also change their attitudes about what they can achieve, Mimi Turchinetz, the director of the Boston Tax Help Coalition, told me.
The Boston Tax Help Coalition is a partnership of nonprofits, businesses and community groups that seeks to help people maximize the impact of the EITC, and runs the Roxbury office where I met Stevens and O'Neill. In the busy days before tax season, people were everywhere in the office, waiting with paperwork, lined up against the wall, hunched over computers with volunteer tax preparers.
The coalition recently launched a program that recruits low-income clients and helps them manage their finances, improve their credit scores, and save money. It seeks to help low-income people have at least a shot at financial mobility, using their tax refund and other resources to help them achieve some of the aspirations they'd mentioned to the researchers. The program will help people buy savings bonds and put money into twin accounts that will provide a $500 match when people reach a certain savings goal.
"The deck is stacked against poor people. We know that. We do everything that we can do to make sure that folks have the best hand," Turchinetz said.
Fulicia Stevens said she's ready to repair her credit and start saving money. In past years, she'd spent her refund replacing her kids' worn belongings, or buying furniture to replace broken pieces in her house.
But in 2014, she'd gotten laid off after only a few months of work. She didn't think she'd get a refund, but when she went into the Roxbury Center for Financial Empowerment, she found out she'd get $1,600.
She's going to save it any way she can, and she's ready to get back into the workforce, she said, to earn more—and save more. When she found out she was getting a little help from the IRS, she felt that she'd earned a windfall—both financially and emotionally.
"To come here today and see I was going to get something was a wonderful feeling," she told me. "A little bit of help, you know."