Walking Out for a $15 Wage
Protesters mobilized in hundred of cities across the country and the world today to demand higher pay.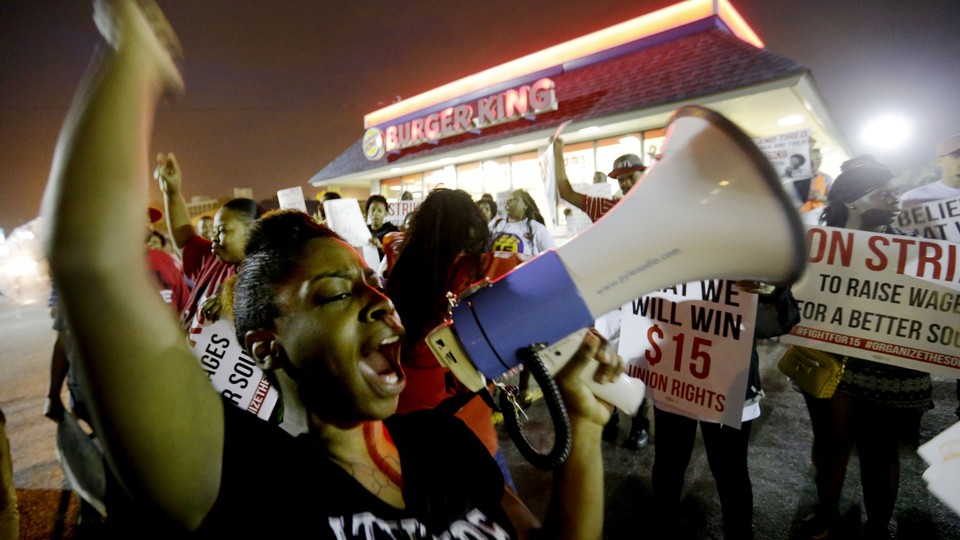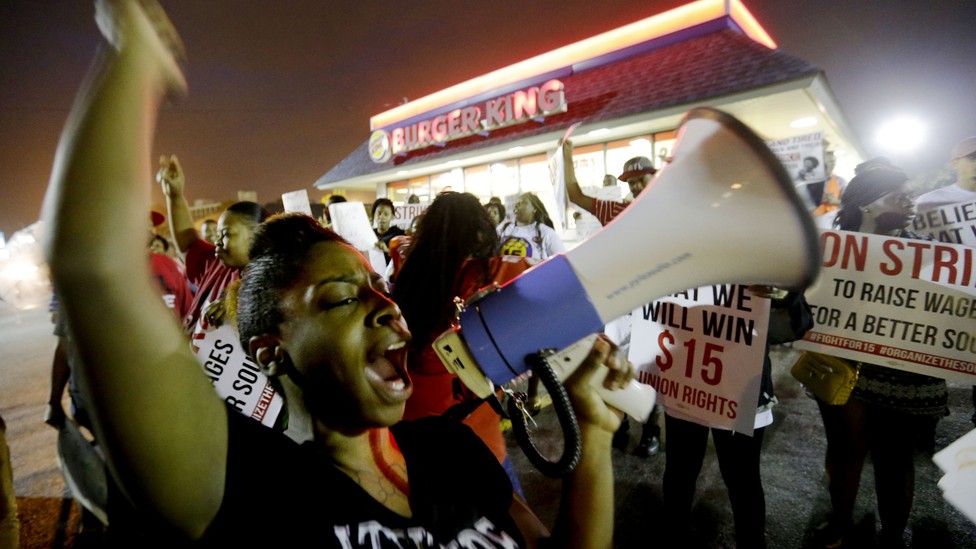 The McDonald's franchise inside the Atlantic Terminal Mall in Brooklyn, New York, would make a pretty good place for a minimum wage protest. It shares a floor with a Subway, part of the fast-food ecosystem under assault by those calling for higher pay, and it sits two floors beneath one of the busiest Target outlets in the country.
The Atlantic Terminal McDonald's is also situated across the street from the hulking and still-shiny new Barclays Center, the construction of which has been blamed for contributing to a rent surge in a city with a notoriously shrinking market for affordable housing. Beneath the Atlantic Terminal is a hub for several New York City subway lines, the fares for which recently went up again to considerable civic consternation.
But as I drew close to the Atlantic Terminal early on Wednesday, after seeing reports that thousands of protestors had amassed near there, there were no signs of a demonstration. "I haven't seen anything," a befuddled cashier told me when I got to the counter. "You're the second person to ask me about a protest this morning."
As it turns out, the protest was outside at another McDonald's down the street, an unintended nod to the Golden Arches' ubiquity and its sway over the American labor market. For some perspective, consider that McDonald's employs more people than the entire United States Armed Services.
The protest I expected to see was part of the two-year-old Fight for 15 movement, a series of protests aimed at pressuring businesses and government officials to raise the minimum wage to $15. Using a clever play on today's date (04/15), Wednesday's protests, led by the Service Employees International Union, took place in more than 200 cities across the country (and the globe) in what was said to be its biggest show of strength yet.
"Airport workers, home care workers, Walmart workers and adjunct professors are among those set to join in the Fight for $15 protests across the country, in what organizers are calling the biggest ever mobilization of workers in the U.S.," the Associated Press reported on Wednesday.
The efforts have scored endorsements from local and national leaders:
Our City will continue to #FightFor15 because the minimum wage must keep up with the cost of living.

— Bill de Blasio (@BilldeBlasio) April 15, 2015
Raising the minimum wage is about economics, but it's also about our values. Nobody who works full time should live in poverty. #FightFor15

— Elizabeth Warren (@SenWarren) April 15, 2015
One protest at a McDonald's in Oakland, as Steve Greenhouse noted, was led by former U.S. Secretary of Labor Robert Reich.
By the time I reached the right McDonald's, the protesters had long been gone. Metal NYPD police barricades sat stacked outside the door on Flatbush Avenue. Two men in ill-fitting suits, who had clearly been hired as extra security for the day, stood officiously inside the door.
"Yeah, they started at about 6 a.m. and were gone by 7:30," one of them said when I asked if there had actually been a protest. When I asked how many people had turned up, he said "a few hundred."
Now, like the previous store, the dining hall was half-full of people using the free WiFi and lingering over extended breakfasts. Despite the protests, construction workers, traffic cops, and medical professionals passed in and out for coffee and Egg McMuffins.
As I sat, reports from dozens of other cities poured in. Strikers in Pittsburgh had closed a Wendy's. Earlier in the day, a group calling for a 1,500-yen an hour wage gathered in Tokyo. In Glasgow, protesters demanded 10 pounds an hour. In Chicago, employees walked off their shifts at a local McDonald's, causing it to close.
A few miles north in Manhattan, a gathering that incorporated another social justice movement had gotten underway outside a Zara clothing story. "Shouts of 'We can't breathe on $7.25' from the Black Lives Matter movement were heard," one activist told The Guardian.
As I left I encountered a McDonald's manager on a cigarette break. According to a National Employment Law Project report, 9 percent of fast-food employees work in managerial positions at about $13 per hour. When I asked about the protests, the manager professed a basic level of support for the efforts, but added that the disruptive tactics were bad for the movement because they "turned other people off."
And what about the money? "Fifteen would be nice," the manager said, "but what can you do?"