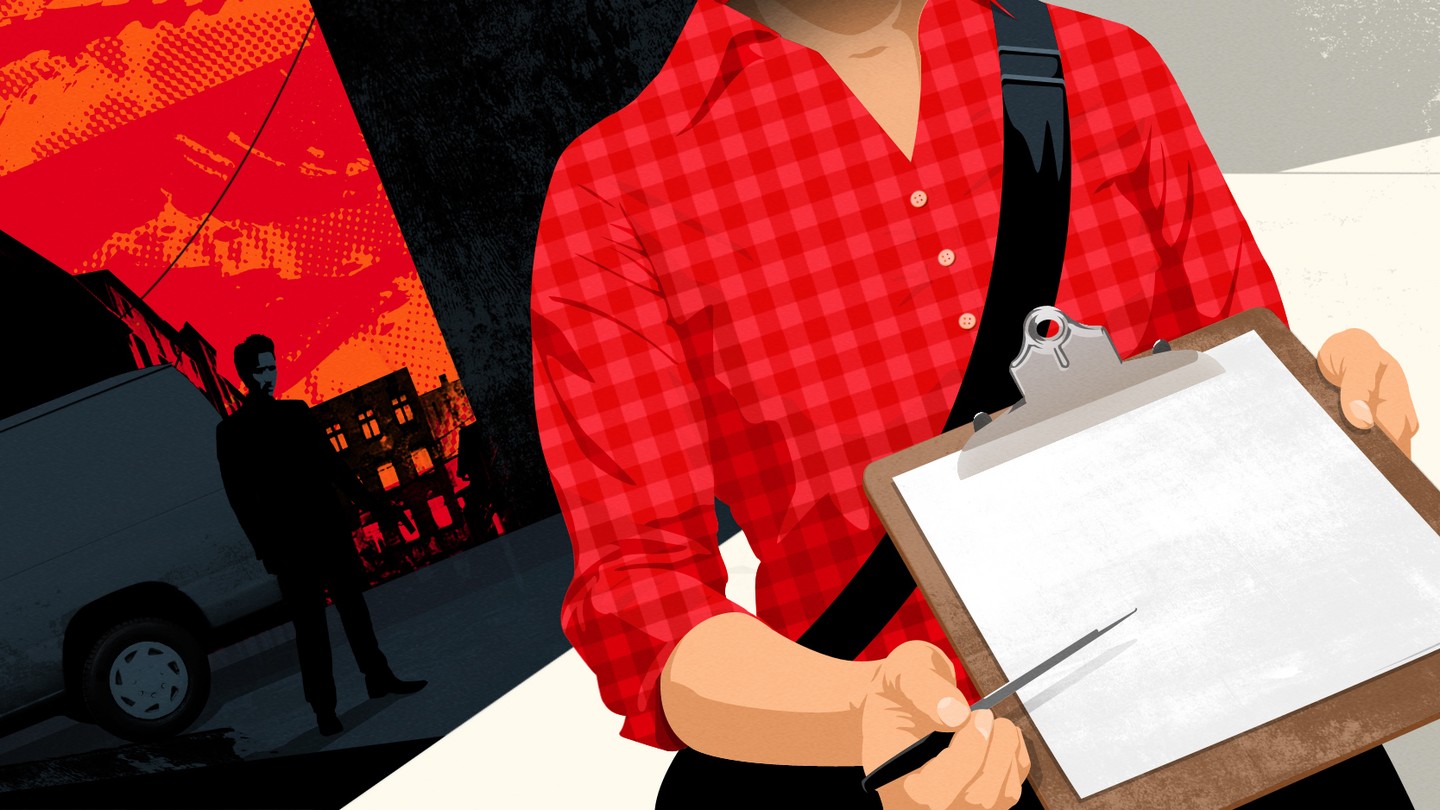 Trapped Into Selling Magazines Door-to-Door
Traveling crews have been exploiting young workers and scamming customers for decades—and neither law enforcement nor Congress has been able to do anything about it.
"Oh my God, can you grab him?" I shouted at the woman at the door, as my 3-month-old puppy darted out into the cold and I tried to stop my 6-year-old twins from following suit. She obliged, and I was able to get a proper look at her. It was in the 30s outside, unseasonably cold for Florida, and the young woman holding my squiggling puppy was wearing nothing but a light spring sweater, shivering and looking miserable. I invited her in.
Over a cup of coffee, she introduced herself as Tysharia Young and tried to do what she'd come to do: sell me overpriced magazine subscriptions. It was not the first time someone had knocked on my door for this purpose, and I was sure it wouldn't be the last. Gainesville has had such issues with magazine sellers that our local police department recently issued a public warning.
Young came armed with an official certificate stating her company's mission. According to the paper, Certified Management Incorporated was dedicated to helping youth and other troubled souls get off the streets by giving them the opportunity to sell subscriptions door-to-door for points while the company provided room, board, and food. The workers get placed on "crews"—teams of four to 12 people—and travel across the country, canvassing neighborhoods. At each door, they tell residents their personal stories—which generally include a litany of poverty-driven hardships and the need to support a family—and then try to sell them magazine subscriptions for a staggering $75 to $150 apiece. After a week or two, the crew moves on to another city.
Young said she was working to send money home to her two daughters, aged 5 and 7, and she hoped to make it back in time for her littlest one's birthday in the coming months. This was her first stint on a crew, and she was hopeful for the future. If all went well and she earned 20,000 points, she could move up to junior manager. After a 12-hour shift, she told me she'd earned 13 points. "If I can get sales on my resume and get a reference, I might be able to get my babies out of the projects," she said.
But Young was hundreds of miles from home, and she worried that if she failed to deliver, she wouldn't earn enough to make it back to her kids. "If you sell too low or you're a troublemaker, they'll leave you," she said. "And I ain't got nothing."
Young is one of tens of thousands of people working for door-to-door magazine crews, and the fear of being left behind is nearly universal. "I've been working on crews for three years, and I've been abandoned 11 times," said Stephanie Dobbs, a mother of three who worked with another company, Young People Working, LLC, until being stranded in Cloverdale, Indiana, last month. "But I keep going back. I've got to do something to support my kids, and this is fast, easy cash if you're a good seller."
Dobbs dated Aaron Harvey, a higher-up at Young People Working, on and off for years. He is the father of one of her children, and she watched him rise from junior manager to manager. As he rose, so did she, from seller to junior manager. But she says she doesn't know if she will ever return to the traveling sales life.
Being on the road meant being away from her kids for weeks at a time. While she was on the road, she sent home money and boxes of clothes for them when she could. "I talked to them on the phone every day," she says, "but the crew don't let me see them. Even when you have enough money to go, and you'll be back in a week, they find some way to make you stay. That is, until they want you gone. Then they leave you stranded."
Last year, Dobbs says she was in a van crash that left her unable to walk for some months, and her crew left her, moving on to other states. Such crashes are not uncommon: Just last month, a crew leader died in a crash in Texas; a local news station reported that he'd had a record for weapon and drug possession.
Dobbs says she's also been left for not selling enough or for disagreements with managers. Crews have no obligation to get their workers home, since they're independent contractors. She claims that the crew managers try to hide the abuses by encouraging a festive atmosphere, sometimes even providing alcohol and even drugs. "I've seen every drug you can imagine," Dobbs said. "Young kids partying, not knowing what they're in for, then abandoned to life on the street in a strange place when they don't pull their weight. The managers can intimidate you, make you feel like you owe them, humiliate you, even beat you. This is a dangerous business."
It's been nearly 30 years since Congress launched an investigation of the magazine sales industry, finding widespread instances of fraud and abuse. The investigation revealed that many of the young workers were essentially indentured servants: In one company, 413 of the 418 sellers owed money at the end of the year, even as the company itself reported sizable profits.
In 1999, Senator Herbert Kohl from Wisconsin introduced the Traveling Sales Crew Protection Act, a piece of legislation that would have regulated the industry. The bill was inspired by an accident involving an 18-year-old Wisconsin girl named Malinda Ellenbecker. Earlier in 1999, Ellenbecker had died in a highly publicized crew van accident: The van was speeding and being pursued by a police officer just before the crash, and the driver didn't have a valid license.
The law died in the House, but Malinda's father, Phil Ellenbecker, has been tracking the violence, crime, and death rates in the industry ever since. His website is a scrolling tome of news stories and testimonials about the dangers of crew life. The site, with its American flag backdrop and poems in Malinda's honor, appears amateurish at first glance but many of the stories it aggregates are from major newspapers or official police reports and can be verified by several regional Departments of Labor and by the Child Labor Coalition (CLC), a network of unions and nonprofits that gathers information about underage workers.
A decade ago, the CLC estimated that more than 50,000 children were working for these crews. Reid Maki, the CLC's Director of Child Labor Advocacy Coordinator, believes that number hasn't changed much since then. "It's become this little world of people operating in the shadows, and they've become very good at working the system," Maki said. "There are so many areas of magazine crews operating just outside the law that seem unconnected, but they're not. They keep one step ahead of the authorities."
The CLC doesn't have the resources to keep tabs on the companies involved in this work. The problems are so disparate, crime takes place so quickly, and companies reinvent themselves so often that without a fully funded taskforce to monitor sales crews— which neither the Better Business Bureau, the Department of Labor, the Internal Revenue Service, the Department of Justice, nor any other faction of the U.S. government has—there's not much anyone can do.
For instance, the company that sent Young to my door, Certified Management Inc., is not registered anywhere in the United States, and certainly not in Champaign, Illinois, which is where it claims to be located. I called the number listed on the website to get comment for this story, and my call was answered as follows: "Huh? No, we're driving. I'll call you back when we reach our destination." That person never called back and subsequent calls went unanswered.
This particular company has a Better Business Bureau rating of F and has had nearly 4,000 customer inquiries about it in the last three years. Going through the BBB complaint list, I found that Certified Management Inc. also goes by a number of other business names, such as Certified Management Training, and Ultimate Unity, a company located in Michigan City, Indiana, with another F rating.
A consumer complaint on the BBB site linked Ultimate Unity to Urban Development Solutions, a company in Detroit with a C rating, saying, "I contacted Ultimate on 3 separate occasions after not receiving any product as of July 2014. On January 14, 2015, I received a letter from Urban Development Solutions saying they have taken over for Ultimate and know I have an order but cannot find my info. The letter is not on any type of letterhead, my name is misspelled, and the email I am to send my information to is a gmail account."
Other complaints on the BBB's site link Urban Development Solutions with Midwest Clearing Solutions, also located in Michigan. These four companies collectively had at least 10 phone numbers listed for contact information. Of those, two were completely disconnected, two went to automated voicemail with no reference to the business, one was a fax machine, one led to a law firm, one led to a cremation service, one to a private residence which had no idea about the company, one led to what I can only assume was a crew driver, and one actually had a professional business phone tree, but no answer when I chose any of the options.
Simply put, I was unable to call any of the businesses that may be attached to Certified Management Inc. And this is not an isolated issue: The BBB said most phone numbers and addresses of non-accredited magazine-selling companies with bad ratings are defunct.
"It's not illegal to change a business name," said Lisa Dilg of the Detroit BBB. "I don't know how it's legal, because it's like hiding. But because it's not illegal, there is no way to find out if the companies have been changing names and popping up in BBBs across the U.S. looking like they have no affiliation to each other."
Of course, when companies parade as something they are not, claim to be incorporated when they aren't, sell goods that never arrive, and don't refund the money, it all leads to suspicion of fraud. Tom Stephens, the president of the BBB of Northeast Florida, says these cases aren't usually investigated simply because the cases of fraudulent behavior are vastly underreported—only a small percentage of customers who order subscriptions even remember it. And since the crews are only in town a week or two, they're gone by the time the complaints come in, the checks already cashed.
Besides, Stephens notes, "state agencies that might regulate this won't until they hit a certain cap for money, and each individual only out $75 just isn't enough." The sellers don't accept credit cards, so there's no fraud protection there. And with so many fake numbers and addresses, it's nearly impossible to track them.
Customers who don't receive their subscriptions can, of course, lodge a complaint with the BBB in their area, and they can also call the Attorney General's Office to attempt a state investigation into the company. Again, the problem lies in the numbers. Indiana's Attorney General's Office said that while it would investigate alleged fraud, it had to have enough complaints to warrant it, and the complaints had to show a pattern of fraudulent behavior. The office couldn't comment on what an investigation entailed, or what consequences the company could face, simply saying that its office always attempted mediation between companies and customers and most businesses acquiesced to it.
I was unable to determine whether these businesses pay taxes. Internal Revenue Services' media officer Michael Devine told me through email that "strict privacy laws protect every individual and business entity from unauthorized disclosures of details of their relationship with the IRS. Unless there is public record, such as court records or documents filed in the public domain, we cannot discuss tax matters publicly."
While much light, however ineffective, has been shed on the lives of those working the crews, little has been written about how the crew companies' management structure. According to Ellenbecker, who keeps tabs on the industry at TravelingSalesCrews.com, each crew follows a strict hierarchy, usually starting with the owner and filtering down to the managers. Each manager is in charge of a set of junior managers, and each of those is in charge of a select crew of sellers.
Dobbs says her then-boyfriend, Harvey, never let her see the books while they were on the road together with Young People Working, LLC. She doesn't know how much money the company brought in, but she used the phrase "pyramid scheme" to describe its business model. According to Dobbs, each $75 to $100 subscription is divided, rather arbitrarily, into three parts, which the companies call "front-end sales," "mail-in percentage," and "shipping and handling."
Dobbs says sellers get 50 percent of the first chunk—their "front-end sales"—plus points to work their way up the system. Junior managers get 100 percent of their "front-end sales," 40 percent of the "mail-in percentage," and a few dollars per subscription from the "shipping and handling" portion. The bosses and the owners collect the remainder, and Dobbs says it's an impressive figure. She said on a really great sales day, Harvey, her ex-boyfriend, can bring in thousands as a manager of Young People Working LLC under Crystal and Kevin Davis.
I wasn't able to reach Harvey, but I did talk to Crystal Davis, who confirmed that she and her husband owned the company. Unlike many other crew companies, Young People Working, LLC, is a legitimate corporation, filed with the state of Colorado and up to date on paperwork. The couple hasn't always been with Young People Working: In 2012, Kevin was briefly in the news after an 18-year-old girl at Lrumar Publications, LLC, was reported missing. According to a TV news report in Oklahoma City, the girl called her sister briefly to say that she was in Illinois, "hiding out" with a group of 19 crew members. The weekly paper Houston Press identified Kevin as the owner of Lrumar and reported that he'd agreed to pay for the girl's flight home if her father would stop talking to the media.
Crystal spoke warmly of the industry, saying it's a family-oriented community that provides opportunities to those who otherwise couldn't find work. "I've been in this business since I was 19, and it's been wonderful for me, an extraordinary journey," Davis said. "I care for my family. I own a home, my kids all go to school. I'm on the road for three weeks then three weeks off. Our kids come first, and we cover for each other when emergencies come up."
She wouldn't comment further on the magazine crew business, citing the negative press that surrounds the companies as reason for them to "hold their cards close to their chests."
Because the sellers are independent contractors, owners like the Davises are largely invulnerable. After all, it's not a crime to employ willing people as independent contractors engaging in direct sales. The laws currently on the books in most states only outlaw solicitation, which means targeting those on the lowest tier of the crews—the ones actually going door-to-door.
Earlene Williams, the founder of Parent Watch, a labor advocacy group keeping tabs on these travelling crews, argues that this does nothing to address the problem. Williams started Parent Watch after her own son nearly joined a traveling sales crew in 1983. He had second thoughts after signing his contract when he arrived at the designated motel lobby to meet his crew, but the trainer wouldn't let him leave and wouldn't allow him to call home; she says it was only through adept police work and pressure from law enforcement that she was able to bring him home before the crew set out on the road. Now, she says she receives multiple phone calls and emails a day from sellers stranded or scared for their lives.
"The worst thing you can do is go after the people on the streets selling," says Williams. "Research shows these people mostly come from very low-income situations, may have had trouble with the law, and are earnestly trying to dig themselves out of a hole. They're vulnerable because they don't feel like they're worth anything and the crew managers instill a culture of fear and manipulation amid the crews. After working for them for only a short time, most people who call me actually feel they owe the crew managers money."
Magazine crews wouldn't be able to exist at all if it weren't for the sprawling, haphazard way subscriptions are bought and sold. Magazine circulation is a huge industry whose umbrella covers a multitude of businesses, and hardly any of them talk to one another. They act like cogs, each doing its own part in a time-tested machine.
Based on my research through multiple outlets, and confirmed by Stephens at the BBB, a publisher like Time-Life, Conde Nast, or Atlantic Media may contract with a reputable agent like Publisher's Clearing House or Priority One in order to reach a broader audience. (In most cases, it's not the subscription money that's important, but the subscription itself: Higher circulation numbers translate into higher advertising rates.)
These agents then contract with subagents, which can range from retailers to philanthropic causes such as school fundraisers and—in theory—traveling crews that help low-income kids climb out of poverty.
This is supposed to adhere to guidelines set forth by the Association of Magazine Media. According to Rita Cohen, the association's senior vice president of legislative and regulatory policy, those guidelines call for a subscription trail between agents and sub-agents, clearly indicating where the subscriptions come from .
Still, it's up to the clearinghouses to ensure that they're doing business with legitimate subagents. Dawn Daugherty, CEO and founder of Priority One, says her company requires every sales crew to fill out an extensive application, listing how long it has been in business, its sales track record, and the source that referred them to the clearing house. Priority One then researches the company through the BBB and government channels to ensure it is legitimate and worth doing business with. Then it signs the contract.
Of course, sometimes things go awry, and when a company violates the contract—whether through fraudulent practices, misrepresentation to the consumer, or offering unapproved discounts—Priority One blocks it from the list of approved subagents and refuses any further subscriptions that come in through that company. It then notifies both the company and the publisher that the subagent has been blocked.
Not all agents are as thorough. According to Bridget Wells, owner of Periodical Watchdog, many agents do the bare minimum required by the Federal Trade Commission since 1999: They store each magazine crew's name and Employer Identification Number (EIN), but they don't go further than that. "Some publications have multiple restrictions on who can sell their product," she says. "Others just don't care, so long as it's not fraud."
If trouble arises, a publisher can hire Periodical Watchdog to look into it. Wells has worked in magazine circulation for Hearst for 25 years, and since starting Periodical Watchdog 10 years ago, she's amassed a database of more than 22,000 researched names and EINs. She's able to look at a subagent list and compare it to her database to attempt to figure out if the company has changed names.
Fulfillment companies—the ones who collect all the subscriber names and send them to the printer—have nothing to do with this process. They sign their own separate contracts with publishers. Mike Luksan, who is the vice president for sales at the fulfillment company CDS Global, says his company gets a list of approved agents and subagents with whom they can do business and the prices that each agent worked out with the publisher beforehand. Anything beyond that amount, the agents and subagents keep. "If subscription lists come in from unapproved agents or subagents, those get sent back to where they came," Luksan said. "I don't know where the money goes from there."
Mary Berner, the president and CEO of the Association of Magazine Media, says a corrupt subagent "can be a huge nightmare for the publishers because the customers pay for the content, and it never shows up, and they blame the publisher who knows nothing about these door-to-door sellers." It then falls to the publisher's customer support department to resolve the issue.
Still, says Cohen, the association's senior vice president, selling this way is worth the hassle because agents have connections that publishers may not have. "Our hope is that we can rely on the agents to do business as we put forth in our guidelines so that we can continue to get our content to as broad an audience as possible."
As long as publishers are willing to keep signing these contracts, they hold the ultimate responsibility for the existence of fraudulent magazine crews, say Williams and Ellenbecker. "The publishers think that they are separated by enough barriers that they're safe from this," Ellenbecker said, "but they're part of it because they know about it."
I reached out for comment to the communications departments at The Atlantic and Conde Nast. Conde Nast didn't respond before my deadline, but Emily Lenzner, The Atlantic's vice president of global communications, spoke to me about how the magazine views this problem. "We work with the primary agents only and not with the subagents," she told me, "and therefore we do not knowingly participate with them or have influence over their positioning themselves as having an established and approved relationship with The Atlantic." In other words, The Atlantic doesn't have any intention of doing business with magazine crews, but it also doesn't keep track of all the many subagents out there selling subscriptions. That's what the agents are hired to do. Lenzner added that even if The Atlantic is able to trace a fraudulent order to a specific crew, there's nothing preventing that company from carrying on the same business under a different name.
Sometimes, magazine crews find it impossible to keep skirting the law. Just this December, two men pleaded guilty to misdemeanor charges after they were found holding a 15- and 16-year-old pair of sisters against their will in Wilmington, North Carolina, forcing them to sell magazines eight hours a day for $20 a day. The teen girls had wanted to go home, but had signed a contract with Midwest Circulation Company, stating that no return tickets would be provided for a designated period of time. The minors were trapped. Justin Angermeier and Jeremy Moots initially faced 2nd-degree kidnapping charges, but they were reduced when the two agreed to help in the investigation against their employer, Midwest. Aaron Harvey, Dobbs's ex-boyfriend who is now associated with Young People Working, LLC, previously worked for this company, according to subscription receipts.
But an investigation like this is multi-jurisdictional and complex, as law enforcement officers find themselves having to contend with different laws across different states, as well as slippery defendants. Wilmington police expect to make more arrests, but given the diffuse resources and red tape involved, they don't know how long it will take.
"Despite all efforts, the public doesn't know how much crime is attached to these crews," says Maki of the Child Labor Coalition. "It usually tends to be major tragedies that drive reform, and until there are enough accidents where kids are getting hurt or killed to sufficiently grab the public's attention and Congress's attention, you're not going to see action on it."
At the moment, the most thorough law in existence is the Malinda's Traveling Sales Crew Protection Act passed in Wisconsin in 2009. The law, named in honor of Ellenbecker's daughter, requires employers who use traveling sales crews in Wisconsin or who recruit them from there to register with the Department of Workforce Development. It also requires that all crew vehicles be certified according to state safety codes and that workers be paid on a semi-monthly basis for wages earned.
If similar laws were passed elsewhere, Maki believes it would make a difference. "If we had the capacity, we would have states enact model laws to try to clean up this industry, requiring the crews to check in with local authorities before they are permitted to sell," he says. "It would still be difficult because there aren't enough enforcement agencies out there to catch them all, but at least it would give police the authority to go after these bad actors. Right now, police can only arrest those going door-to-door for the solicitation aspect, but those are not the ones we need to focus on. There's no way right now to go after the crew managers, and that's where we need to be."
Still, with crews traveling so widely, it's hard to address the problem on a local level, says Lester Claravall, the Child Labor Program Administrator for the Oklahoma Department of Labor. "A lot of states do what they can, but when we can't even track them when they leave Oklahoma, then how can we track them throughout the United States?" he says. "Even when you get the 50 states together to try to handle it, you can't because they have too many names and numbers and the state agencies all have many other investigations going, so they can't devote all their resources to this."
Like Williams and Ellenbecker, Claravall assigns responsibility to the magazine publishers. "If anything, it's the magazines that could shut them down by not doing business with them," he said. "But they claim they don't, and yet these crews still exist."
Ellenbecker says he and others have tried several times to get federal legislators to pass regulation akin to the Wisconsin bill. (The 1999 bill was reintroduced in 2001 but died in the house.) He blames lobbying from the Direct Selling Association for preventing national legislation.
Ben Gamsey, the marketing research manager for the DSA, told me that the association does not cover magazine sales. It does, however, promote a business model that offers entrepreneurial opportunities to individual contractors, with compensation dependent on one-to-one sales. When I asked Gamsey why the DSA doesn't represent magazine crews, I didn't receive a clear answer. Initially, he told me it was a matter of "overlap," but when I asked him to elaborate, he told me he couldn't comment any further.
For now, Claravall says the only thing the Department of Labor can do is warn prospective workers and customers to stay away from selling crews. His division has produced detailed pamphlets for children and their parents on the dangers. "It's ranked number one in the worst children's jobs in the United States," he says. "But right now we just don't know how to stop it."
After months of research, I don't know how to stop it either. And when sellers come to my door, I don't know how to help them.
Young couldn't even take a donation. I offered her the $25 I had in my wallet, but she turned it down. "We're not allowed to take anything but a check made out to the company for our points," she said. "If I take money from you, they'll know, and I'll be docked."
She had no cell phone; every time she called her family, she had to rely on the crew. I had no way to follow up with her afterwards.
It was 6:30, and getting darker and colder, and Young still had an hour to go when we finished our coffee, for which she thanked me profusely. I apologized for not buying one of her subscriptions and wished her luck.
When the door opened, a blast of frigid air burst through, and she quickly wrapped her arms around her frame, visibly bracing for the cold. On impulse, I grabbed one of my old coats out of the closet. "Can you at least take this?" I asked. "You'll freeze out there."
She accepted it with a gracious smile and disappeared into the shadows of my neighborhood.