The Long-Term Unemployment Trap
The longer someone has gone without a job, the harder it is for them to land one. These programs have figured a way back into work.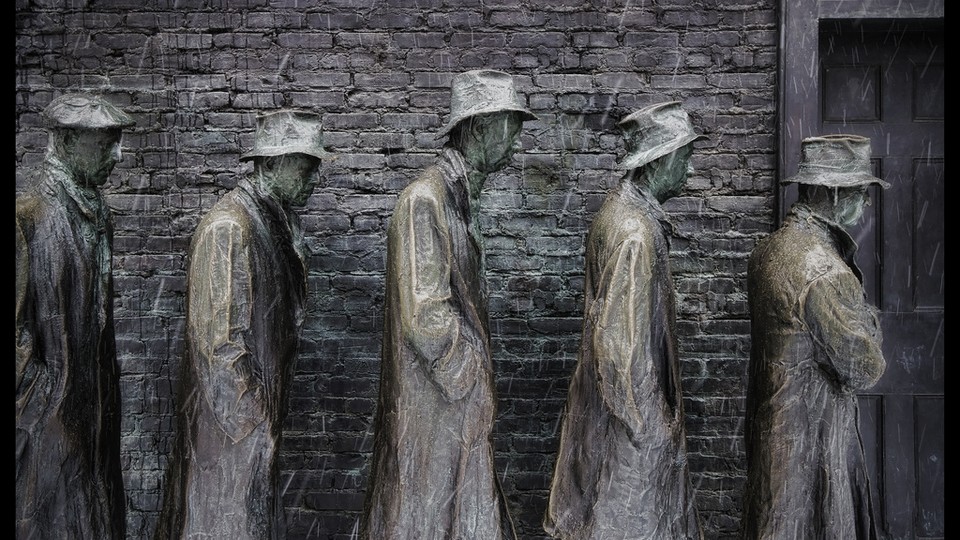 Economists like to say that the Great Recession technically ended years ago, but that wonky delineation is of little comfort to the 2.6 million Americans who have been out of work for six months or more. This population, known as the "long-term unemployed," has had great trouble re-entering the labor market. Even though their ranks have thinned since 2010, they still face discrimination in applying for jobs.
Older people, African-Americans, and Hispanics remain disproportionately among the long-term unemployed; from 2007 to 2009, so did workers from specific industries such as sales and management, according to recent research from the Labor Statistics Bureau. Even a college degree was not enough, at the height of the recession, to stave off long-term unemployment. What a terrifying wake-up call to anyone who thought that higher education would protect them from an economic mishap.
So, what can be done to help this population as the economy returns to a healthier state? A handful of programs across the country show that the long-term unemployed can benefit from specific interventions, which take into account either the needs of the unemployed or the needs of the companies that might hire them. An MIT program, for instance, offers counseling to older, out-of-work people in an effort to acknowledge the emotional scars of unemployment. Peer-led job-networking groups have proved to be a salve for workers in New Jersey, while a Chicago not-for-profit works closely with local businesses to identify positions they need to fill as well as out-of-work candidates who can do those jobs.
With this criteria in mind, we've reviewed dozens of programs dedicated to helping the long-term unemployed return to work. Here are the 10 we believe are the most innovative.
Dog Tag Bakery: A recent study by the Wounded Warriors Project showed that roughly 17 percent of the program's alums remain unemployed, and it's true that unemployment remains a huge issue for returning combat veterans. That's why a new, upscale bakery in the Georgetown neighborhood of Washington, D.C., is trying to help this population by employing wounded veterans and their spouses; it teaches them baking skills, alongside with small-business training. The bakery was founded by Father Rick Curry and Connie Milstein, and is managed by an Army veteran.
See National Journal's in-depth profile of Dog Tag Bakery here. 
Institute for Career Transitions: In the years following the global financial recession, MIT professor and sociologist, Ofer Sharone, wanted to figure out a way to help the long-term unemployed, especially older workers. So, Sharone started a new institute out of MIT to address the emotional distress of a job search as well as its nuts and bolts. In its first major project, the institute paired unemployed people with free, trained career counselors in individual and group settings. The initial research shows that this type of intervention (and attention to workers' self-esteem) can make a big difference. The long-term goal is to develop a greater sense of how to assist the long-term unemployed and to become a mini-clearinghouse for this information.
See National Journal's in-depth profile of the Institute for Career Transitions here.
Neighbors-Helping-Neighbors: A local New Jersey resident, a long-term unemployed person himself, started this grassroots, peer-led networking group across the state of New Jersey. The group started out as just a local support meet-up before expanding to 40 chapters, with a robust online presence. Both the group and its founder have acted as powerful advocates—all the way to Washington, D.C., to advocate for policies to help out this vulnerable population.
See National Journal's in-depth profile of Neighbors-Helping-Neighbors here.
New York Self Employment Assistance Program: One problem with unemployment insurance benefits is that they come with strict eligibility requirements. Unemployed people must look for work full-time, if they're going to collect the money. But, New York state offers an innovative program that allows unemployed people to build their own small businesses while still collecting unemployment insurance and without having to look for another job. It gives them the safety net of having some money to support themselves, while setting up shop as a self-employed person. The program particularly tries to target people likely to exhaust their unemployment benefits.
See National Journal's in-depth profile of the New York Self Employment Assistance Program here.
Platform to Employment: This program first launched in Connecticut in 2011 as a pilot to help the long-term unemployed. Since then, it has expanded to 10 cities, including Las Vegas, through a mix of private and federal funding. Essentially, the program takes a group of long-term unemployed people and puts them through serious five-week, intensive job-readiness courses. Platform to Employment will pay up to two months of a worker's salary for any company willing to hire these workers, even on a trial basis.
PowerPathway: Nearly half of the country's skilled utility and energy workers will need to be replaced by 2015, thanks to workers' retirements. That's why the energy company, Pacific Gas and Electric, started a 10-week program back in 2008 to train its next generation of skilled workers. They've looked to the unemployed, underemployed, and veterans to fill the slots. The company trains people for welding, line work, and gas operations; entry-level positions can pay as much as $26 per hour, plus overtime.
Relocation Subsidies: Washington politics may suffer from terrible gridlock, but politicians from both the right and left support an interesting idea of offering relocation subsidies to the long-term unemployed to help them move from one area of high unemployment to a place with a better job market. A 2010 paper from the Hamilton Project at Brookings estimates that relocation subsidies would cost the federal government less than $1 billion a year and would result in as many as 62,000 matches between workers and new jobs.
Skills for Chicagoland's Future: This nonprofit group, built as a public-private partnership, tries to match unemployed workers with businesses that have particular positions to fill. They either match up the qualified out-of-work person with a job, or sometimes, the group will help to train workers for particular positions. Since 2012, the group has placed more than 1,300 workers in new jobs in more than 40 companies in the Chicago area. What's more, 70 percent of those placements were for people who were long-term unemployed. The nonprofit is trying to upend the idea of traditional job placement by focusing first of the types of workers that local companies need, instead of training workers for jobs they hope will exist in the future.
See National Journal's in-depth profile of Skills for Chicagoland's Future here.
The Mission Continues: Founded in 2007 by a former Navy SEAL, this St. Louis nonprofit helps post 9/11-era veterans reconnect to the workforce by helping them find community-service fellowships. The paid, six-month fellowships at various community-service organizations allow the veterans to get back into a work routine and back into civilian life.
Work-Share Programs: At the height of the recession, a handful of states across the country took on an innovative experiment—instead of just watching local companies lay off workers, these states temporarily agreed to pay a portion of workers' salaries at struggling companies in an effort to keep as many people in the workforce as possible. Rhode Island was among the states to experiment with this program and estimates that it saved more than 15,000 jobs during the Great Recession.
Correction: An earlier version of this article misstated who founded Dog Tag Bakery.