'Just Because I Work Here Doesn't Mean I Don't Respect Myself'
Bikini-clad baristas serve up coffee at several drive-through stands in Washington. Locals and city councils can't decide: Are they sex workers?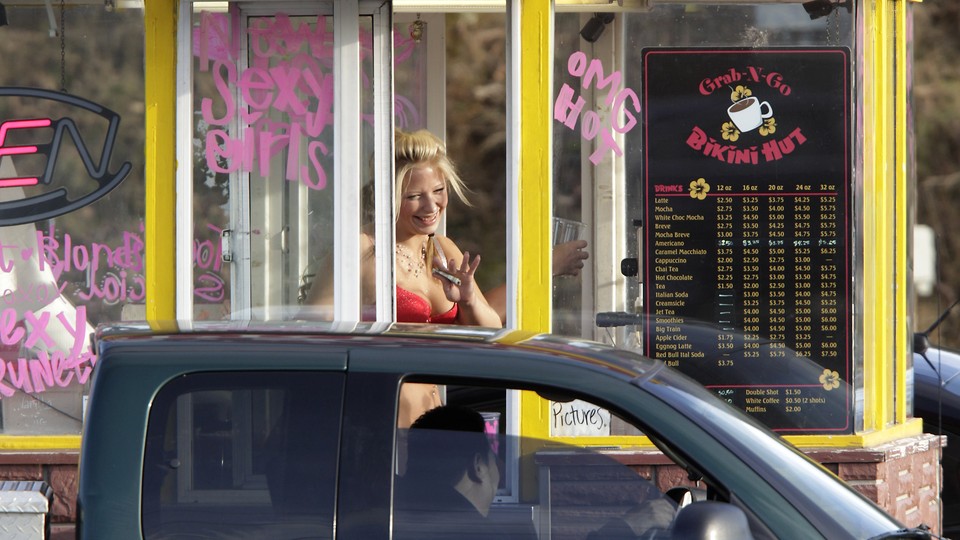 At 5:20 a.m., under a starless March sky, the arid Inland Northwest is cold—Canada cold. And save for four flimsy clapboard walls and a pair of sliding windows, a 20-year-old woman braves it in her underwear.
For early spring in Spokane Valley, Washington, Tammy is awfully tan. But that's a part of her job as a bikini barista: Smile a lot. Remember who gets an Americano and who gets an Irish Cream mocha. And, of course, wear a bikini in the dead of winter before sunrise.
"Bikini" is an overstatement of what Tammy (whose name has been changed to protect her identity) wears to work. Today is Wednesday, and on Wednesdays at Devil's Brew Coffee, "we wear pink," she says, "like Mean Girls." She's wearing a bubblegum-pink halter-top bra with scalloped edges, and lacy magenta underwear that makes little effort to cover her buttcheeks. Wednesdays can be a little slow—after all, they're when the dress code at Devil's Brew is most conservative. Tuesdays and Thursdays are "topless," which means she'll wear pasties and a thong as she works. Then, the line of jacked-up trucks will be out to the street. (One Spokane stand staffed by shirtless men, Hot Cup of Joe, appears to have gone out of business not long after it opened.)
Tammy, who wears a thick white cheerleader ribbon around her brown ponytail, is the manager at Devil's Brew. An ex-Washington State sorority girl who lives with her Mormon parents, she says her mom told her to get a job at the coffee stand when she moved back home. "One guy last week was like, 'Does your mom know you wear these clothes?'" she says. "I was like, 'My mom comes here every morning!'" That's no joke: At exactly 8 a.m. on the day I'm there, her mom pulls up to the window. As she drives away, Tammy calls after her, "Love you, Mom!"
From the way Tammy and other bikini baristas have been in the firing line of local public officials, you'd think this was the first time anyone combined nearly nude women and food. But practically the same controversy continues to pop up in headlines across America: Girls want to serve coffee mostly naked, people want to buy it, someone wants to stop it. The stories are nearly identical, from Clovis, California, to Forest Grove, Oregon, to Aurora, Colorado.
* * *
Buxom girls and fast food have been lumped together since topless servers started waiting on San Franciscans in the 60s, says historian Melinda Chateauvert, author of Sex Workers Unite! From the 1960s until the 90s, Playboy Clubs worldwide were staffed by cocktail waitresses spilling out of corsets and donning bunny ears. And Hooters, with its orange hot-pants and baskets of wings, has been around since 1983.
Those were two of the first "breastaurants" to rise to mainstream status, despite varying degrees of outrage in response. Chateauvert says that some backlash came from individual employees themselves, who sued their companies for making them wear suggestive uniforms that invited harassment. But it seems that fight has lost its teeth. A 2010 Jezebel article titled "Why Protesting Hooters Is a Waste of Women's Time" argued that while Hooters presents a "bro-y version of human sexuality," it's not worse than other forms of titillation. "I don't like it … but I'm not ready to say it shouldn't exist," the writer, Anna North, reasoned.
Today, the industry is thriving. The girls with flannel crop-tops and hiking boots who sling beers and fries at Twin Peaks helped the burger restaurant earn the title of "fastest growing chain in America" in 2013. There's a version in every region: Michigan has the sexy "Celtic-themed" Tilted Kilt Pub & Eatery, and "Bypass Burgers" are served by minidress-wearing nurses at Las Vegas's Heart Attack Grill.
The trope of the nearly-naked waitress has clearly established itself in American food culture. But working alone in a tiny drive-through kiosk? With easy-to-see-through windows? In less clothing than Hooters girls and Playboy bunnies combined? That's what makes bikini baristas different.
"At Hooters, you can sit there all night long and drink and watch the girls," Chateauvert says. "This is a very fast transaction."And the outfits are different too: "Hooters's [are] quite opaque," Chateauvert says. "It's not anywhere near what we're thinking in terms of a stripper costume … There's a whole level of covering."
Bikini barista stands, like the one where Tammy works, started in the Northwest, on the rainier, bluer, more liberal side of the mountains of Washington state. With them has come controversy: Girls at one stand were busted for flashing undercover cops in exchange for extra tips, and another server was caught on camera giving customers early morning strip shows.
To Mike Fagan, a Spokane city councilman who just saw a voter-led initiative to restrict bikini baristas flop, Devil's Brew's model is too risqué not to regulate. But he says he's taken heat for trying to impose a moral code on local businesses. Where do bikini baristas fall? If they're not offensive, he wonders, why then are school-buses being rerouted so kids won't see the coffee stands?
At the Devil's Brew where Tammy works, women have to cover up 50 percent of their breasts, in accordance with Spokane Valley ordinance. But still, on Tuesdays and Thursdays, Tammy and her coworkers are almost as naked as the girls rolling on the stage at the Deja Vu Showgirls strip club a few miles down the same street. That's when things get dicey for Fagan.
"In my mind we're talking adult entertainment," Fagan says. "We don't want to shut down the stands. We want to say, 'Look, you either put the bikinis back on, or you move your business to an appropriately zoned area.'"
Appropriately zoned?
"Triple X dancing," he says. "Triple X stores."
At Devil's Brew on a cold Wednesday, Tammy slides the window open and closed. "Good morning!" she peeps. "Are you having your usual?" From the time the window slides open to the time the car pulls away, fewer than three minutes elapse. It's like a really friendly drive-through peep show.
But Sarah Birnel, owner of the Devil's Brew stands (and several other bikini and non-bikini coffee kiosks in eastern Washington), says that's never been her business. Birnel is an ex-con who got a second chance when her former boss offered her an opportunity to buy his coffee stand. "I have a history of getting in trouble, so I couldn't get a job. This opportunity came up that was really amazing," she says, of her first coffee stand, where baristas wear all of their clothes.
After Spokane's first bikini stand opened, she started thinking of opening one herself. "I'm sitting here looking at this and … I'm like, 'I could do that business. I could just do what I'm doing now, but just throw girls in there dressed in that way and it will just blow up,'" Birnel says. "I was begging my husband to let me open this, and he's like, 'No way.'"
Birnel eventually got her way, and she knew exactly how to spot the people looking to do more than sell coffee. "I know because I lived it. Like I wasn't that, but I've seen it all," she says. She says she's just selling coffee, and the girls who want to work there should be able to do that in a bikini if they choose to. "It's a different thing when people are on drugs or they're being abused and there's someone that's making them do these sexual things to get attention, or because they have to," she says. "When a woman is actually saying, 'You know what? I'm going to make money. I'm going to make money with what I've got,' how is that not empowering?"
"I think bikini baristas are sex workers, because their work involves using sexual appeal," says a woman with the stage name Savannah Sly. Sly, who works with the Seattle Sex Workers Outreach Project, says, "Because they may be stigmatized or their place of employment scrutinized due to the erotic nature of the work, I deem it worthy of the label of sex work."
Sly says some might argue that bikini baristas aren't sex workers because they don't strip, touch customers, or explicitly talk about sex. But that doesn't necessarily mean they aren't doing sex work. "I know a lot of people who do phone sex and cam work who also don't do sexual stuff for a lot of their clients," Sly says, noting that this work can be the bright spot in customer's day. "The sexy stuff might be the reason a client comes, but they return for the human connection."
Figuring out what constitutes the healthy regulation of anything with erotic overtones can be polarizing. When a Forest Grove, Oregon, coffee stand ruffled locals' feathers, Pacific University anthropology professor Aaron Greer wrote to the Hillsboro Tribune, saying that that the stands presented society a great reason to revisit why displays of overt sexuality are stigmatized. "Our popular sexual morals in the U.S. attempt to regulate knowledge, expressions and practices of sexuality in order to prevent total sexual anarchy," he writes, "But this is slippery slope logic—an assumption that if one questionable practice is allowed to flourish, all hell (or, in this case, breasts) will break loose."
Tammy says she gets sick of hearing people complain about her job when there are Victoria's Secret ads, whose models' outfits she doesn't view as much different from hers, in public. When it comes down to it, she loves this job—a job in which, bikini or no bikini, she is an expert. Over the course of five hours, she asks just three people what their drink order is. She asks one guy how his meeting was at work yesterday, calls a little girl in a passenger seat "princess," and asks if she wants extra sprinkles. Tammy says she's had days where she brought in $500 in tips. People even gave her Christmas cards and cookies last year. "We make good money," she says. "And it's not hard work."
But many don't see it the way Tammy does. "One of my friends said, 'You need to have respect for yourself,'" she says. "I was like 'I do have respect for myself.' I almost get offended. Just because I work here doesn't mean I don't respect myself. It's an insult. People just don't understand."
The public might not see a significant difference between Tammy and the women at Deja Vu Showgirls down the street, but her mom most likely wouldn't be coming to work to say hi if Tammy were stripping. Would her boyfriend? Well, he doesn't know exactly where she works, she confesses. "I think about telling him everyday," she says, hugging her arms around her stomach. He knows Tammy works at a coffee stand, she says—just not this one.