How the Recession Changed Long-Term Unemployment
This downturn and recovery have been different than others, and workers of all types have suffered.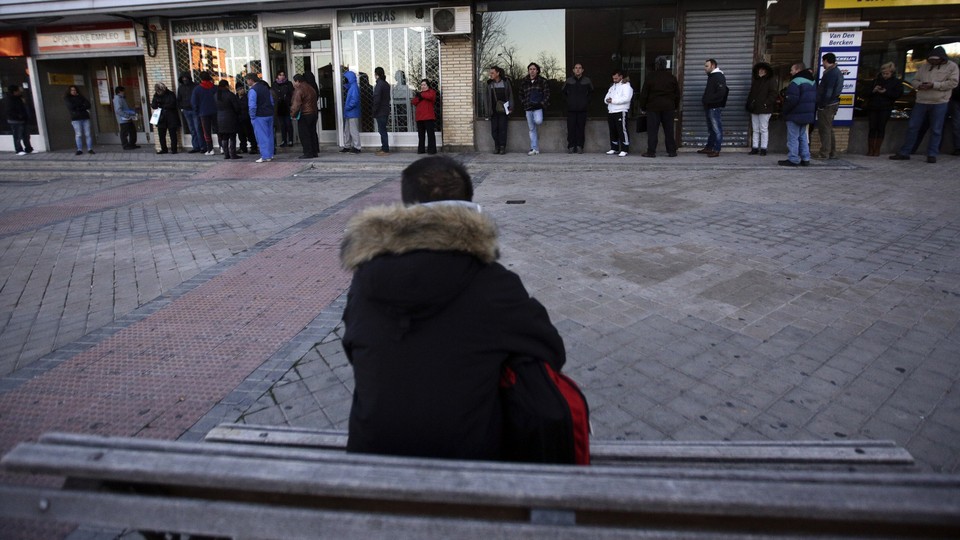 The number of Americans who have been out of work for six months or more steadily declined within the last year by 1.1 million people. The national unemployment rate fell, too, to 5.5 percent, as the economy added 295,000 jobs in February. This means that the United States is back to its normal, robust state, right?
Not for 2.7 million Americans, who are considered the long-term unemployed, because they've been out of work for 27 weeks or more. This group (which hit a record peak of 6.7 million people during the latter half of 2010) still accounts for roughly 30 percent of the total share of unemployed Americans. Even though the ranks of the long-term unemployed have decreased, the country is still dealing with the hangover associated with it. "We still can't tell if these people are getting jobs or just leaving the labor market," says Harry Holzer, a professor of public policy at Georgetown University. "And, if our labor force is shrinking, then our economic potential is shrinking, too. That is problematic."
The long-term unemployed look like 54-year-old Michele Natale, who lives in Flagler Beach, Florida. Natale lost her job in May 2014 as a nurse at a Philadelphia-area hospital, where she earned roughly $73,000 annually. She and her husband moved to Florida after her job loss, partly to live closer to family and partly because they assumed Florida would be a cheaper place to live than the Northeast.
While Natale waited to receive her license to work as a nurse in a new state, she applied for countless other jobs, like data entry, to no avail. Now, she and husband survive month-to-month on his $1,700 disability check. They live in a rented house that Natale fears they'll lose, since her unemployment benefits ran out and they've now run through $22,000 from her 401(K). "It's been tough," she said by phone one recent afternoon. "We're just not eating a lot and not using any gas. We're down to bare necessities."
Fifty-two-year-old Jeffrey Boike went through a similar experience after losing two successive jobs within the last few years. Boike manages housekeeping crews for hospitals: a pretty good job, he says, for someone with just one year of college. First, he lost a long-standing gig in Indiana; then later, lost a similar job in Nebraska, where he moved specifically for work. He's now living in his home state of Michigan, where he stays in a relative's basement to save money. He took a $10,000 pay cut for his new job and drives 60 miles each way to work: a trip that costs him $600 a month in gas. "It's been a rough couple of years, and I'll be paying for it for years to come, because I took such a hit on my credit," he adds.
Part of what made this recession different than others is simply the length of time it has taken for the economy to bounce back. The ranks of the long-term unemployed have thinned since the peak of 2010, but 2.7 million long-term unemployed people is still not a statistic that makes economists and politicians excited.
The Great Recession also affected workers indiscriminately. "Before, it was highly unlikely that someone who was highly skilled and employable would be out of work for so long," says Jesse Rothstein, an associate professor of public policy and economics at University of California, Berkeley. "In this recession, if you lost your job in January 2009, it did not matter how skilled or motivated you were. You would not have another job before you were long-term unemployed."
That made the share of the long-term unemployed much greater than in prior recessions. Research from three Princeton University economists, Alan Krueger, Judd Cramer, and David Cho, shows that the number of long-term unemployed hovered around 10 percent to 20 percent of the unemployed population for roughly 60 years; however, during the Great Recession, the share of long-term unemployed hit as high as 45 percent of the total unemployed population. "The long-term unemployed, therefore, exert a more significant effect on unemployment dynamics today than they have in the past," the paper says.
The Bureau of Labor Statistics recently did an analysis of long-term unemployment from 2007 to 2009. Their findings lay bare the demographics of this group in a new, stark manner. Among the surprising data points: A college degree was not enough to stave off long-term unemployment. People with a high-school diploma were just as likely to be out of work for 27 weeks or more as a person with a bachelor's degree during the height of the recession.
Older workers, African Americans, and Hispanics were the groups most likely to go through long-term unemployment; same goes for people who worked in specific industries, such as sales, office jobs, and management. Long-term unemployment also saw huge variations state by state. In 2014, for example, Washington, D.C., saw the highest percentage of long-term unemployment in the country at 49.2 percent, whereas North Dakota boasted the lowest at 13.1 percent, according to BLS data.
Despite this new information about the makeup of the long-term unemployed, the political will to help the group has largely subsided. Congress let federal emergency unemployment benefits for the long-term unemployed expire. States across the country from Florida to Kansas to North Carolina have cut the number of weeks of unemployment insurance that they now offer. "We pretty much leave long-term jobless folks to their own devices," says Rick McHugh, a senior staff attorney at the advocacy group, the National Employment Law Project. "We expect them to sink or swim on their own, and some of them are definitely sinking. The issue of long-term unemployment has dropped out of the public eye."
Natale certainly feels that way from her home in Florida, where she and her husband rarely go out in an effort to save money. The upside for Natale is that she just received her nurse's license to work in Florida, after scrounging up $450 to pay for the credentials. Her plan now is to apply for everything including jobs in her field of health care. "I will work anywhere," she says. "I am not going to be picky."