How NPR Tote Bags Became a Thing
Functional and affordable, the canvas bag has become a cultural touchstone. But news merchandise today, like the industry itself, is increasingly specialized.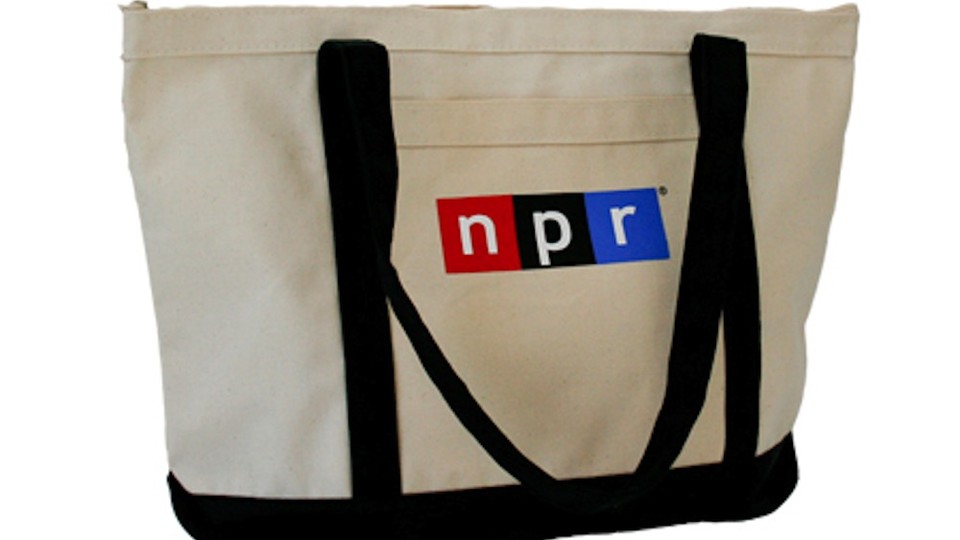 Tote bags are so synonymous with public broadcasting in the United States that they're as much a physical manifestation of NPR as a radio. The humble tote bag is, and has been for much of the network's 44-year existence, a powerful brand extension.
In the beginning, tote bags were a simple fundraising incentive—a "thank you" gift for donors who helped support the network. Tote bags have been around since at least the late 1800s, but L.L. Bean is widely credited for having popularized the bag. It was originally designed "to haul ice from the car to the ice chest," in the 1940s, according to advertising material. Tote bags have since become a cultural phenomenon, so much so that the canvas bag's association with NPR is an indelible part of the object itself.
"The tote bag is similar to the dawn of man, [like] figuring out fire for public radio," said Barbara Sopato, the director of consumer products for NPR. They were popular from the start because "people just liked tote bags" in the early 1970s when public radio began, Sopato told me, but also because NPR had stumbled upon the quintessential object to represent both its brand and its audience. "It was an easy give away, affordable and useful," she said. "That's what fits in with public radio. It's very affordable, very useful. We're grassroots people."
From the perspective of stations trying to raise money for operations, the appeal is clear. Each give-away tote bag costs a station about $5, according to one estimate, but donors often give at least $60 in exchange for one. (At the network level, NPR has switched to only U.S.-manufactured canvas totes, which drives up the cost.) Yet when Sopato opened NPR's shop 15 years ago, she decided not to sell tote bags. That was a mistake. "I thought no one will buy a tote bag because everybody's been given them," she said. "Same thing with the mug. I was completely wrong. Mugs and tote bags are our best sellers."
NPR sold about 2,000 tote bags last year. That's in addition to the countless tote bags that member stations—NPR affiliates like WNYC, WBUR, Hawaii Public Radio, etc.—offered as part of local pledge drives. "I haven't killed the tote-bag giveaway market," Sopato said. "We've raised all boats by filling the world with more tote bags."
NPR has filled the world with more branded merchandise in general. The network sells, for instance, aprons, baseball hats, reusable utensils, maternity clothes, stationery, umbrellas, jigsaw puzzles, teacups, solar-powered wireless speakers, dog sweaters, potted spices, and cuff links featuring the NPR logo. Public radio listeners also tend to embrace quirkier products—like the Nina Totin' Bag, which featuring the likeness of the long-time legal affairs reporter Nina Totenberg, and various merchandise featuring the former NPR journalist Carl Kasell. "Oddly enough, we made a Carl Kasell doll years ago, and people sent me pictures of when they gave that doll to their daughters," Sopato said. "It was really funny because they were holding it like a baby and [the doll is] a little old man in a suit."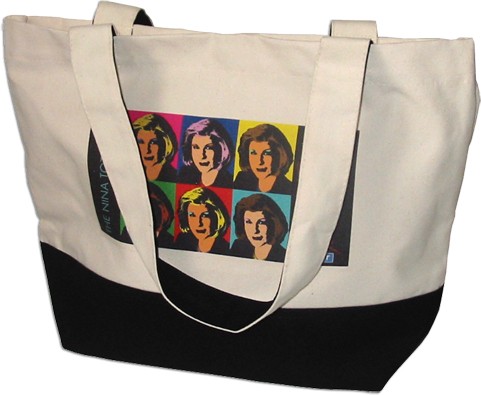 But somewhat unusual objects are increasingly part of news organizations' branding efforts, which is a handy metaphor for the way the news industry itself has changed in the Internet Age. In an increasingly competitive news environment, specialization is a way to stand out. The Wall Street Journal now sells wine and steak knives. The Atlantic sells baby gear like pacifiers and onesies. At the New York Times store, there are items like baseball hats and coffee mugs for sale—but also personalized pepper mills ($75) and porcelain-encased perfume bottles ($280). The Times even sells a collection of antique silver, including Victorian candlesticks ($1,535) and silver-plated goblets ($325).
"We have a lot of one-of-a-kind rare collectibles," said Joseph Adelantar, the executive director for retail at The New York Times. "We do it because there is a customer appreciate for these rarities."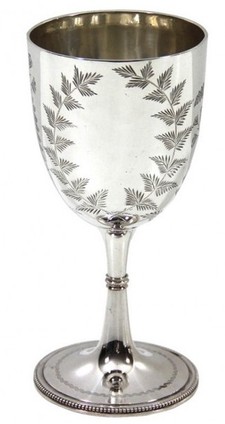 And also because it is yet another way for the Times to tell stories. Adelantar describes the store as an extension of the newspaper. Its best-selling item is a personalized book—usually to commemorate a person's birthday or another significant day—that shows decades of front pages from a chosen date.
"Our tagline is 'curated by The New York Times,'" he said. "There's a sense of storytelling... So when you buy a vintage radio for $5,400, you get a front-page reprint that we wrote when that radio was first created. There's always a tie-in with our content." Ship models, which sell "phenomenally well," come with archival coverage of related news—like stories about the sinking of the Titanic, for example.
Merchandise sales may not be a significant contributor to the bottom line, but it is a way to connect with a core group of loyalists, according to Alice Ting, who is the vice president for brand development at The New York Times. "At the end of the day our subscription revenue and advertising pretty much dwarf the revenue that we bring in from the store," she said. "It's another way for us to build on that relationship with our reader." (Ting declined to share store revenue.)
But for all the unusual objects the Times offers—the radio show Marketplace recently compared its store to SkyMall—readers have signaled clearly the items they aren't interested in, according to Ting and Adelantar. In focus groups, "very opinionated" Times readers made it clear that they would buy cutting boards and vintage pie boxes from the newspaper—but rejected the idea of fragrances or a Times partnership with a luxury handbag designer or high-end fashion house.
But, of course, they still sell tote bags, too.