The Collapse of the Comcast-Time Warner Merger
Following scrutiny from regulators, the controversial deal has been scrapped—which is welcome news to many.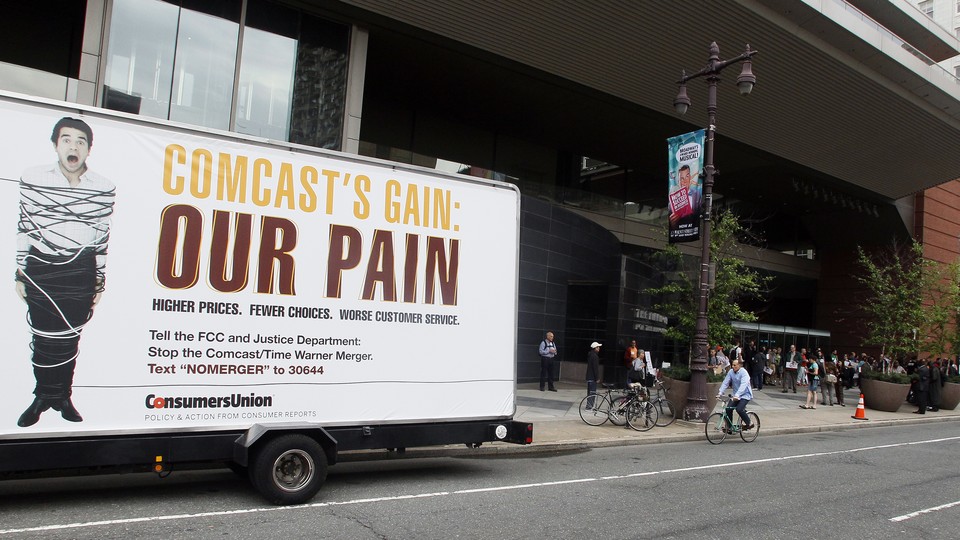 Updated April 24, 2015, 9 a.m.
Despite a shaky reputation with consumers, Comcast, America's dominant cable and broadband provider, only seemed poised to grow larger. But the threat of government regulation appears to have interfered with this plan. The company announced on Friday that it would abandon a planned merger with Time Warner Cable, its nearest rival.
"Today, we move on," Comcast CEO Brian Roberts said in a statement. "Of course, we would have liked to bring our great products to new cities, but we structured this deal so that if the government didn't agree, we could walk away."
The withdrawal comes after the Federal Communications Commission told Comcast that the merger would "not help consumers." A meeting with the Justice Department last week resulted in fears that the deal would harm competition.
Comcast had promised that the merger, announced in February 2014, would give its customers faster Internet and more reliable service—if not necessarily lower prices. The company argued that the merger would also steer clear of anti-trust violations. Because the two companies don't compete in the same local markets, Comcast argued, they essentially function as parallel monopolies—each lacking the advantages of the other.
Detractors of the merger, however, argued that this focus on individual markets obscured the fact that on the national level, it would create a real lack of competition. The merger also drew opposition from another concerned party: content producers. A super-sized Comcast would gain leverage in negotiations over companies like Netflix and Disney, whose television shows, movies, and live sporting events have national reach. Customers could benefit from faster connection speeds, but suffer from fewer options for what to watch.
Merger or not, Comcast's position as the nation's largest cable and broadband provider will not change. But the demise of its deal with TWC is only the latest setback for the company in 2015. In February, the FCC's classification of broadband Internet as a utility and affirmation of net neutrality attracted vehement opposition from the company.
Now, speculation turns to what's next. Industry analyst Rich Greenberg told Bloomberg that the company "may be better off in the long run focusing its efforts on buying a wireless company or more content." Fortune reported on Thursday that Comcast has been in acquisition talks with Vox Media. As for Time Warner, it may still be an acquisition target for Charter Communications, whose hostile bid for TWC kicked off the would-be Comcast merger in the first place. So even though this deal may be over, further consolidation in the cable and broadband industry is almost certainly not.