When Hip-Hop First Went Corporate
To rappers in the early 90s, hawking malt liquor on TV wasn't selling out—it was a sign of cultural legitimacy and upward mobility.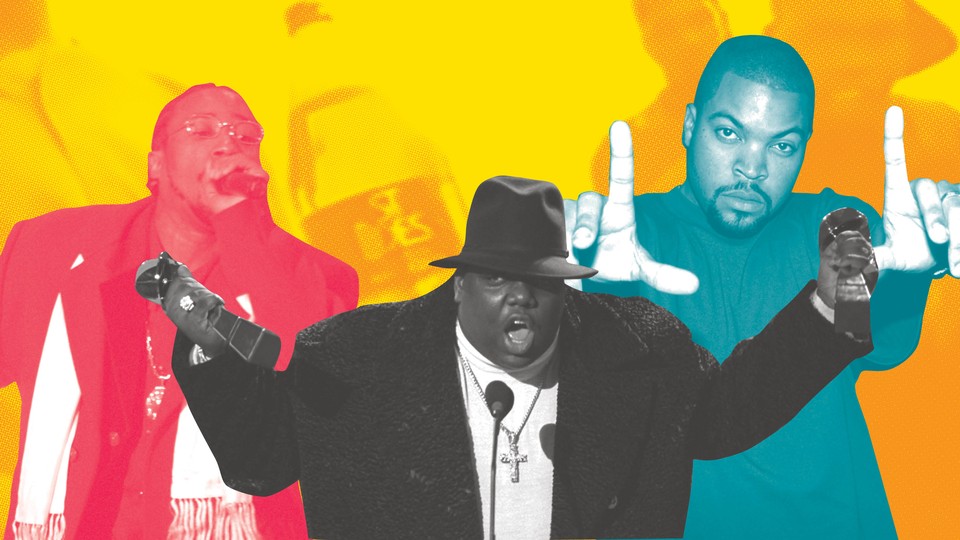 First up is the Wu-Tang Clan's Method Man rapping over a minor-key piano sample atop a classic East Coast boom-bap beat, climaxing with a roar and proclaiming that he likes to wet his whistle with a 40-ounce. The camera pans past Ol' Dirty Bastard with a lady on his lap, and the mic is thrown to Raekwon, who's gallivanting on a rooftop and dropping mid-tempo paeans about the art of imbibing. The scene, interspersed with shots of a large beer bottle exploding and re-forming, then switches to Ghostface Killah in front of a bodega, frenetically waxing poetic about the pleasures of liquid yeast.

But this alcoholic ode wasn't a video for a track off from a Wu-Tang Clan solo album. This 30-second 1994 commercial was part of a campaign for St. Ides, a low-cost, previously obscure brand of malt liquor, that was the first to weave a hip-hop aesthetic into its central messaging.

Today—when Dr. Dre is an Apple executive, Jay-Z has partnered with Samsung on an album release, and Snoop Dogg has appeared in Chrysler commercials—the St. Ides campaign appears strange, a relic from a time when hip-hop culture hadn't yet earned wider Madison Avenue respect.
"Back then, part of the excitement within the hip-hop subculture, as it still was at that time, was the dawning realization of the potential for hip-hop marketization," says Eithne Quinn, a senior lecturer in American Studies at the University of Manchester, in the United Kingdom. "Many artists, from poor backgrounds as they often were, didn't see this as selling out."
In 1988, the San Francisco-based McKenzie River Corporation launched its St. Ides hip-hop ad campaign. At the time, the targeted marketing of malt liquor to black and Hispanic communities was nothing new. Debuting on the market two years before the campaign began, St. Ides joined an already crowded malt liquor field that included brands like Pabst's Olde English, Anheuser Busch's King Cobra, and G. Heileman's Colt .45.
But what made St. Ides different was that it's one of the earliest examples—if not the earliest—of a brand with no inherent ties to hip-hop completely building its identity around the genre, entrusting the culture's tastemakers with its messaging. Adidas may have signed on Run-DMC for a mainstream advertising experiment, and Fred Flintstone and Barney Rubble may have started rapping to sell Fruity Pebbles once upon a time, but neither brand needed hip-hop to shoulder the weight of their overall advertising. St. Ides did.

"Back then, it was good to see a representation of hip-hop and the power of it," says Robert Clifton Jr., the director of influence and content at Commonground/MGS, a communications firm specializing in multicultural messaging. "From an economic point of view, you knew that there was money being exchanged, so you realized that hip-hop was gaining power as a culture."
As an American consumer product, malt liquor dates back to the World War II era, when it was marketed mostly to white consumers, but developments in the alcohol industry broadened what could work as a viable target demographic. In the 1970s, America's beer industry experienced a tide of consolidation as various regional breweries gave way to a smaller number of national producers with a larger reach. This came about in a post-Civil Rights-era landscape in which more big-name companies were starting to target African American consumers. (Brands such as Budweiser were already advertising in black publications in the early 60s).
In the 80s, producers in the consolidated beer industry seized on malt liquor, which could be sold especially cheaply when produced in large quantities. To marketers, low prices and lower-than-average disposable incomes in minority communities were a natural match.
"Malt liquor … has become the drink of choice among many in the inner city," wrote reporter Marc Lacey in a 1992 Los Angeles Times article about the marketing of alcohol in inner cities. "It is heavily discounted in black and Latino neighborhoods nationwide, and promotions coyly—and sometimes not so coyly—plug its potency."
In those days, when brewers advertised malt liquor to black people, they would usually display beautiful models in print spreads and employ black celebrities like Richard Roundtree, Fred "The Hammer" Williamson, Redd Foxx, and Billy Dee Williams. Williams' Colt .45 spots—which included his image and the slogan "Works every time"—became an 80s pop-culture touchstone.
Consumerist cynics might have looked at malt-liquor marketing much like the late economist John Kenneth Galbraith viewed cigarette advertising in his 1952 book American Capitalism, in which he wrote that "the very instrument which once rewarded the community with lower prices and greater efficiency now turns up assailing its ear with rhymed commercials … and rendering the countryside with hideous commercial art." The marketing of malt liquor had enough momentum gathered by the end of the 80s to colonize hip-hop as a new decade beckoned.
In the 90s, after failing to gain traction with a campaign featuring Motown legends the Four Tops, St. Ides turned to a West Coast producer who worked under the name DJ Pooh to help design its radio and TV spots. Having already worked with LL Cool J and King Tee, DJ Pooh was given a tremendous amount of creative freedom by St. Ides, even by the standards of hip-hop artists recording with major labels.* "Musically, it was a landmark," says Dan Charnas, author of the 2010 book The Big Payback: The History of the Business of Hip-Hop. "I really believe it was the first time a brand turned over the creative keys to an artist to make commercials for them as they saw fit."
DJ Pooh tapped into his Rolodex to find guest stars for the campaign, the roll call for which reads like a Who's Who of the culture's most respected early- to mid-90s artists: Ice Cube, Da Lench Mob, Snoop Dogg, Tupac, Warren G, Nate Dogg, King Tee, EPMD, Eric B & Rakim, Cypress Hill, Notorious B.I.G., the Geto Boys, MC Eiht, and the Wu-Tang Clan, whose 1994 song for St. Ides—technically speaking, a jingle—was ranked by Complex magazine as one of the crew's all-time top 100 songs.

While the campaign's print ads were a staple in hip-hop and urban-culture publications, it was its radio and TV spots that allowed St. Ides's salesmen room for creativity. Whether they were rapping lyrics committed to paper or freestyling, the MCs conveyed a feeling of inner-city camaraderie, street-corner improvisation, and studio-session creativity. The resulting music is so hummable and inventive that it's hard to separate from what might have been recorded for a typical album. McKenzie River, aware of how catchy those ditties were, even put out a compilation cassette tape of its greatest hits.
"As a kid, you're walking around, singing these songs and basically endorsing these liquor and spirit products," says Aaron Paxton Arnold, the CEO of MusicIsMyBusiness, a brand-management consultancy. "You don't know what it is, but you just know that it's cool because it sounds good."
But the lyrics were only half of the appeal. The sonic backdrop to the rhymes alternately evoked East Coast hardcore (Notorious B.I.G.), psychedelic soul (Cypress Hill), and the laid-back, rolling sounds of West Coast G-funk (Ice Cube). And the visuals of the commercials—whether depicting rappers in the backyard barbecuing and playing dominoes, in the studio killing time, or hanging outside on a lazy afternoon—added to the allure.
"St. Ides's ads emerged at the same moment that hip-hop promo videos went mainstream on music-television channels, and the two worked synergistically to cross-promote each another," says Eithne Quinn. Quinn, whose 2005 book, Nuthin' But a 'G' Thang: The Culture and Commerce of Gangsta Rap, comprehensively chronicles the campaign, credits the ads with authentically reflecting hip-hop's aesthetic at a time when it was knocking on the door of the mainstream. "The ads and [rap music] videos often shared the same settings and styles," she says. "The ads, often made by underground hip-hop producers with a purposeful low-production and verité styling, felt credible to many hip-hop fans. They had credibility for the core hip-hop audience, and from there, they seemed cool to the exploding suburban fan base for hip-hop."
While DJ Pooh added instant street cred to St. Ides's ambitions, it took an unintended controversy to catapult the brand onto the average hip-hop listener's radar. That came courtesy of a 1991 radio ad, which used a vocal sample of Public Enemy's Chuck D from the song "Bring the Noise" without his permission.
Having recorded the Public Enemy track "One Million Bottlebags" that year to protest malt liquor's pervasiveness in the black community, Chuck D, unsurprisingly, wasn't thrilled about his voice being used to hawk St. Ides, and promptly filed a $5 million lawsuit against McKenzie River that was eventually settled out of court. Later that year, McKenzie River was sued by (and ultimately settled with) the New York State Attorney General's Office for ads allegedly targeting underage minority children. Also, it was fined by the Bureau of Alcohol, Tobacco and Firearms, which proceeded to shut down the company's operations for three days. (Activists and authorities perhaps gave malt liquor special scrutiny because its percentage of alcohol by volume is more than that of most beers.)
Although McKenzie River denied it was purposefully targeting minors with St. Ides, it agreed to produce ads warning against underage drinking and drunk driving, as well as public service announcements promoting safe sex. It also donated money to charitable causes that Ice Cube was involved in, such as 1992's "Get the Fist," a West-Coast rap record released in the wake of that year's L.A. riots.
McKenzie River may have pushed the limits of propriety with its ads, but legally, nothing stopped the campaign from proceeding. Exavier Pope, a Chicago-based attorney who specializes in entertainment and intellectual-property issues, says that there isn't any legal precedent explicitly banning an ad campaign like this—one that is targeted at a particular community in a way that some in that community perceive to be harmful.
Many weren't pleased that a product with an above-average percentage of alcohol by volume was being marketed heavily to minority communities with disparities in income, diet, and healthcare. "Do I think Ice Cube telling people to get tested for AIDS is a good thing? Yeah, it would help," says TJ Crawford, the city manager at the African-American lifestyle publication Rolling Out and a longtime activist in Chicago's hip-hop circles. "But that positive message wasn't promoted the same in comparison to the economic message of 'Buy Malt Liquor.'" (Other than noting that the McKenzie River employees involved with the campaign have long since left, a company spokeswoman declined to comment on the St. Ides campaign.)
The advertisements had other detractors too. The Wall Street Journal, in 1991, called the St. Ides ads some of the year's most memorably embarrassing. That year, Antonia Novello, then the U.S. Surgeon General, made it known that she wasn't please with the state of alcohol advertising in general. "The ads have youth believing that instead of getting up early, exercising, going to school, playing a sport or learning to be a team player, all they have to do to fit in is learn to drink the right alcoholic beverage," she said in a 1991 press conference in which she mentioned St. Ides by name.
As it turned out, the 1994 Wu-Tang commercial arrived when hip-hop culture was undergoing a change that would start to render the grittiness and low-production values of the St. Ides campaign passé. The success of the Notorious B.I.G.'s debut 1994 record Ready to Die would introduce hip-hop fans and casual listeners to Bad Boy Records and its CEO, Sean "Diddy" Combs, who wasn't shy about promoting the aesthetic of "ghetto fabulous," hip-hop's new label for its upwardly-mobile ambitions.
From urban hymns about realizing the American Dream to the videos celebrating them, B.I.G. and others were heralding a new hip-hop epoch. "When you talk about Diddy rising to the top and others become mega-rich, then the whole world started to take notice of this new money," says Commonground's Robert Clifton. "And so naturally, the whole style of how they presented themselves as they became ultra-rich would change the look and the feel of how hip-hop was influencing advertising."
It was when Ready to Die's "Big Poppa" and "One More Chance" cracked the Billboard Top 10 in 1995 that the genre's materialist aspirations attracted Madison Avenue's attention. With hip-hop culture prominently displayed by all-American brands, from Sprite to Tommy Hilfiger, in ad campaigns in the mid-90s, the marketing relationship with St. Ides eventually ran its course—it was over before McKenzie River discontinued the brand in 1998 and later relinquished the rights to it. (Pabst, which later obtained the brand, now displays the beer on its website accompanied by a link to Notorious B.I.G.'s mid-90s TV ad. St. Ides is currently available in stores in 13 U.S. states, about half of them in the Northeast and mid-Atlantic.)
As for hip-hop and alcoholic beverages more generally, it's all still love: The rapper Nas pitched Hennessy in primetime ads last year, and Diddy was the brand ambassador in a series of 2013 Rat-Pack-style spots for Cîroc, which later became a sponsor of the National Basketball Association. During the 90s, when Ice Cube was rhyming "Get your girl in the mood quicker" and "Get your jimmy thicker" with "St. Ides malt liquor," it must have been hard to imagine that he'd go on to become a mainstream pitchman; and yet, he appeared a few years ago in an ad for the historically conservative Coors Brewing Company, whose founding family includes a Reagan administration advisor and a Heritage Foundation funder.
As controversial as the St. Ides campaign was, Eithne Quinn does confess to feeling sentimental about it, since she sees it as representative of the era's creativity and anti-establishment artistry. It's a spirit, she believes, that has been sacrificed in hip-hop's ascendance into the popular realm. "Mainstream hip-hop's relentless promotion of high-end brands is deeply problematic," she says. "It fuels consumerism and materialism, which is often felt most keenly by those who can least afford to buy the brands."
"Logically," she adds, "the appalling loss of wealth holdings among working-class and non-white communities since the financial crash, and the desperate shortfall in decent jobs for young people, should lead to a reinvestment in 40-ounce culture, the brew of the oppressed."
---
* This article originally stated that DJ Pooh had already worked with Tupac, Snoop Dogg, and Dr. Dre before beginning his work with St. Ides, which helped him get that advertising contract. In fact, he worked with those artists later in his career. We regret the error.