2.6 Million Americans Are Unemployed. Do They Need a Self-Esteem Boost?
MIT researchers believe the long-term unemployed need to treat the emotional bruises that can come from looking for jobs.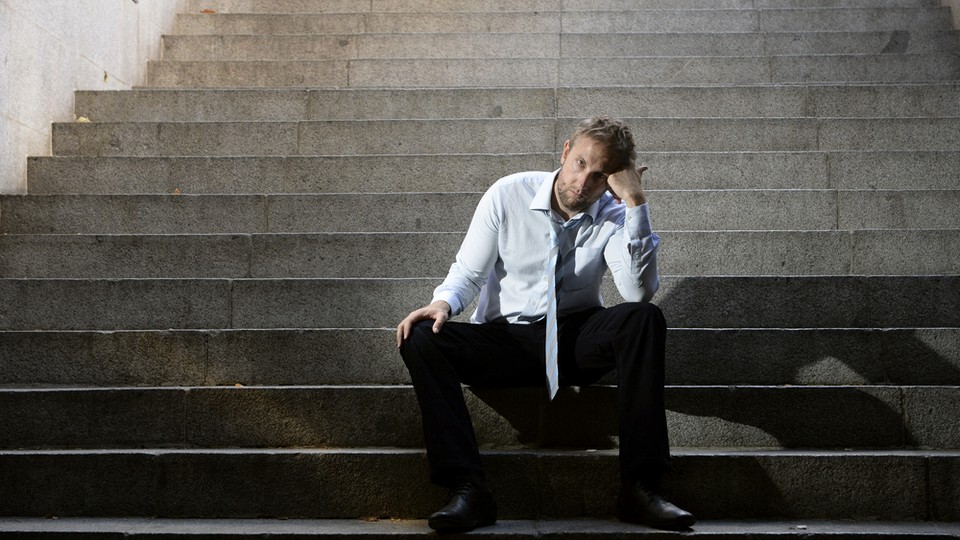 When MIT Professor Ofer Sharone started researching his recent book about unemployed technology workers from Israel and the United States, he came across a startling revelation. Even though the unemployed American and Israeli workers came from similar professional backgrounds, with comparable levels of skill and education, unemployed Americans felt much worse about themselves than the Israelis. "That was the thing that really stuck out to me," Sharone says. "American white-collar professionals take a huge hit to their sense of self when they are unemployed."
Most of that comes from the way Americans look for work, says Sharone, a sociologist by training. Networking, contacting former colleagues for job leads, or trying to win over recruiters online or during interviews is a highly interpersonal process that makes people put themselves out there again and again in a pretty intense way. And, if you've been out of work for months, those repeated rejections can begin to feel personal. "What job seekers are often told, in an effort to make them feel empowered, is that they should take charge and just put all of the negative thoughts out of their minds," Sharone says. "That only accentuates the idea that there is something wrong with me [the job seeker]." And this, in turn, can create a sense of vulnerability that networking groups or job-advice books usually do not address.
Sharone set out to correct this in the fall of 2013 when he founded the Institute for Career Transitions, a research project out of MIT to study the best ways to help the long-term unemployed. His plan was to work with white-collar workers, between the ages of 40 and 65, to focus on the emotional bruises associated with long stretches of unemployment, as well as practical job-search tips.
He wanted create an organization that did this through weekly individual or group counseling sessions, provided pro bono by local career coaches, academics, and former HR executives. He devoted his MIT research money to the project, got a grant from the AARP Foundation, and then relied on roughly $80,000 worth of counseling sessions donated by participating professionals. The goal was to create a long-term body of research on strategies to put this vulnerable population back to work and to have it handy for the next time a major recession hits.
(RELATED: The U.S. Added Only 126,000 Jobs in March. But There Could Be Some Good News)
It's a worthy goal, considering the extent to which long-term unemployment colored this past recession. At its peak in 2010, 6.7 million Americans were considered long-term unemployed: meaning, they had been out of work for 27 weeks or more. That number has now decreased to 2.6 million, according to the latest data from the Bureau of Labor Statistics. Research shows that older workers were disproportionately affected by long-term unemployment, and they often suffer from its aftermath, including health problems such as depression and job discrimination.
Fifty-four-year-old Marjory Aarons knows firsthand the perils of long-term unemployment. Aarons got laid off from her white-collar job in the corporate office of Staples in February 2007, after close to 11 years with the company. Trained as an accountant and data analyst, Aarons worked for the marketing group and earned as much as $100,000 a year. After her layoff, she opted to take some time off and take care of her three children, then ages 10, 13, and 15. The only problem? When Aarons wanted to re-enter the labor market one year later in 2008, the Great Recession was raging. Companies were shedding jobs en masse. Even for someone with a college degree and good work experience, jobs seemed scarce.
Aarons spent the next few years doing odd jobs, including bookkeeping for local businesses and compiling tax returns for H&R Block. She leaned on family members for additional financial assistance, especially since she was a single mom, and got mired in roughly $40,000 in credit-card debt. By the time she heard about the Institute for Career Transitions through her local synagogue, she was not sure that she'd ever be able to comfortably support her family again. "Basically this program saved me," she says. "I really didn't know if I'd ever get back into normal, regular work again."
Aarons signed up with ICT and started to meet with her career counselor, a retired H.R. executive from Talbots. Over roughly 12 weeks, he helped Aarons build up her self-esteem. He encouraged her to reformat her résumé, led her through mock interviews, and urged her to treat her job search as a full-time gig. "He got me to remember the great things I did," she says. Eleven months ago, Aarons landed a job at her alma mater, Babson College, as a report writer and data analyst. She took a pay cut, compared with her last full-time job at Staples, but she now enjoys her work and her new colleagues and considers herself lucky. "For me, it was the emotional support that worked. I needed someone to remind me of my skills," she says.
(RELATED: A Better Way to Help the Long-Term Unemployed)
Since 2013, ICT has worked with roughly 170 white-collar professionals, like Aarons, who are among the long-term unemployed. Sharone strongly believes that zeroing in on the emotional aspect of unemployment may be the key to helping them land new jobs; he's hoping that the data he gathers after the counseling sessions can help illuminate this hypothesis. "These people have lost their identity. So much of who we are is what we do for work," says Clare Harlow, one of the ICT volunteer counselors. "It is a difficult situation, but they need to say, 'Yes, I can do this.' We help them believe in themselves. Once they get that going, the job search is just nuts and bolts."
Part of the appeal to both job seekers and counselors is that ICT is working toward this larger goal of developing strategies to help the long-term unemployed across the country. It helps people, who may be isolated or disconnected, feel like they are attached to something bigger. "There is skin in the game in this, the research," says career counselor, Cindy Key of Key Concepts. "It is a commitment to giving back. That is part of what makes this different from other programs."
Sharone's next step is to pinpoint what actually works to help the long-term unemployed land new jobs, based on this small, ongoing pilot. "I think of it as developing hypothesizes that should be tested on a much larger scale," he says. Sharone is also working on developing other programs like an intensive boot camp for job seekers this spring and a webinar to offer to long-term unemployed people who live outside of the Boston area. "It is an end in and of itself to deal with emotional crisis," Sharone says about long-term unemployment. "If you don't deal with the emotions, you will not be an effective networker."