When the Path to Homeownership Runs Through Public Housing
A federal government program is trying to turn our nation of low-income renters into future homeowners by helping them build up savings accounts.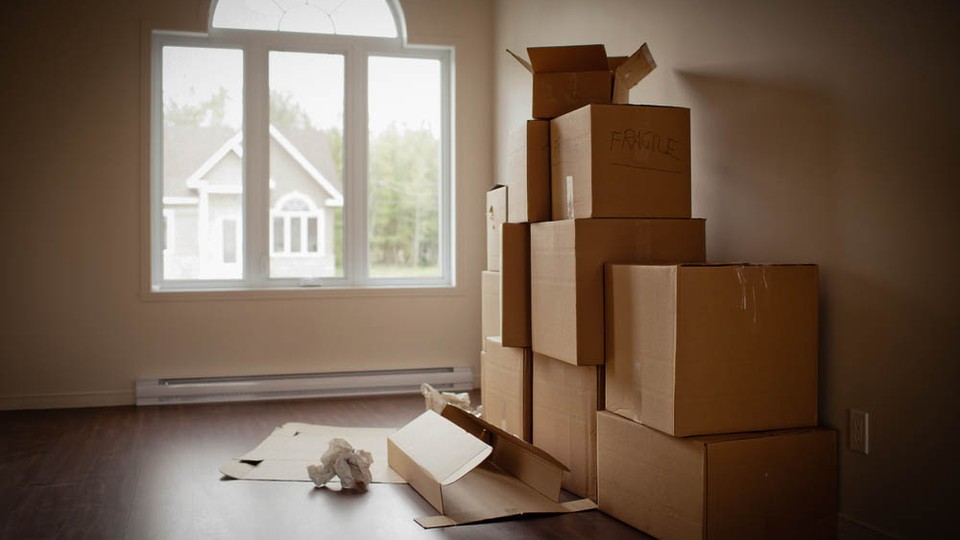 More than 40 million American households now rent their homes and apartments, as homeownership has declined in the shadow of the foreclosure crisis and the global financial recession.
Renting certainly offers perks. Shoveling the snow off the front sidewalk? Not your problem. Same goes for fixing broken appliances or shelling out cash for major, unexpected repairs. But renting also presents a singular financial challenge: It does not allow people to save by building up equity in their homes, and that remains one of the best ways for Americans to accumulate assets.
That's why policy and housing experts want to find ways to encourage renters to save. One potential model comes from the federal government's own Family Self-Sufficiency Program. The program, known as FSS, began in 1990 out of the Housing and Urban Development Department.
Originally, FSS was designed to help residents in public housing become more self-sufficient, get off of public assistance, and accumulate savings. A 2011 study of FSS, conducted by HUD, showed that residents enrolled in the program saw their annual incomes jump from $19,902 to $33,390 over a five-year period. And, when people did complete the program, they left with roughly $5,300 in savings, on average.
Residents of public housing enroll in the five-year program, and in doing so, they set goals for themselves in terms of their education, lifestyles, and job prospects. People in the program must meet with case managers on a regular basis to ensure they're fulfilling the goals. FSS encourages participants to return to school, look for better jobs, take classes in budgeting and parenting, and try to lead healthier lives.
As the enrollees begin to land better jobs and earn higher salaries, FSS allows them to put that money into savings instead of paying higher rent. (Typically, public-housing rental payments are on a sliding scale based on residents' incomes.) So, for example, if an FSS participant's salary increases from $1,200 to $1,500 a month, the $300 difference would go into an escrow account instead of toward higher rent. Once FSS participants have completed the program, they can access all of the money in that savings account. Roughly 14 percent of FSS graduates became homeowners after finishing the program, according to HUD's 2011 study.
Jane Ssemanda, a 29-year-old Maryland resident, knows the benefits firsthand. She enrolled in FSS in 2011 through her local public-housing authority, Housing Opportunities Commission of Montgomery County.
Ssemanda landed in public housing after escaping an abusive relationship. At the time, she had two small children under the age of three and worked a low-paying job as a certified nursing assistant for $10 to $12 an hour. She struggled to pay her bills and received government benefits such as food stamps, health insurance, and the Special Supplemental Nutrition Program for Women, Infants, and Children.
Through the FSS program, Ssemanda underwent counseling, took parenting classes, finished her master's degree, and landed a new job at Montgomery College helping to teach its students life skills. She now earns $56,000 a year. In 2014, she graduated from the FSS program, and with her roughly $14,000 in savings, she purchased an $183,000 townhouse in a new development in Silver Spring.
She moved into the three-bedroom, two-bath home, with its own garage and a community pool, just in time for her daughter, now six, to start kindergarten in what Ssemenda says is an excellent school district. "To be honest, it hasn't really sunk in yet," she says, when asked how it feels to live in her own place. "FSS really taught me how to be self-sufficient and to have some confidence and self-esteem."
Montgomery County's FSS program, hailed as one the best one in the country by the Center for Housing Policy, primarily serves single parents between the ages of 35 and 50 who have two or more children. The Maryland program distinguishes itself from other FSS programs by having both professional staff case managers and volunteer case managers who are professionals and mentors from the local community. (This was the agency's creative work-around to a budget shortfall.)
Montgomery County has offered its FSS program since the early 1990s. It now serves 441 participants, and boasted a 44 percent completion rate in 2014, says Lynn Hayes, director of housing resources. This particular location in Maryland offers its own challenges, since it remains an expensive place to live—and not just for low-income families. "You have to just survive to pay the rent," Hayes says.
The FSS program faces two challenges on both the local and national level. In Montgomery County, anecdotally, one challenge is helping clients find child care, says Donna Robinson, the volunteer mentoring director who has worked for the program for eight years. Child care often is a necessary step for clients to land better jobs or to return to school.
Nationally, FSS's other challenge is that is still operates on a small scale. As of March 2011, roughly 55,000 people who lived in public housing or who received housing vouchers participated in FSS, according to HUD data. That seems like a large number until one considers the roughly 27 million rental households with annual income levels below $50,000, according to a 2014 paper on renters-as-savers from the left-leaning think tank the Center for American Progress.
For participants like Ssemanda, the five-year-long FSS program paid off: both in terms of a better life for herself and in terms of owning a home. Ssemenda no longer receives any government assistance and now feels that she can provide for her two children. "Now, it's really just about focusing on my kids and my career," she says from the porch of her Maryland townhouse.