What Do Americans Prioritize When Picking a Place to Live?
According to a new poll, economic mobility and diversity are key components of a good city or town.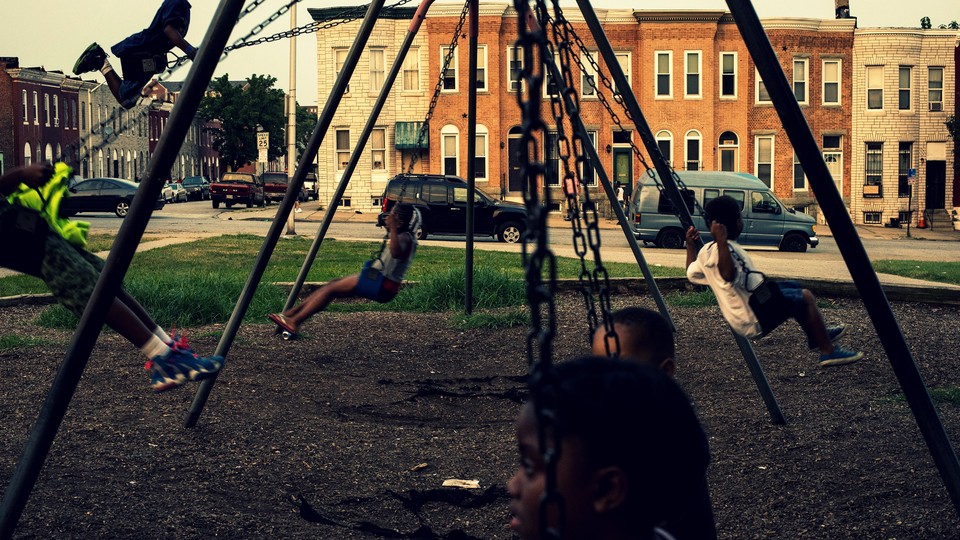 When you're looking for a city or town to call home, there are lots of factors to consider. For some, it's about being in an area that is economically vibrant, with plenty of job opportunities and growing infrastructure. For others, being in a city or town that is family-friendly, with access to good schools and activities for children may take precedence.
Though choosing a place to settle down includes many individual considerations, the most recent Allstate/National Journal Heartland Monitor poll suggests that there are a few things Americans agree on when it comes to picking a place to build a life.
More than 90 percent of respondents said that providing equal chances for all people to get ahead, through educational and economic opportunities, was one of the most important attributes that any community can have. And more than three-fourths of respondents thought that locations that included ethnic and racial diversity were a key factor for good communities. People cared less about living in an area that was politically or religiously homogenous, with only about half of respondents saying that they preferred living among those who shared the same religious or political affiliations.
In addition to asking people what elements made a city or town a good place to live, the poll also asked Americans how they felt their communities were performing on these measures. Seventy-four percent of Americans felt like their area was a place where all people had the opportunity for advancement. Twenty-eight-year-old Melanie Thompson would agree with that sentiment. She has lived in basically the same area, in Jackson, Michigan, for her entire life and says that the area provides resources and support for people of different income levels to enhance their educational attainment and careers.
"I'm currently going to the community college, I've been out of school for years and even when I was in school, there were lower-income kids who automatically got two free years [at the college]," she said. Thompson has four kids—ranging from 6-years-old to only 4 months in age—and she currently works at Burger King to help make ends meet. Though she says she'd be interested in a different job, she gives her town credit for being family-friendly and providing opportunities to work—even if they aren't the highest-paid jobs—while she pursues her nursing degree.
But some places didn't score as high with residents. For example, 23-year-old Devin Townsend is adamant that his hometown of Cleveland, Ohio, is not the place to get ahead. "There aren't that many opportunities. It's actually getting worse: the job rate, and the crime rate due to the job rate," he says. Townsend thinks that more jobs would be helpful, but he says that's just not the reality, and that the opportunities that do exist aren't spread evenly across all groups.
When it comes to the availability of economic opportunities in their communities, white respondents were slightly more likely to feel positively than black and Hispanic Americans. And not surprisingly, those who identified as being in a higher economic class were also more likely to have positive views of the economic opportunities available in their areas.
While there was a great deal of consensus about the importance of creating opportunities for everyone to get ahead, those who identified as minorities or Democrats were more likely to rate racial and ethnic diversity as important elements of their community than respondents who were white, or belonged to other political parties.
Melanie Thompson says that her once-homogeneous community in Jackson, Michigan, has gotten more diverse since she was a child. "When I was in school, it was mostly a white area but it's changed. It's quite diverse," she said. Thompson says she's all for the shift toward a more racially mixed town, but she doesn't necessarily feel that it is critical. "It's not huge deal, but it's better. With every different ethnicity it's more knowledge, the more you know the better off you are."
Nearly three-quarters of Americans said that they felt like the places they lived were communities with people from lots of different ethnic and racial backgrounds. White Americans and Hispanics agreed with the statement that their communities were diverse at lower levels than black Americans, who were more likely to report that they lived around people of different races and ethnicities.
---
For more on the methodology of the Heartland Monitor Poll, see here.