This is How You Remove the Roadblocks to Homeownership
Americans often need to first take small steps to improve their chances of landing a mortgage.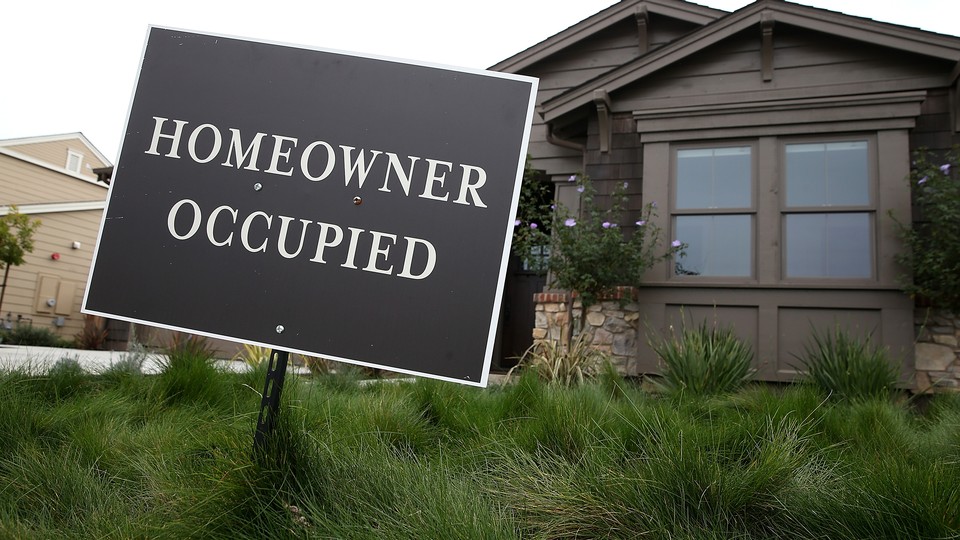 Homeownership remains a central tenet of the American Dream—even if, in the aftermath of the global financial recession, fewer and fewer Americans opt in. Just 64 percent of Americans now own their homes, a level so low that it's not been seen since 1994, according to census data. Policymakers and housing experts wonder when, if ever, the housing market will fully bounce back.
Myriad factors keep Americans from buying homes. Some people have less-than-perfect credit scores that prevent them from getting a traditional mortgage. Others did a short sale of their previous homes, or suffered through a foreclosure, temporarily dragging down their borrowing history. Others cannot save enough for a down payment, or have trouble getting approved for a loan because they don't hold a traditional job.
Many of the best policy ideas for encouraging homeownership involve tackling some of the smaller roadblocks. These various approaches help to give more people access to the housing market by building up credit or providing alternative ways of evaluating creditworthiness. They help low-income people amass saving. One program in Vermont even offers an innovative approach that shares both the risk and appreciation of homeownership between the owner and a local nonprofit.
With these criteria in mind, we've reviewed dozens of programs dedicated to helping people become homeowners. Here are the 10 we believe are the most innovative.
Champlain Housing Trust: This Vermont nonprofit organization tries to give low- and middle-income people the ability to own a home through its shared-equity model, which occupies a middle ground between renting and owning. The shared-equity model accomplishes two key goals for its beneficiaries and for communities. First, it helps low- and middle-income people save money by requiring mortgage payments without having to worry about the down payment (often, the sticking point for first-time buyers). Second, it helps to preserve affordable housing throughout the community.
See National Journal's in-depth profile of Champlain Housing Trust here.
Family Self-Sufficiency Program: Created in 1990 by HUD, this program helps people who live in public housing, or who rent via federal housing vouchers, build up savings. It's a model for other programs that try to encourage renters to amass cash. The program also encourages participants to enroll in school and advance their education; learn more about budgeting and parenting; and land better-paying jobs, so they can support their families. At the end of the five-year program following graduation, the participants receive whatever money they've accumulated in an escrow account and can use it for whatever purpose they chose, including buying a home.
See National Journal's in-depth profile of FSS here.
Fifteen-Year Fixed Mortgage: The idea of using a 15-year fixed mortgage to help people quickly build up assets is the brainchild of two policy wonks out of the conservative-leaning American Enterprise Institute. The thinking is: If people can pay off their mortgage faster, then they'll have more equity in their homes over a shorter timeframe, and after 15 years, they'll have no mortgage expenses at all. The nonprofit Neighborhood Assistance Corporation of America rolled out a version of this product last September.
Financial Opportunity Centers: These centers focus on trying to improve the bottom line for low-income people through career and financial coaching. Through one-on-one advising, the centers helps people land better jobs, save more money, and acquire more assets. The nonprofit Local Initiatives Support Corporation operates the network of centers, which have now expanded to over 70 locations in 30 cities.
HAMP: One lasting legacy of the global financial recession is the policy idea that, sometimes, it is wise to allow borrowers to modify their mortgages, particularly if they are underwater or potentially facing foreclosure. The federal government's own program, HAMP, offers one of the biggest blueprints for this idea for mortgages made on or before January 2009. These modifications can help people who are struggling to make mortgage payments, or who find themselves under financial hardship.
Privlo: This Southern California start-up sees an opportunity in handing out home loans to self-employed professionals, who may be overlooked by traditional financial institutions. The company does this by examining a wide array of documents, social-media use, and credit history to determine a borrower's creditworthiness. The goal is to give a greater slice of Americans access to the mortgage market, even if that involves paying a higher interest rate on the loan.
See National Journal's in-depth profile of Privlo here.
Self-Help: This network of credit unions, headquartered in North Carolina, is a community-development lender that tries to help low- to moderate-income people build up wealth and assets. Self-Help offers two financial products, in particular, that help people learn how to access and use credit wisely. The Credit Builder and Wealth Builder loans are meant as interim moves toward bigger financial goals, including potentially homeownership.
See National Journal's in-depth profile of Self-Help here.
Stabilizing Urban Neighborhoods Initiative: SUN is a program run by Boston Community Capital, a nonprofit community-development financial institution. When homeowners are going through the various stages of foreclosure, BCC will buy their mortgage; resell it back to the residents with a new, 30-year fixed mortgage; and allow them to reduce their monthly payments. The program's rules call for residents to pay no more than 38 percent of their income in monthly mortgage payments. Residents also must establish a rainy-day fund to help pay for any major repairs or to cover the mortgage during future financial hardships.
VantageScore: This Connecticut start-up, founded in 2006, wants to evaluate Americans' credit scores in new, different ways to give more people access to credit and potentially, the mortgage market. The company leans heavily on criteria such a person's ability to pay bills on time, the history and type of credit he uses, and total credit-card balances and total debts. The company has also tried to take into account the effect of natural disasters, like Hurricane Sandy, by pulling out the negative consumer data caused by these predicaments.
See National Journal's in-depth profile of VantageScore here.
Veterans Affairs' Loans: Loans administered by the VA default at rates consistently lower than other home loans issued by the federal government. That's according to research from the nonpartisan Urban Institute; that lower default rate stays the same even when VA borrowers have lower incomes and lower credit scores than FHA borrowers. So, how does the VA do it? One primary way is by taking into account a veteran's residual income—i.e., the money that person has left over after paying the mortgage and other expenses each month. Policy experts think this is one of the best measurements of people's ability to pay back loans.