The Economic Scars of Domestic Abuse
The financial damage done to those in violent relationships can last for years—another reason it's difficult for victims to just walk away.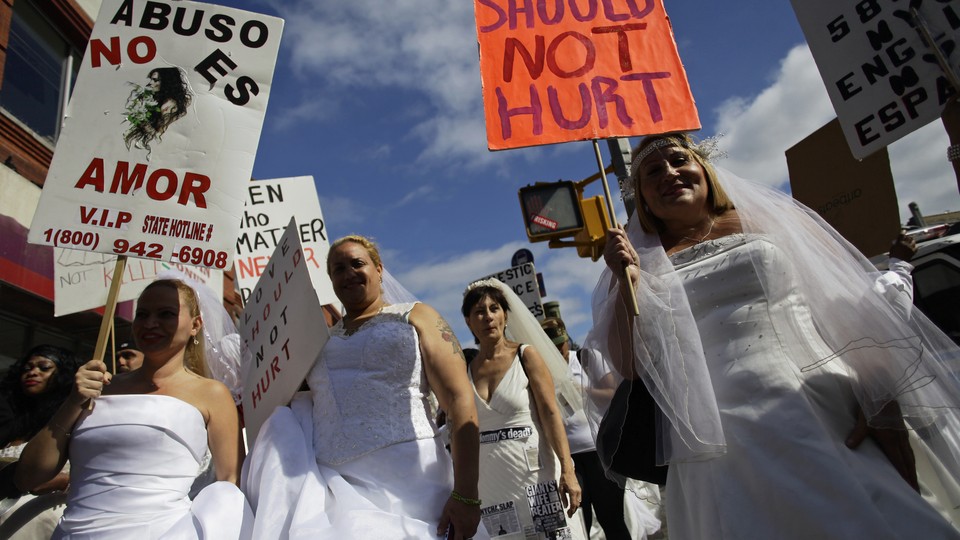 When it comes to the subject of domestic abuse, accounts of crime and violence usually take center stage. But another element that's not as often discussed are the financial losses suffered by the victims of domestic violence. It's estimated that victims of domestic abuse lose 8 million work days each year that they would've had under safer circumstances. Further, the total economic impact of domestic abuse—adding up lost productivity with the expense of police, medical, and social services—is estimated to be as high as $7 billion.
The National Network to End Domestic Violence (NNEDV) calls the impact on a victim's bank account the "hidden barrier," and that the financial damage for those who escape abusive relationships can last for years. The NNEDV has found that financial abuse is a powerful way of trapping victims in their situations, and a survey of survivors showed that 98 percent of abusive relationships involve financial abuse. This happens in various ways, from draining assets and destroying a partner's credit score, to jeopardizing a partner's career.
A new University of Pittsburgh study looks at what happens to the finances of women who take action to put an end to their own abuse, by looking at their financial situations at the time they file a civil restraining order. The researchers looked at the financial data of nearly 4,000 women in Allegheny County, Pennsylvania, who filed for protective orders between 1996 and 1999.
In their data, they found that female domestic abuse victims had very low incomes to begin with, the median being $6,577 in 2014 dollars in the year before filing for a Protection from Abuse (PFA) order. Eventually their earnings went up (likely because they were living safer lives), but the researchers estimate that these women lost anywhere from $300 to $1,000 dollars in the year following filing for a petition. They concluded that the financial instability brought on by abuse also hinders women's long-term earnings.
The study's authors, Melanie Hughes and Lisa Brush, note that women in abusive relationships, particularly those in low-income situations, sometimes cannot afford to just leave their abusers. "Our study convincingly shows that women's petitioning for a PFA does not come with either short- or long-term increases in earnings growth," said Hughes. "We cannot offer women a restraining order as a tool to stop abuse and then walk away. We need to offer women other forms of support, especially economic ones, during this unstable time."