Stuck With a House That Can't Be Sold
Even though the housing market is improving, some owners with troubled properties won't see relief anytime soon.
When you ask 29-year-old Anthony Walker about the home he owns, his response is a chorus of resigned sighs. It's not quite the reaction you'd expect from one of the few in his generation who has managed to achieve homeowner status. But the property Walker co-owns with a good friend and former roommate is deeply underwater. That means that since he purchased the property, the value has slipped so much that the house is worth less than total mortgage debt taken out to buy it. As time passes, he's growing increasingly doubtful that he'll ever see the property value back in the black.
It's a predicament that more and more owners of less expensive starter properties are facing. Homes that were bought for a "reasonable" price at the top of the market are now floundering in negative equity and according to Svenja Gudell, the director of economic research at the real-estate data firm Zillow, there's a good chance that such properties will never be worth the mortgage debt owed on them. "In the lowest third of the housing market, not only are you more likely to be underwater, but homeowners tend to be very deeply underwater," says Gudell. "It will take a really long time to lift some of those homeowners out of negative equity. And some of them will never reach positive equity."
Walker bought his home in 2007. The two-bedroom, two-bath condo is in a renovated building in East Orange, New Jersey, which borders Newark. Though the neighborhood isn't the most polished, Walker says that they were already constrained by price because they were close to New York City, which is less than 20 miles away. "The budget restrictions forced us into neighborhoods that were probably fringe, transition-zone neighborhoods at best," Walker says. "There were several new townhouse communities, condos, or residential buildings that were going up within a mile radius of where we were looking to buy. So in some respects we thought that the neighborhood was transitioning to be more like neighboring West Orange and Orange than Newark."
Walker, like most Americans in 2007, figured he was making a sound investment in real estate that would surely appreciate during his lifetime. Even if he chose to move, he thought, his condo might provide some financial benefit down the line.
But then the housing bust hit. The neighborhood improvements stalled and Walker watched the value of his investment plummet. "That transition that we thought was going to happen didn't. I think it's partly because of the financial crisis. Some of the developments in the area got either put on hold or shelved," he says. "I would say that our mortgage is somewhere around $210,000 today. And I would guess that the property is worth $125,000. So we're still 40 percent underwater."
The current property value is an estimation, he says, because locking down a recent sale price for similar properties in the area, let alone the building, is difficult since few units, if any, have sold outside of foreclosures or short sales in recent years.
---
Share of Underwater Homes by State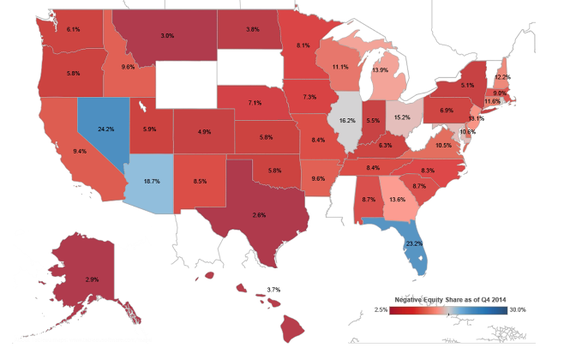 ---
Across America about 5.4 million homes are still upside-down on their mortgages, according to an estimate from CoreLogic, which provides real-estate data and analytics. By most estimations, more than 10 percent of homeowners are still stuck in homes for which they owe more than the property is worth. However, that's a vast improvement from the more than 15 million homeowners that were saddled with negative equity after the crash. "Typically maybe 3 to 5 percent of homeowners nationwide would be underwater, probably more on the low end of that range. We're still more than double what we would typically see in a normal environment," says Frank Nothaft, chief economist at CoreLogic.
The improvement since the worst days of the bust isn't much consolation for those who are now stuck in homes that they can't unload without suffering a major financial loss. And for many owners at the bottom of the price scale, it's unlikely that their fortunes will change.
A recent report from Zillow suggests that in some areas, negative equity is actually deepening. According to the report, despite home values climbing 6 percent in 2014, negative equity deepened in 21 of the top 50 metropolitan areas during the last quarter of 2014. Homes that are built in areas that were hit hard by the crisis—Las Vegas, Phoenix, and Tampa—are especially vulnerable to stagnant and deepening negative-equity issues. So are homes that were built during the sprawl phase—when homebuilders headed to the fringes of metropolitan areas to build. Now, as my colleague Alana Semuels has reported, homes remain vacant, abandoned, or foreclosed, and some owners are so upside-down on their mortgages that selling isn't a viable option.
Walker and his fellow owner moved out of the property around 2010 but they quickly realized that selling would only cement their losses. So for the past few years, they've rented it out, at a loss. They're hoping a recent interest-rate reduction will help them break even on outgoing mortgage payments and incoming rent. But even if he continues to rent the property for less than his monthly payments, Walker realizes he's one of the fortunate ones. The poor performance of the property, while disheartening, isn't financially devastating for him. He and his roommate are able to subsidize their mortgage with rental income, and still carry on their day-to-day lives elsewhere.
For many others, a home mired in debt is much more limiting. Those who can't take a loss on selling or renting a property that is still deeply underwater are forced to sit tight, or use credit-damaging options like foreclosure or a short sale to get out from under the financial burden of a problematic property.
"These homeowners are stuck, and that will have a fairly big impact on the markets," says Gudell.  She says that because young people aren't moving out of starter homes and homebuilders don't typically target construction at the cheaper end of the market, there's a lack of inventory for first-time homebuyers. According to Gudell, a recent survey showed that roughly 12 percent of renters—which translated to about 5.2 million people—expressed interest in wanting to buy a house in the next year. "A lot of those are first-time homebuyers that will probably want an entry-level home in the bottom third of the market," she said. "There won't be any homes for them to actually buy."