One Worker's Fantasy: A March Madness National Holiday
Those participating in the annual debate over how much the NCAA Tournament negatively impacts worker productivity need to dream bigger.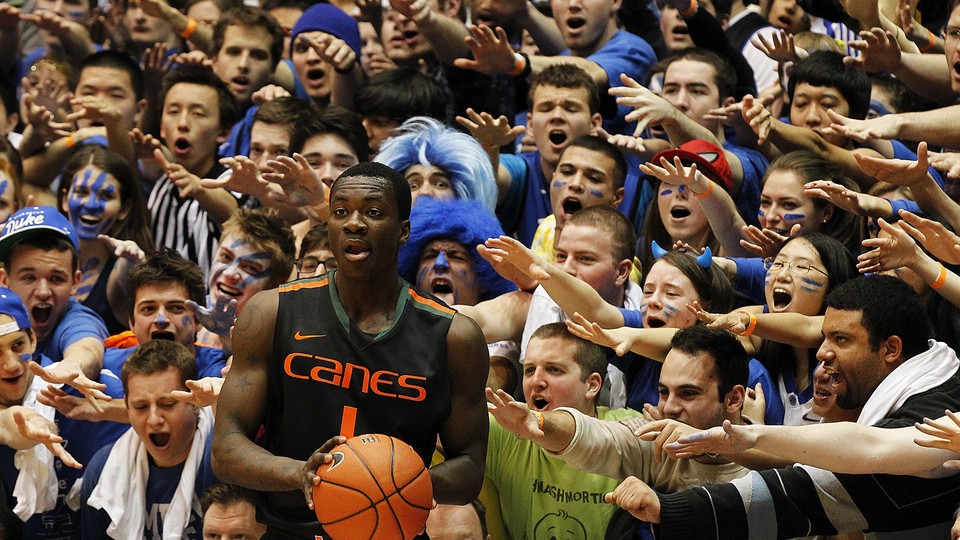 March Madness officially commenced yesterday with two annual traditions.
The first was exciting basketball, which came in the form of a pair of exhilarating upsets in the opening round of the NCAA Tournament: Two unheralded 14-seeded teams (Georgia State and the University of Alabama at Birmingham) stunned their highly favored third-ranked opponents (Baylor and Iowa State) in games won by one point each. As CNBC relayed, the losses broke "99.3 percent of brackets in [ESPN's] 11.57-million bracket competition." The second rite was that many Americans were at work and missed these opening games.
Every year, March Madness arrives, a glorious ratings and advertising bonanza that generates billions of dollars of revenue, and every year overworked sports fanatics miss a huge portion of the excitement. And for what?
Last week, the outplacement firm Challenger, Gray & Christmas released its annual report estimating the productivity lost to the distractions of March Madness. This year, they said, the tournament could cost the collective American workplace nearly $2 billion.
"That figure may be on the conservative side, considering this year could garner a lot more interest from even casual basketball fans eager to see if Kentucky can continue its undefeated season through the tournament," said the firm's CEO.
Challenger's yearly report has been data-driven catnip for journalists and workplace wonks since it first came out in the late 1990s. The $2 billion estimate, based on Bureau of Labor Statistics numbers, uses "a variety of extrapolations to arrive at a figure of 77.7 million workers expected to spend at least one hour on March Madness who will each cost employers $24.78 in wages," Brian Hershberg explains in The Wall Street Journal.
From bracketeering and office pools to sub rosa viewings and the monitoring of "Cinderella" teams, the most celebrated of all American sports playoff formats cruelly intersects with a workplace system unwilling to host it. But that's not to say that the lost productivity model doesn't have its detractors.
"In concocting his lost-productivity estimate, Challenger doesn't acknowledge that 'wasted time' is built into every workday," grumbled Jack Shafer back in 2006. "Workers routinely shop during office hours, take extended coffee breaks, talk to friends on the phone, enjoy long lunches, or gossip around the water cooler." Others contend that while work patterns may change during the NCAA Tourney, productivity isn't heavily impacted.
This debate is missing the point. Instead of talking about what we lose when some sneak away to watch the games, stream them on the sly, or compulsively monitor scores, we really should be talking about what we miss by not participating.
"You could flip it and say it's okay to have these little breaks," says Dr. Susan K. Whitbourne, a professor of psychology at UMass-Amherst. "We don't take all our vacation days, so maybe in dollars there's a cost to watching the games, but there's also an emotional make-up benefit in getting to participate in a normative, socially-sanctioned activity."
"March Madness really is so pervasive, you almost feel like something's wrong if you don't get caught up in it," she added.
Sure, the American office is slowly evolving to become a happier, more lenient place than it used to be, but no matter how many beanbag chairs an HR rep throws into a disused conference room, a systemic effort to squelch the madness of March still persists.
A 2013 national survey of 500 IT professionals found that "one-third of office IT departments are preparing to block, ban, or slow down streamed March Madness content through the throttling of video feeds," wrote Darren Heitner at Forbes. "Twenty-nine percent of those surveyed believe that content policies will only get stricter over the next two years. Only four percent believe that said policies will become more relaxed with time."
Even with the proliferation of office-sanctioned NCAA pools, the guilt associated with eschewing work focus for game focus seems both real and could work on behalf of employers.
"Feeling guilt is not necessarily such a bad thing," says Dr.
June Tangney of George Mason University.
"An employer may be getting more bang for their buck as an employee works to make amends."
Tangney describes a dynamic in which an employee "might be inclined to stay later" if he or she is able to watch a little bit of the games or check their brackets.
But are those half-measures really the way we ought to live and work? Just spotting Americans the frenzied first two days of the tournament (during which greater than half of the games fall during the workday) would redeem a culture in which 41 percent of people fail to use all of their paid vacation days.