What a Jury Can and Can't Prove About Sexism In Silicon Valley
Ellen Pao's claim against top venture-capital firm Kleiner Perkins seems to have come up short, but it's brought heightened attention to gender discrimination in tech.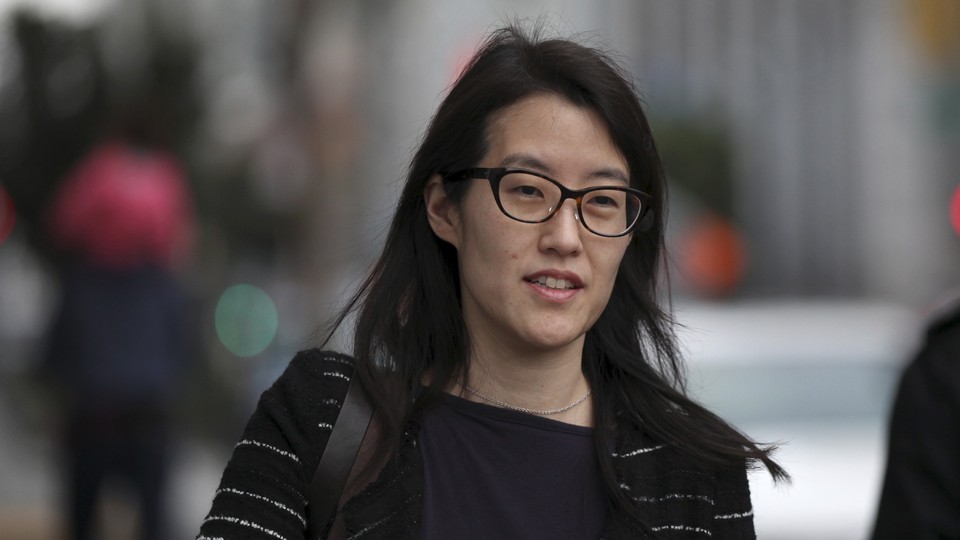 A jury in San Francisco ruled Friday afternoon that Silicon Valley venture-capital firm Kleiner Perkins didn't discriminate against Ellen Pao, a former employee, on the basis of gender when it denied her a promotion and then fired her. But in a bizarre twist, the jury miscounted and was sent back to deliberate anew on a separate question, of whether her allegation and lawsuit about sexual harassment led the company to retaliate against her.
The verdict is the culmination of a three-year case in which Pao said she'd been denied a promotion and then fired, and that she'd been retaliated against after complaining about discrimination. Her suit opened up a range of questions about the culture of tech investing and Silicon Valley more broadly.
What happened?
Jurors entered the courtroom around 2 p.m. Pacific time to deliver their verdict. The lead juror told Judge Harold Kahn that the jury had ruled against Pao on all four counts. A finding required only nine of 12 votes. But when Kahn asked jurors individually, he discovered that only eight had voted "no" on the fourth, and sent the jury back. It's an odd twist to a case and a reminder that the people the justice system relies on to adjudicate complicated, fraught cases are quite fallible.
Who is Pao?
Ellen Pao is currently the interim CEO of Reddit, but she was previously a junior partner at Kleiner Perkins, a storied tech investor. She says she was pressured into an affair with a colleague, and when she broke off the affair, was punished. She was denied a promotion and then fired.
The case she later brought was seen as an important moment for tech, long a place where men got ahead by default and women were outnumbered and often felt marginalized. In the trial, Pao's lawyers brought forth various instances of sexual discrimination and harassment. One of her colleagues also alleged harassment against the colleague with whom Pao had an affair. Pao's own mentor at Kleiner wrote to a colleague that she had a "female chip on her shoulder." A partner didn't want women invited to a dinner with Al Gore because they "kill the buzz." But a majority of the jury decided that that gender was not the primary reason for Pao's departure from the firm.
What does the verdict mean?
Though disappointing to Pao and many observers, the case may still be an important one. As Nitasha Tiku, a reporter covering the case for The Verge, wrote, "Even now, five weeks into the trial—with glaring instances of double standards and implicit bias—it's still possible to be swayed in either direction, anecdote to anecdote or performance review to 100,000 other performance reviews."
Pao couldn't convince a jury to side with her, but the case forced Silicon Valley's widespread gender inequality out into the open, and put specific instances of harassment into the court record. As my colleague Olga Khazan wrote, the system as it stands is stacked against women. Pao has lost most of her battle—and may still lose the final count—but there's now very clearly a war under way.