Can Labor Survive the Nevada GOP?
For the first time in decades, Republicans control the state's Assembly, Senate, and Governor's Mansion—and they're targeting unions.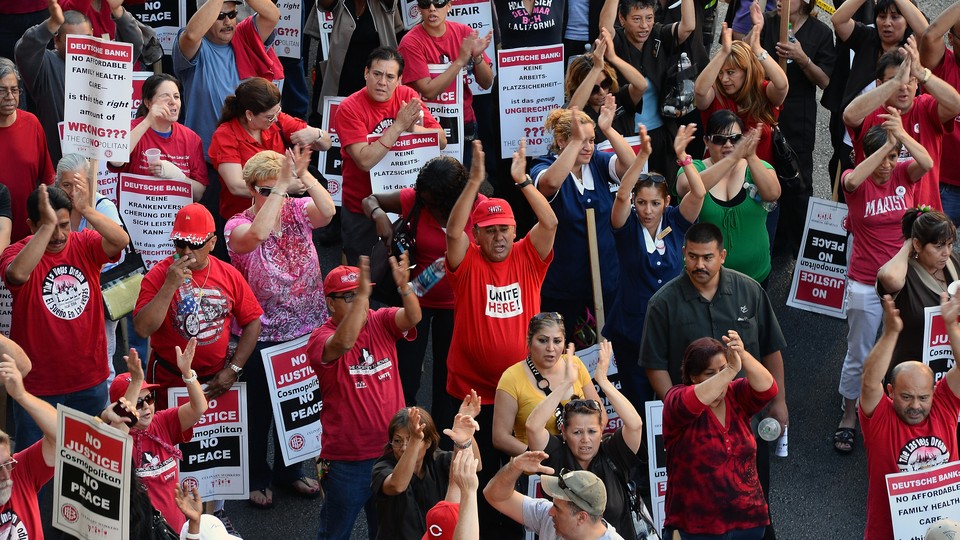 LAS VEGAS—Only a few short weeks after Republicans took control of both branches of the state Legislature and the Governor's Mansion here for the first time since 1929, GOP leaders aimed their new strength at Nevada's powerful labor unions.
Republican legislators talked about wanting to end collective bargaining in the state, about wanting to force unions to re-sign members every year, about eliminating binding arbitration. Together, such measures would severely curtail unions' ability to act as a political and pro-worker force.
It wasn't just talk: In mid-February, the state Senate passed a bill exempting school and university construction projects from prevailing wage laws, a move labor advocates say will encourage contractors to replace middle-class workers with low-paid, unskilled construction workers from out of state.
The developments are enough to make labor groups worry that this state could be the next Wisconsin, referring to the sweeping antilabor changes Gov. Scott Walker and other newly minted GOP leaders made in 2011.
"Their agenda that they've published attacks collective bargaining, attacks the public-employee retirement system, attacks prevailing wages—and this is only the second week of the session," Danny Thompson, executive secretary-treasurer of the Nevada State AFL-CIO, told me recently. "And we know that other fights are coming, because we've been told."
In an era of declining union membership, Nevada has remained a stronghold of sorts. Last year, 16.4 percent of workers in the state were represented by unions, according to the Bureau of Labor Statistics, which is an increase from 14.3 percent a decade ago. In Wisconsin, the opposite is happening. Just 12.5 percent of workers were represented by unions last year, compared with 16.9 percent a decade ago.
Nevada has seen an increase in union membership in part because of the success of the Culinary Workers Union, which organized housekeepers and kitchen workers and now represents 55,000 workers. As a result, many of the people working in the state's many hotels and casinos make well above minimum wage, and the Culinary Union wields considerable power on and off the Strip.
The Culinary Union and other Las Vegas labor groups have grown even though Nevada is a right-to-work state, where state law prohibits members from being compelled, as a condition of their employment, to pay union dues. Still, in Nevada, most members agree to pay them—in 2012, 90 percent of the members of Culinary 226 opted to pay dues.
That's because reform-minded leaders in the union were able to convince rank-and-file members that being in a union benefits their families, said Harley Shaiken, a professor at Berkeley who studies labor issues. For example, the unions say they have helped workers access a middle-class lifestyle by bargaining on their behalf for higher wages. Nonunionized workers in similar jobs in other parts of the country make minimum wage; Las Vegas workers made $16 an hour, or more. Without dues-paying members, much of that would not have been possible. In Wisconsin, dues-paying members dropped off significantly as a part of labor reforms, leading unions to lay off staff and cut back on advocacy.
"The net result is that they transformed that union in Las Vegas, and Las Vegas became a model nationally for what might be done," he said. "It showed that organizing is possible and that effective organizing raises the possibility of a middle-class lifestyle."
* * *
Through organizing the state's growing Latino population, unions also became a powerful political contingent in Nevada. Unions were instrumental in helping reelect Democratic Sen. Harry Reid in a closely fought race in 2010, both by contributing money and by setting up efforts such as a worksite initiative where construction and casino workers lobbied others to vote for Reid, and a door-to-door campaign effort staffed by union members. Reid has recently announced his intentions to run again in 2016.
Many observers think it's the unions' political muscle that is the true target of GOP leaders in Nevada. If unions were the key piece to reelecting Harry Reid in 2010, a decimated labor movement could make his reelection attempt in 2016 more daunting than it already is. Nationally, Democrats will need to hang on to seats such as Reid's if they want to regain control of the Senate in 2016—and Republicans hold Nevada's other Senate seat. Also, a weakened labor movement in Nevada could also spell trouble for Democrats in a presidential race: The state is still a swing state, and has a good track record for picking presidents.
"What we've seen for the last 50 years at the national level is a very concerted effort on behalf of Republicans, both as private donors and as elected officials to chip away at labor's power because of the connections it has built with the Democratic Party," said Yvanna Cancela, the political director of Culinary 226. "That's been happening for decades, and has led to an erosion of labor's power."
Nationally, many of the GOP's successes in targeting labor came in the aftermath of the 2010 elections, when a host of Republican legislators won office by advocating for smaller government, and pushed to save money by taking aim at strong, public-employee unions in states such as Wisconsin and Ohio. The laws they passed didn't always last: In Ohio, after Gov. John Kasich and the state Legislature passed a bill restricting collective bargaining for public-employee unions, voters went to the polls and repealed the law by a wide margin.
But in other cases, the laws stuck. A traditional labor stronghold, Michigan became a right-to-work state and union membership fell in 2014, the first full year under the law. In Wisconsin, Act 10, the "budget-repair bill" advocated by Walker, severely restricted the ability of public-employee unions to collectively bargain. Walker survived a recall attempt and was reelected; membership in some unions in the state fell dramatically, as did union budgets.
Some on the right would argue that the laws restricting unions are a necessary part of balancing state and city budgets in the postrecession era.
"People want to be able to do a lot of things in terms of reforming government, and in a way, unions in the public sector are antidemocratic," Patrick Semmens, a spokesman for the National Right to Work Legal Defense Foundation.
That's the opinion of newly elected Illinois Gov. Bruce Rauner, who issued an executive order earlier this month barring unions from requiring state workers to pay "fair share" dues.
"These forced union dues are a critical cog in the corrupt bargaining that is crushing taxpayers," Rauner said, when announcing his order. The state comptroller has said she will not withhold the dues as Rauner has asked, after the state's Democratic attorney general advised her it would be illegal. A court fight is likely to follow.
In Nevada, though, there's little wiggle room for unions to push back against any of the bills that have been introduced or will be introduced in this session. Collective bargaining, for instance, is already banned statewide, but Republicans are taking aim at the practice on the local level. The policy director for the Nevada Assembly Republicans proposed modeling the state's local collective bargaining after Texas, where cities can collectively bargain with unions only if the process is approved in a municipal election first, which makes it less likely to occur since it has to go through so many layers of approval.
Many of the labor reforms he proposed, including requiring unions to recertify periodically, are based on model legislation from ALEC, the Americans Legislative Exchange Council.
ALEC is part of the reason that some GOP-controlled states have had such success in diminishing labor's strength, Shaiken said. Overall, Republicans have found they can successfully push legislation at the state level that might go nowhere nationally. Conservative groups have pushed a national right-to-work bill for many years, for example, to no avail, but were able to pass a bill making Indiana a right-to-work state in 2012, and did the same in Michigan shortly thereafter.
"One of the things that the Koch brothers and related groups have done over the years really successfully is target state legislatures," Shaiken said. "The Republicans have significant control in this area, so it would be a surprise not to see more of this."
* * *
After the 2014 elections, Republicans held control of 68 legislature chambers, up from 57 before the election. States including New Mexico, Missouri, Kentucky, and West Virginia are now considering right-to-work laws.
Rebecca Theim, a spokeswoman for the SEIU of Nevada, says her members are also concerned about proposals to change the state public-employee retirement system to a 401(k)-style plan. Efforts to do so in West Virginia failed miserably, she said. Union members are particularly concerned because people who pay into Nevada PERS don't pay into Social Security, and changing the system to a defined-contribution plan could make the fate of retirement accounts solely dependent on the ups and downs of the stock market.
"We are very concerned—there is a tremendous threat here," she said.
Another proposal would limit binding arbitration, which worries Thompson, the executive secretary-treasurer of the Nevada State AFL-CIO, because some public-sector workers in Nevada are prohibited from striking, and binding arbitration is their only means to negotiate better wages and benefits, he said.
Still another would require unions participating in collective bargaining to conduct negotiations out in the open, which labor experts say would bog down negotiations and make it more difficult for deals to be reached.
Unions say they are beginning to mobilize their members to push back against some of these proposals. Hundreds of workers turned out to protest the prevailing-wage bill in both Carson City and Las Vegas.
"We are not going to take this lying down. We are fighting right now, we are going into their districts, we're going to start knocking on doors," Thompson said.
Union members are starting to turn up to more meetings, and are getting prepared to send out mailers and write letters to legislators protesting their votes.
"This is the most activated we've seen our membership in a while," Theim said.
But the unions may have to wait until the next election to push back against any of these bills. In the 2014 elections, Republicans picked up seats in Clark County, where Las Vegas is located, to take control of the legislature, in what was a surprise to many. Democrats may have to aim to take back those seats in 2016. But as Wisconsin Democrats found out, reversing some anti-labor laws after they've taken hold may be a challenge.
"At the end of the day, we don't have the votes to stop anything," Thompson told me. "But there will come a time when these people have to run for reelection, and they're going to have some explaining to do."