Are Americans Over Their Economic Anxiety Yet?
Despite a strong dollar and an improving job market, a new poll suggests: not quite.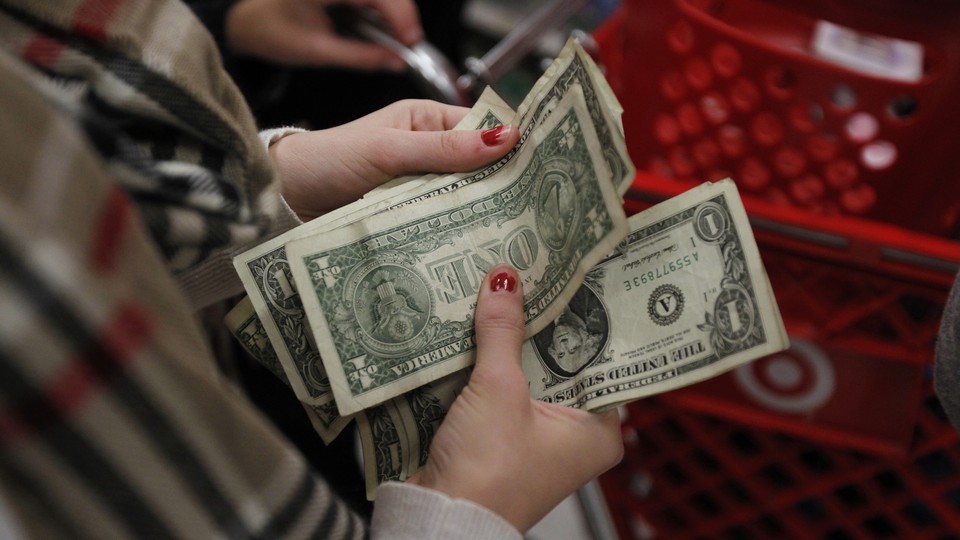 Americans are expressing more optimism about their personal financial prospects, but big majorities remain dissatisfied over wage growth and the cost of living, the latest Allstate/National Journal Heartland Monitor Poll has found.
Across a range of measures, the survey found that the robust job gains of recent months and record highs in the stock market have not fundamentally lifted the cloud of economic anxiety that has lingered over the public since the Great Recession. Despite some improvement, opinions about the economy's current state—both overall and on specific measures like the job situation and wage growth—remain more negative than positive, the poll found.
But the survey found that a growing share of Americans believe the clouds may part in the coming months: Forty-four percent of those polled expect their financial situation to improve over the next year. That's the most optimism expressed on that question since June 2013. Moreover, the improvement has been concentrated among groups that have consistently expressed the most skepticism about President Obama, including white men with a college degree, and white men and women without one. "[The economy] seems to be going in the right direction now, so I expect it to keep getting better," says Mindy Bentley, a Republican stay-at-home mother in Winchester, Kentucky, who responded to the poll.
On many measures, the poll found some indications of expanding optimism, but mostly evidence of how deeply entrenched economic anxiety remains nearly six years after economists officially declared the end to the Great Recession in June 2009.
The share of adults who describe "the current state of the economy" as excellent or good, for instance, more than doubled in the new poll from November 2013—but only from 11 percent then to 25 percent today. The share that views the economy as poor correspondingly dropped from 44 percent in 2013 to 29 percent now. In the new survey, the largest group, 44 percent, describes the economy as "fair," an equivocal verdict that is virtually unchanged from the November 2013 result.
These assessments vary little across most of the divides that usually segment public opinion. The share of minorities who describe the economy as excellent or good (33 percent) is modestly higher than the share of whites (23 percent). And while adults in households earning at least $100,000 annually are somewhat more bullish than lower-income families, the differences are not vast: Fewer than one-fourth of those earning $50,000 annually or less call the economy excellent or good, but that number only rises to just above one-third among the most affluent.
Nor did poll respondents express roaring optimism about the economy's future trajectory. The share of respondents who expect the economy to improve over the next year increased to its highest level since June 2013, but still remained restrained at just 32 percent. Ricardo Martinez, an employee at an engineering firm in Pittsburgh, Pennsylvania, is one expecting better days. "When you see the dynamics in the economy, that makes me think that things are going to be better," he says. "When you see that goods are being made, energy is moving, construction is recovering, houses are in progress—that's a good thing."
The share of adults expecting the economy to deteriorate did fall in the new poll to 25 percent (the lowest level since June 2013). But again, the largest group expressed only an equivocal view: Thirty-eight percent in the latest survey expect the national economy to remain largely unchanged. While the numbers varied little by income (36 percent of those earning at least $100,000 expect improvement, compared to 31 percent of those earning less than $30,000), minorities (at 42 percent) were considerably more likely than whites (at 28 percent) to anticipate progress over the next year.
Continuing a long-standing trend in the Heartland Monitor Poll, those surveyed expressed somewhat more satisfaction with their personal situation than with the overall national economy. In the new poll, 44 percent described their current personal financial situation as excellent or good, while 55 percent termed it as fair or poor.
That result was virtually unchanged from the past three times that Heartland Monitor has asked this question, dating back to September 2013. In fact, in the 11 times that Heartland Monitor has measured this sentiment dating back to April 2009, the share of adults who describe their own situation as excellent or good has varied only between a low point of 39 percent (in October 2011) and a high point of 49 percent (in June 2013).
While the overall numbers have remained consistent over time, attitudes on this question reflect sharp demographic fissures. Whites (at 47 percent) are more likely than nonwhites (at 37 percent) to describe their current situation as excellent or good. Perhaps even more striking, while 63 percent of whites holding at least a four-year college degree describe their situation as excellent or good, and only 37 percent call it fair or poor, the numbers are almost exactly reversed among whites without advanced education. Among those blue-collar whites, just 35 percent say their current condition is excellent or good, while fully 64 percent describe it as fair or poor.
The poll's clearest shaft of optimism comes in Americans' expectations about their future financial situation. The 44 percent who anticipate their personal finances will improve over the next year represents a jump of six percentage points since last fall, and is the best result on that question since June 2013. Those expecting better times now nearly equal the 46 percent who expect their financial condition to remain unchanged. Only 8 percent now expect their situation to deteriorate over the next year (in April 2013, more than one-fifth expected to lose ground).
One good sign for President Obama is that these gains are being driven almost entirely by groups that have routinely expressed the most resistance to him. Compared to April 2013, the lowest point for optimism in the survey's past few years, the share of minorities who expect their personal finances to improve over the coming year is virtually unchanged, at 60 percent then and 59 percent now. But the share expecting personal gains over the next year grew since April 2013 by 10 percentage points among whites with a college degree and 11 points among whites without them. Among each group, men showed larger gains than women and blue-collar white men—consistently the white voters more hostile to Obama—improved the most of all, with the share expecting their situation to brighten rising from 26 to 43 percent. Similarly, the poll recorded a bigger increase in optimistic expectations among Republicans (up 21 percentage points since April 2013) than among Democrats or independents (each up five points).
Still, compared to the flow of recent good news around everything from job creation to auto sales to stock prices, even these results show Americans mostly curbing their enthusiasm about the economy's condition. A final set of questions asking respondents to rate the economy's performance on a series of specific measures may help explain why.
On these measures, Americans expressed the most satisfaction about the performance of the stock market, with 38 percent describing it as excellent or good, 33 percent fair, and only 9 percent poor. And even that result is weighed down by low ratings among lower-income groups less likely to be invested in the market; among those earning at least six-figure incomes, exactly three-fifths describe the market as excellent or good.
The nation's global competitiveness also receives reasonable grades, with 31 percent calling it excellent or good, 37 percent fair, and 26 percent poor.
Assessments darken further on the job situation: 28 percent term it excellent or good, 33 percent fair, and 35 percent poor. But the clouds really roll in on the final two measures. Asked to assess the state of wages and incomes, only 20 percent describe them as excellent or good, 39 percent fair, and 37 percent poor. Similarly, only 19 percent give those excellent/good marks to "the cost of living for necessities like housing, food and energy" while 40 percent describes them as fair and 39 percent poor.
Disenchantment on jobs, wages, and living costs transcend almost all boundaries. The share of minorities, college- and noncollege whites who describe the job situation as excellent or good converges between 25 and 29 percent; those earning six figures are barely more favorable than those earning less than $30,000. There is similarly broad-based discontent over wages and living costs: Among respondents earning at least $100,000 or more and college-educated whites, two groups at the top of the economic pyramid, still only one in five rate the wage and income situation as good or excellent. Only about one in four in both groups describe the cost of living situation as excellent or good.
Follow-up interviews with poll respondents underscored a deep frustration over the protracted difficulty in getting ahead. Bentley, the Kentucky Republican, recently left her job as a nursing educator to stay at home with her children, because, she says, the economics of working didn't add up. "I have a master's degree in nursing and I only clear $400 a month to bring home to my family," she says. "For me to commute, pay childcare—which is horrendous—and then all of the expenses that go along with actually leaving the home, I don't clear enough to make it worth it. I went to college, I have student loans, and I have to try to pay for it, but it's still not worth it."
Similarly, Donna Blight, an attorney in Williamstown, Vermont, says she sees few people around her gaining ground. "There haven't been increases in income," she says. "My son-in-law works for a big company, he's been there for 20-plus years, but there are not consistent raises. I have another family member who has worked for somebody for eight years and never got a raise. That's the way it is here."
While the disenchantment over wages and living standards was broadly based, one group stood out in its especially stark level of discontent: white women without a college education. Just 10 percent of those women, who are often described as "waitress moms," described the situation in wages or the cost of living as excellent or good. On each measure, just over one-third described conditions as only fair and about half picked the most negative option—poor. By contrast, no more than about 40 percent of either college-educated whites or noncollege white men picked the most negative option on either measure.
Donna, a part-time cafeteria worker who lives near Evansville, Indiana, and asked not to give her last name, vividly expressed their discontent. "Most of the people I know only have part-time jobs. They don't make enough money working to even cover their bills, so a lot of people get some kind of assistance," she says. "Almost everything here is around minimum wage. Even working 40 hours a week—that's not enough to support yourself, much less a family."
If the frustration over stagnant living standards represents a slow-motion earthquake rattling support for all of America's institutions, working-class white women like Donna may be at its epicenter.
---
For more on the methodology of the Heartland Monitor Poll, see here.