America's Unemployment Insurance Programs Need to Be Reimagined
For some workers, the recession produced historically long stretches of joblessness. A new Brookings study suggests ways to counteract that.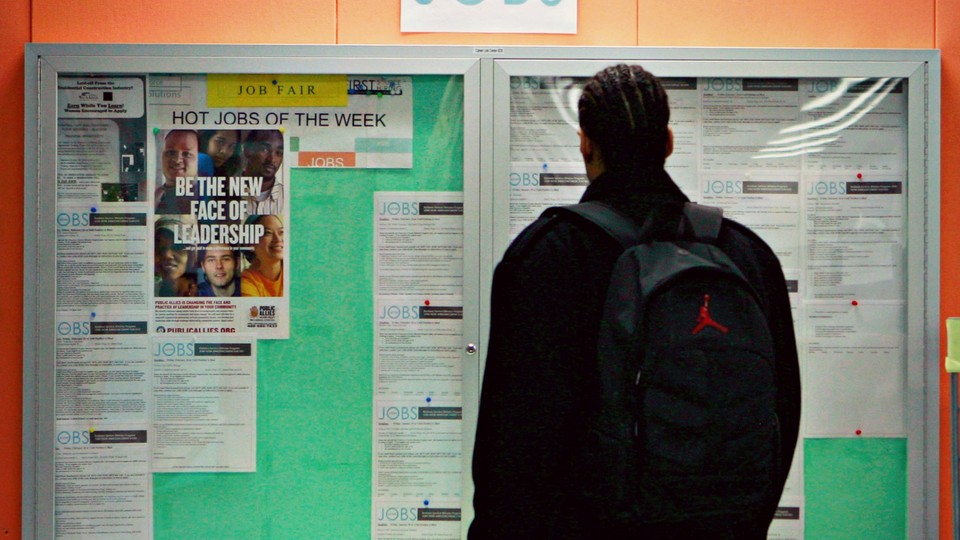 The good news from last week's job report is that the U.S. unemployment rate—now at 5.5 percent—is at the lowest level since May 2008. (Some optimistic forecasters are even predicting that it might continue to fall to below 4 percent.)
However, it's important to look at another measure, the length of unemployment, for a variety of reasons. Employers discriminate against candidates with periods of unemployment lasting longer than six months: Studies have shown that workers who have big gaps on their resumes are less likely to get called back. Long-term unemployment has also been shown to have negative health effects, including increased stress and depression. All of this adds up to discouraged job-seekers: About a third of them give up the search. Long-term unemployment became a big issue during the Great Recession, with the average length of unemployment reaching a historic high of 40 weeks in 2011—a length well above anything that's been seen in the past 65 years. That number has since dropped down to around 30 weeks.
---
Average Duration of Unemployment, 1950–2015
---
A new Brookings study looks at what can be done to shorten the average length of unemployment, and considers how the current system of unemployment insurance could be revised to achieve this goal. The report, which is written by Adriana Kugler, a professor at Georgetown University and former chief economist at the U.S. Department of Labor, proposes a number of radical changes to the prerequisites for receiving unemployment-insurance payments.
"The conventional wisdom on unemployment insurance is that benefits are too high, and that because of high benefits people do not search hard to find jobs and that this is why they are not getting employment," says Kugler. "My proposal is arguing the exact opposite...the very tight requirements are in fact creating barriers for the unemployed to take the types of steps that would help them get new jobs."
In the U.S., unemployment-insurance programs provide benefits to a large number of people. Kugler writes that the current program collects $5.1 billion in federal taxes and nearly $50 billion in state taxes from employers. Currently about 90 percent of jobs are covered, with the big exception of self-employed workers amongst other professions.
A persistent difficulty in devising unemployment-benefits programs is that these programs try to balance two potentially contradictory goals: giving income to the jobless, while trying to set up incentives for them to return to work. Kugler says that current U.S. programs set these goals up in conflict with one another. "Paradoxically, unemployment insurance systems sometimes include requirements that discourage individuals from engaging in the kinds of activities that could help them eventually obtain productive employment," she writes.
The current programs have specific rules about who is eligible to receive benefits. In addition to working in a field that provides benefits in the first place, in order to receive them, a worker must be actively searching for work, and must accept work when it's offered. The last requirement plays out differently in various states: In Texas, for example, those receiving benefits must accept a job that pays just 75 percent of previous wage. In Iowa, this drops down to 65 percent after 18 weeks of unemployment.
These strict requirements might be why, as of the end of 2014, only 23 percent of unemployed workers in the U.S. were receiving unemployment benefits.
Kugler offers three proposals to reshape the current system: First, there could be more done to help those who want to start their own businesses. Participants would be profiled by work history and industry, and sorted into the selective program. Under Kugler's proposals, they would undergo entrepreneurship training and be offered help with business plans in the hopes that they will become self-employed. Similar programs in Massachusetts and Maine suggest such initiatives can be cost-effective.
Kugler's other proposals include allowing those working short-term and part-time to qualify for insurance. The work-search requirement would be temporarily waived, and the hope would be that these stopgaps would disrupt long-term unemployment and encourage employers to try certain workers (and be given a bonus if they're retained)—and vice versa for workers to try out different jobs. Her proposals would reduce the number of weeks insurance is provided, but loosen the requirements.
"Experimenting with ways of loosening these requirements makes sense on many dimensions," writes Kugler.
As the average length of unemployment is still at unprecedented highs, Kugler believes that stopping the number of people falling into this category is crucial. Experimental programs specifically targeting long-term unemployment, such as Nevada's Platform to Employment and the pilot programs in Kugler's proposal, are a step forward in bringing these workers back into the economy.