Where Have All the Construction Workers Gone?
Nevada now employs 60 percent fewer construction workers than it did during the housing boom. Some found new careers. Others left the country.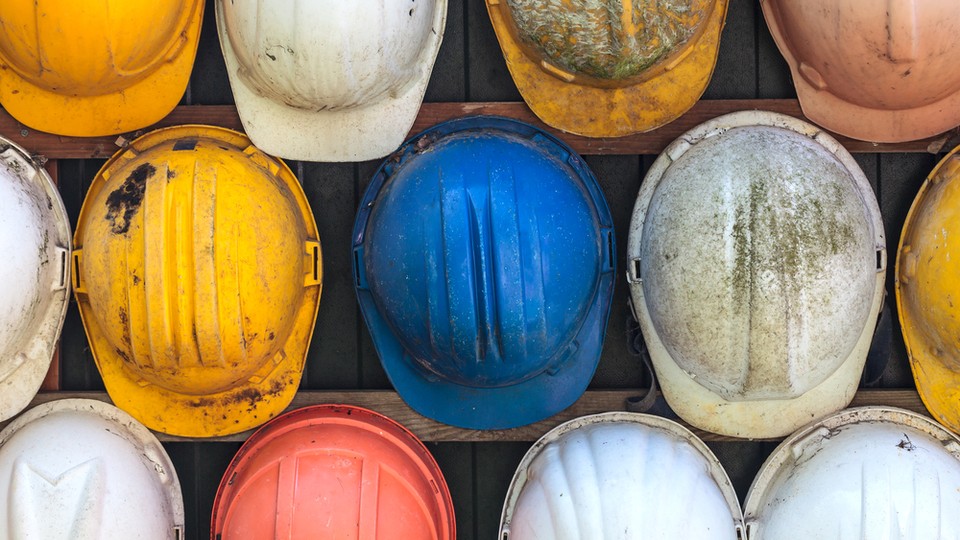 LAS VEGAS—The buzz and hammering of construction has returned to this city, which was especially hard hit by the housing bust. The construction workers, however, have not.
At the peak of the boom, Nevada employed 146,000 construction workers, according to the Bureau of Labor Statistics. Now the state employs only 63,000, a 59 percent decrease—and a two-decade low.
That's led to some labor shortages, says Nat Hodgson, the executive director of the Southern Nevada Home Builders Association. "The actual skilled workers building the houses—it's a challenge finding them," he told me. "It's hard to entice them to come back until we can convince them we're really going to start growing again."
It's not just Nevada. Nationally, construction employment is down 19 percent from its 2007 peak. The decline is particularly stark in areas hard hit by the housing bust. In Arizona, construction employment has fallen 50 percent from its pre-recession peak; in California, employment has dropped 28 percent in the field. In Florida, construction employment is down 40 percent.
Across the country, there are 1.4 million fewer people employed in construction than there were in 2007, data shows. But only 811,000 construction workers actually show up in unemployment-report data. To be sure, there are differences in the way these two data sets are collected that might account for some of the discrepancy, but it raises an interesting question: What happened to all of the construction workers felled during the housing bust?
James J. Mikulich may provide one clue. His family has lived in Nevada for more than a century, prospering in industries that built the region, such as logging and transportation. He was in the tile and marble industry for 25 years, installing floors and interiors in homes and hotels. Then in 2012 he blew out his hip and had to have replacement surgery. While he was rehabilitating his leg, he had a revelation.
"The economy was downturning real bad, construction was at its lowest point in 30 years, and I said, I don't want to enter back into that," he told me.
One morning, after waking up at 4 a.m. and doing his stretches, he had an idea. He opened the Sunday careers section in the newspaper, called on a higher power, and then closed his eyes and put his finger down on a random place on the page, deciding that whatever career it suggested, he'd pursue.
His finger landed on an ad for a massage-therapy program at a local career college.
"I said, 'What's a better thing than to be able to help somebody out—help the elderly, help the athletes, make a difference?'" he told me.
He went down to the school, the Milan Institute, and got more information, then started doing the pre-requisites that would allow him to enroll in the eight-month, 720-hour course to become a licensed-massage therapist.
It was tough transitioning back to being a student in his fifties, Mikulich said. He was worried about his ability to learn new things such as anatomy and kinesiology, and feared that when he graduated school, he'd flunk the certification test. But he continued to get up at 4 a.m., do his hip rehab, go to school from 8 a.m. to 1 p.m., and then go home and study.
Before the certification test, he took over one room in the home he shares with his elderly mother and told her he needed total silence to study for the month before the test. And he passed. He now works as a massage therapist at Las Vegas conventions, boxing competitions in town, at a beauty salon, and on a freelance basis.
Mikulich, who is now 54, was probably more easily able to transition careers than many construction workers: He could go to school full-time because he'd saved up some money and because his children were grown. Being a full-time student allowed him to receive a Pell Grant that covered about one-third of the $12,000 cost of the program. He also cashed in some retirement accounts to pay for school.
For most unemployed workers, getting together the resources to go back to school can be extremely difficult, especially if they're trying to support a family. That's because many construction workers—and others displaced by the recession—spent their savings paying the bills while they were out of work. In one survey, only 15 percent of unemployed workers said they had enrolled in training programs that would help them gain new skills to find a new job. And only about 100,000 to 150,000 dislocated workers—people who have lost their job and are unlikely to return to that occupation—receive retraining from federal funding each year, according to Carl Van Horn, the director of the Heldrich Center for Workforce Development.
"There's not a lot of government support for these programs," he told me.
The government spends $30 billion on Pell Grants, which don't have to be repaid, but those are for full-time students. Mikulich told me that he felt lucky he was able to get a Pell Grant because he didn't have to work while going to school.
"If I had to work and do the program simultaneously, it might have been a problem," he said.
Most unemployed workers can't use Pell Grants to go back to school if they want to keep receiving unemployment benefits to help pay the bills. To qualify for unemployment benefits, they have to prove that they're actively looking for another job, not going to school full-time.
There are some federal funds available to dislocated workers, especially those put out of work because of trade deals, said Andy Van Kleunen, the CEO of the National Skills Coalition. Some of those funds go to advising workers about new job options, and others actually pay for technical training or helping people improve math and reading skills.
There's about $1 billion available for training dislocated workers each year, he said. On average, students can get about $3,000 through the program.
The Workforce Innovation and Opportunity Act, passed by Congress last year, is expected to expand some of these retraining programs. The Ready-to-Work initiative, introduced by President Obama in his 2014 State of the Union address, also expanded access to apprenticeships in high-demand industries and seeks to make training programs more job driven. Some nonprofit and union-led training initiatives have already received grants through that program.
Still, there's more need to make sure there are jobs for people that go through retraining before students spend thousands of dollars on a program that leads them nowhere.
"There are some really good, proven programs that work out there," Van Kleneun said. "But I would not say that they are the rule in all circumstances."
Many displaced workers don't know there are potential funds available to them.
Mike Farren, now 30, is spending between $15,000 and $20,000 to transition to a career as a physical-therapist assistant. He had worked at a steel factory in Indiana making structural eye beams for buildings and bridges. He was compensated based on production, so when the economy slowed, his pay rate slowed, too.
"As a career, it can be an unstable field to be in, and I just kind of made up my mind that I didn't want to have to worry about that," he told me. "When everything tanked in '08, it showed how quickly that job could be gone."
Farren started looking into programs that could help retrain him in another field, and ended up moving to Las Vegas because a program at the College of Southern Nevada was the least-expensive one he could find, and because the cost of living in the state was so low. He is paying out-of-pocket for the program, from his savings, and won't make as much as he did before once he's completed the program. But it's worth it to be in a growing field, he said.
"It wasn't all about money," he said. "I made a lot back there, I know I can live on a lot less than that."
Many people who used to work in the construction field have moved around a good bit since losing their jobs, sometimes to other states where they could stay in the field. Mikulich told me he had friends in the industry who had moved to New York, Pennsylvania, and Phoenix. While reporting from North Dakota a few years ago, I ran into numerous men who had moved there after losing their jobs in construction somewhere else.
Overall employment in North Dakota has grown by 30 percent since the recession began, and construction employment has doubled. One labor-union coalition even banded together to recruit construction workers to North Dakota. Construction employment in Texas is up 18 percent since 2010, and has nearly reached its pre-recession peak.
Some workers who had immigrated to the U.S. for work in construction may also have returned to their home countries when the recession hit. A report from the Pew Hispanic Center found that during the economic slump, for the first time in four decades, more Mexican immigrants left the U.S. than entered it. And construction-heavy states including California, Arizona, Colorado, and Nevada lost unauthorized-immigrant workers between 2009 and 2012, according to a separate Pew report.
Latinos made up 24 percent of the construction industry in 2011, and the industry was the sixth-largest employer of Latinos, according to the National Council of La Raza. Some of these declines could be the result of laws such as SB 1070 in Arizona, which required police to question anyone they believed to be in the country illegally.
Often, a worker's fate would depend on whether he was skilled or unskilled, said Cindy Creighton, the executive director of the Nevada Subcontractors Association. Many unskilled workers would refer family members or roommates to jobs, and then they all would be dramatically affected during job cutbacks, Creighton said.
"When four, five, six people in a family lose work, they had no choice but to leave the area, or change professions," she said.
There is a certain irony, though, that so many people had to leave construction, though, since the industry is now so short-handed. "Everybody's just screaming for labor—you can literally go door-to-door, fill out your application, do your e-Verify, and go to work," she said.
Whether that means people who left construction during the recession should come back is up to them. James Mikulich says he still drags his feet across tile floors, looking for uneven workmanship, and likes to linger over marble.
"People are like, 'Why are you touching that marble, James?'" he said. "But I use that same formulation when I touch somebody—I touch their leg and they say 'I have pain or some dysfunction,' and I say 'How can I help them, how can I make an impact on their life?'"
Still, for others, returning to construction might not be a bad bet. The Bureau of Labor Statistics projects that occupations in the healthcare and construction fields will be some of the fastest-growing jobs between 2012 and 2022. Healthcare is expected to grow at a rate of 2.6 percent a year—construction will grow at the same rate. But though the construction sector will add 1.6 million new jobs over that decade, economists said, the industry still won't return to its 2006 peak level, even by 2022.