A Jobs Report Without a Blemish
With payrolls and wages up sharply, January was a strong month for the economy.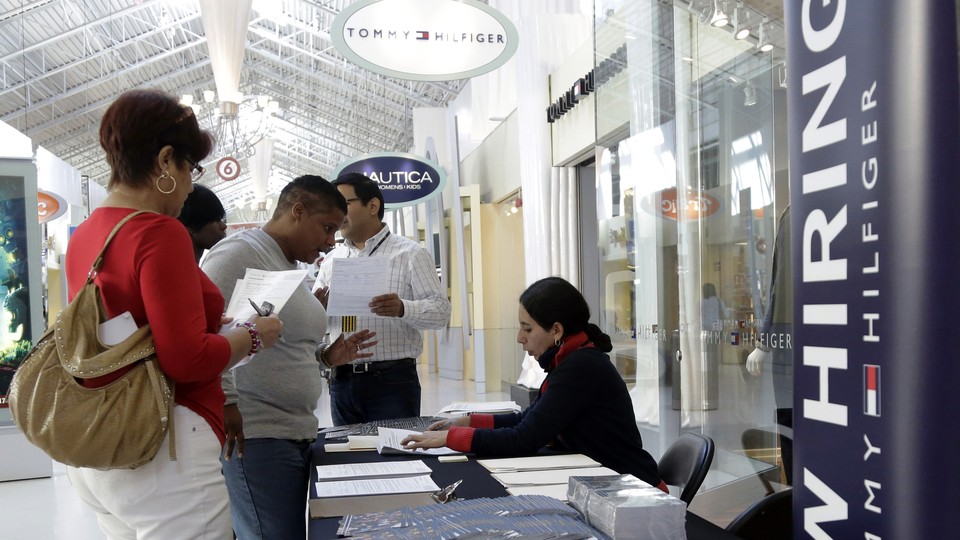 What was so remarkable about Friday's gangbusters employment report, which showed an addition of 257,000 jobs in January, was the lack of any real caveat to the good news. Not only did jobs grow, but so did wages, and more people joined the workforce than left it.
There have certainly been other solid monthly surveys during the steady, but frustratingly slow, recovery from the Great Recession—particularly over the last year, when job growth was its highest since 1999. But all too often, even the rosiest reports have come with a blemish: The unemployment rate, for example, frequently fell because people gave up looking for jobs, shrinking the percentage of people in the labor force to its lowest in decades. In recent months, the fly in the punchbowl has been wage growth, which has not risen nearly as fast as jobs in general.
But on Friday, the Labor Department report contained none of those hitches. Wages grew by 0.5 percent (or about 12 cents an hour) over the previous month, easily beating forecasts. Another 703,000 people joined the workforce, bringing the labor force participation up to 62.9 percent from 62.7 percent. Even the rise in the unemployment rate—by a tenth of a point to 5.7 percent—was good news, as it reflected the return of discouraged job-seekers to the rolls. The revisions to two previous monthly reports were eye-popping as well: In November, employers added 423,000 jobs, the most for a single month since 1997.
This is just a really great jobs report on all the important dimensions.

— Neil Irwin (@Neil_Irwin) February 6, 2015
The strong numbers were particularly welcome in light of recent economic data. While the overall trend for the economy has been strong in the last year, the Labor Department reported that the GDP grew by just 2.6 percent in the final three months of 2014, a much softer reading than the previous two quarters. And in yet another indication of the report's strength, Republicans struggled to find anything bad to say about it. Party chairman Reince Priebus said the GOP was "thankful" Americans found work in January but pointed out that despite the gains, millions remained unemployed. "We can't let the Democrats' desire for a good 'narrative' hide the fact that there are too many Americans who still need work and are feeling hopeless," he said.
It's hard to argue with that point, of course, and even in the best of economic times there are millions left behind. But for one month at least, all the trend lines seemed to point up.