Is Real Estate Still Americans' Best Financial Bet?
Buying a home remains the most promising way for people to build wealth—but only because no one has come up with a better alternative.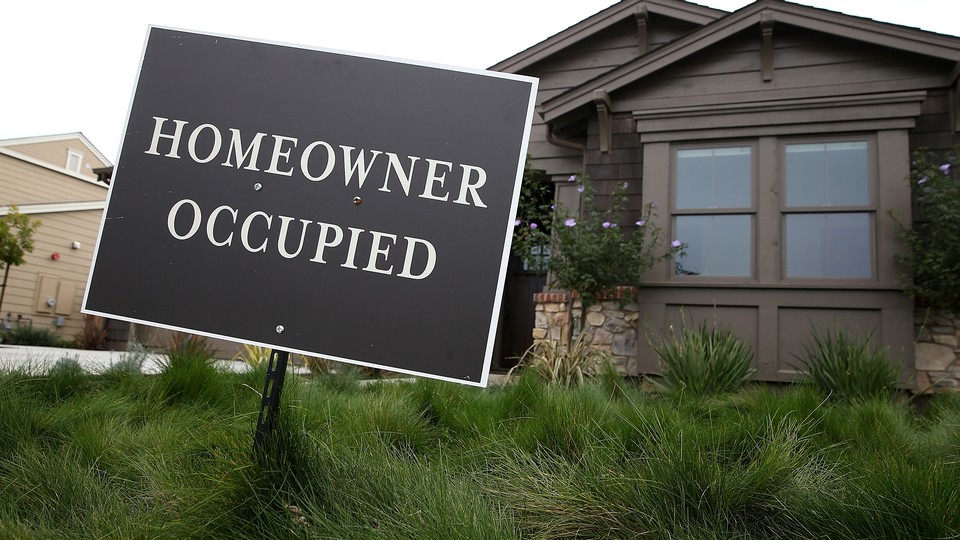 Ricardo and Denise Cabrera were so burned by the last housing crash that it is hard to believe they're vying to become homeowners again.
In 2005, the couple bought a starter home for $490,000 just outside of Los Angeles through a no-money-down, interest-only loan. By 2009, after the market crash, that same home was worth roughly $150,000 less. The couple decided to do a short sale to get out from underneath their mortgage. The only problem? It prevented them from pulling any equity out of the house; just as bad, it marred their high credit scores. "We walked away with nothing," Denise says.
Now, after five years of renting, the Cabreras are once again putting their faith (and savings) into the housing market—this time, through a 10 percent-down mortgage on a five-bedroom, Cape Cod-style house in the San Fernando Valley, on the edge of Los Angeles. The seller accepted the couple's bid of $530,000, after receiving roughly 20 other offers, Ricardo says. With the property now in escrow, the Cabreras and their children, ages 9, 5, and 4, hope to move in by the end of February. "For me, the house is something we can pass on to the kids," Ricardo says. "Paying rent is just like throwing your money away."
The ideal of American home ownership may have been tarnished during the recession, as the values of so many homes plummeted and the number of foreclosures across the country soared. But for many Americans, like the Cabreras, the emotional rush of buying a home still represents a significant marker of stability and financial success. Buying often gives families access to safer neighborhoods, better schools, and more services than renting. And, like it or not, home ownership still offers the best way to save money for the majority of Americans by building up equity, especially in this era of dwindling pensions and stagnant wages. "It is a forced saving mechanism, and if you don't have to think about saving, it goes better," says Brett Theodos, a senior research associate at the nonpartisan think tank, the Urban Institute.
That's why economists and policymakers worry so much about the fact that the housing market has yet to fully recover. Credit has become so tight that borrowers who may have enough income to cover their costs, but who do not have perfect credit scores, remain locked out of the market. And, fewer Americans in the aftermath of the global financial recession are creating new households, opting instead to bunk with family and friends.
The overall result has been a dramatic decrease in American homeownership. In 2013, the U.S. homeownership rate fell for the ninth straight year, clocking in at just 65.1 percent, the lowest level since 1995, according to the Joint Center for Housing Studies at Harvard. First-time homebuyers, young people, and minorities participate less and less in the housing market. The big philosophical debate is when, if ever, they'll come back and what that will mean for their wealth over the long run.
In January, the Federal Housing Administration announced a plan to cut mortgage insurance premiums in an effort to nudge more buyers into the market, particularly first-time borrowers. The FHA estimates that move will save homeowners roughly $900 annually on their mortgage payments. Even so, this is unlikely to be enough of a salve to boost the entire market.
Even if the rates of home ownership do return to their pre-bubble levels, experts and advocates acknowledge that home buying remains an imperfect crutch to boost wealth. Too many Americans refinanced their homes during the 2000s, pulling out money and using their homes as piggy banks, enough to make housing less of a surefire financial bet. "This is less of a story that home ownership is perfect and more of a story about, 'What other vehicles are out there to help people build wealth over the course of their lifetimes and over generations?'" Theodos says. "Private savings isn't doing it."
Housing expert, Sarah Edelman of the liberal-leaning think tank, the Center for American Progress, argues that policymakers need to take a two-pronged approach to home ownership. First, they must acknowledge the value of people building up equity in their homes. And second, policymakers should continue to pursue other approaches to help both first-time homebuyers and renters save. "The majority of first-time home buyers may not be able to come up with a 20 percent down payment," she says. "For the future health of the housing market, we must make sure families who can afford to buy a home do."
Increasingly, that means that private companies, nonprofits, and even the federal government are experimenting with new approaches: from measuring people's creditworthiness in a broader fashion to programs that encourage renters to automatically save with the hope that they'll eventually turn into homeowners. Other programs help underwater homeowners modify their mortgages, a lasting legacy of the global financial recession. Some nonprofits have even developed programs to share the equity in homes and apartments, as a way to both spread both the upside and risk.
Yet all these abstract policy issues matter little to the Cabreras, as they excitedly talk about the purchase of their second home. After years of renting, they're looking forward to the privacy and stability that home ownership offers. They want to make cosmetic changes to their home, and they're looking forward to being able to have pets and watch their children grow up in just one spot.
Most importantly, they view their new Cape Cod-style house as the best asset they have to leave to their children. "I don't know what the hell the market will be like in the future," Denise says. "But I want to provide something for them." That's exactly the sentiment that keeps Americans returning again and again to home ownership.