FAA Drone Regulations Deal Blow to Amazon
The company's plan to deliver packages by unmanned air hit a snag on Sunday after draft regulations prohibitted remote piloting.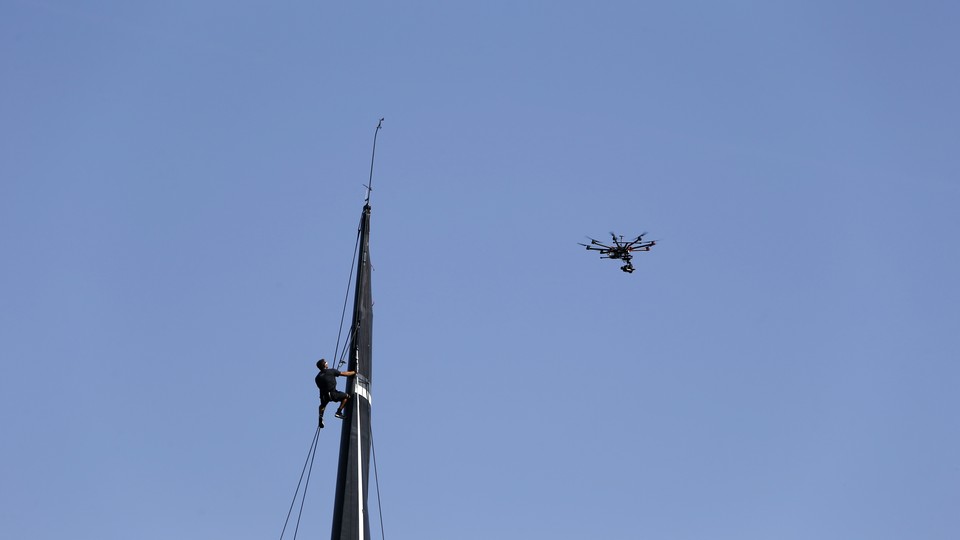 When Jeff Bezos appeared on 60 Minutes on December 1, 2013, the Amazon CEO unleashed a startling new innovation for his company: Before long, Amazon would use unmanned "drone" aircraft to deliver packages to customers as quickly as 30 minutes. All that it needed, the company said, was for the government to make delivery drones legal.
This has hit a snag. On Sunday, the Federal Aviation Administration released a set of draft regulations for the legalization of commercial drone flight. When implemented—the draft will undergo revisions and public comment, a process that will last about two years—the regulations will provide the legal framework for an industry that Business Insider estimates will generate $10 billion in new spending over the next decade. The regulations will set limits on the weight and speed of the aircraft, and will require drone operators to be at least 17 years old and pass a written exam at an aviation center.
"We have tried to be flexible in writing these rules," said FAA Administrator Michael Huerta. "We want to maintain today's outstanding level of aviation safety without placing an undue regulatory burden on an emerging industry."
One rule, though, is crucial: Drones also must remain in the visual line of sight of their operators or observers. Amazon's "Prime Air" program relies on remote piloting: Obviously, packages must travel further than 500 feet to get to people's houses and offices. Therefore, absent future revisions in Amazon's favor, Prime Air is dead on arrival—at least in the United States. Unsurprisingly, Amazon isn't happy about this.
"The FAA needs to begin and expeditiously complete the formal process to address the needs of our business, and ultimately our customers," Paul Misener, Amazon vice-president of global public policy, said in a statement to the Guardian.
"Without approval of our testing in the United States, we will be forced to continue expanding our Prime Air R&D footprint abroad," Misener said.
The FAA regulations are about far more than Amazon. The agency projects that within three years of the law becoming official, more than 7,000 businesses will obtain drone permits. The technology has the potential to transform industries as diverse as agriculture—where drones can help monitor plant health—and Hollywood. And in a nod to concerns over privacy, the Obama Administration
released a memorandum
on Sunday introducing regulations on data capture from drones.
None of this is any comfort to Amazon. But the company is certainly not going to give up. Drones may help Amazon, which spent an estimated
$6.63 billion on shipping in 2013
, save as much as $2 per delivery—not to mention rely far less on energy-wasting trucks. With that much at stake, the company's dance with the FAA on delivery drones is likely far from over.