Even With Debt, College Still Pays Off
A bachelor's degree can help recent graduates earn 83 percent more than peers who only completed high school.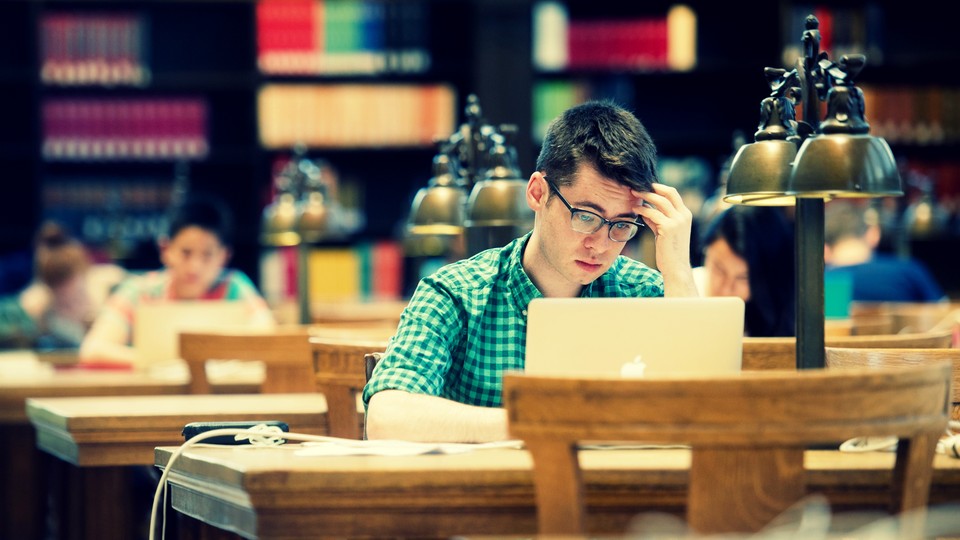 Widespread unemployment among recent college graduates during, and following, the recession combined with climbing student-loan debt, has left many wondering whether or not a college education is a good or necessary investment after all.
In economic terms, the answer is still yes.
Though the cost of college is increasing, a variety of empirical evidence suggests that the earnings associated with a bachelor's degree still trump the debt that students incur in most cases. According to data from the New York Fed, college graduates earn 80 percent more than their peers who didn't attend, or didn't finish, undergrad—and they're also less likely to wind up unemployed than those who didn't go to college.
---
Unemployment Rates by Degree and Experience Level
---
Researchers from Georgetown University delved further into the topic in a new study that looks at the wage advantage college grads have over those with only a high-school diploma, looking at earnings through various stages of employment, from just after graduation to decades into their careers. While unemployment rates for new grads and experienced workers alike have fluctuated throughout the recession and recovery, the earnings premium that college- and advanced-degree holders enjoy over their peers who didn't attend college has remained relatively stable, and in some instances, grown, according to the report that was released this week.
---
Annual Earnings by Degree and Experience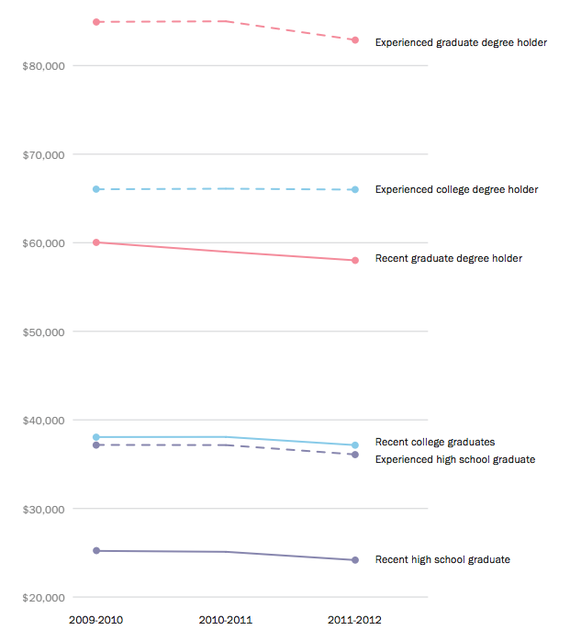 ---
Overall, recent college grads aged 22 to 26 have earnings that are 83 percent higher than early-career workers who have only a high-school diploma, according to the study. But what surprised researchers the most was the premium that recent college graduates still received compared to high-school graduates who had been working in their fields for a significant period of time. According to the study, a recent college graduate has median earnings of about $37,000, which is about $1,000 more than an experienced worker aged 35 to 54 who only has a high-school education. "It's really kind of a stunner. You would have thought that all that work experience would have done the job, but it doesn't," says Anthony P. Carnevale, a research professor and director of the Center on Education and the Workforce at Georgetown.
Of course, majors and careers play a huge part in the returns of a college degree, Carnevale says. For those recent grads who majored in arts, psychology, or social work, earnings were about 29 percent more than those of peers who had only a high-school diploma, according to the report. And for those recent college grads who majored in more traditionally-lucrative subjects, like engineering, earnings were 138 percent higher than those of their high-school only peers. Attending graduate school provides an even bigger boost, earning recent, advanced-degree graduates ages 25 to 34 between 92 and 229 percent more than peers without a college degree, the study found.
But what happens when you factor in the growing cost of college tuition, which leaves many students to take out large sums of debt to finance their educations? In the 2012-2013 academic year, the average cumulative student-loan debt for a four-year, public-college graduate was about $25,600 according to data from the College Board. For those attending private four-year colleges, cumulative debt amounted to about $31,200. But even with those high loan totals, the value of a college degree still holds up, says Carnevale. "The truth of it is that college is still worth it. It's just that most people can't afford it." When you add up the premium that college grads benefit from, which can amount to upwards of $10,000 each year, and multiply it by a career that lasts for about 45 years, the cost of a college education is well worth it.
But while the long-term outcome is promising in economic terms, the realities of the financial benefits a college degree can provide are often more difficult to grasp while saddled with the burden of student-loan debt, particularly during the early portion of your career, when wages are typically at their lowest.
And that reflects a growing problem with the cost and structure of higher education in the U.S. In order to make smarter choices about colleges, majors, debt, and careers, students and parents alike need a lot more information and guidance, says Carnevale. "It's really a matter of building an information system, and I would argue even regulations, that make students, and institutions, and the government more responsible for giving people sensible advice about debt," he says. "I think people should talk to you about what you're going to major in and what your career prospects are. You want to make sure that people make good investments, that's the idea."