As Coworking Spaces Scale, Can They Keep Their Communal Vibe?
The challenge of making an international chain feel like…not an international chain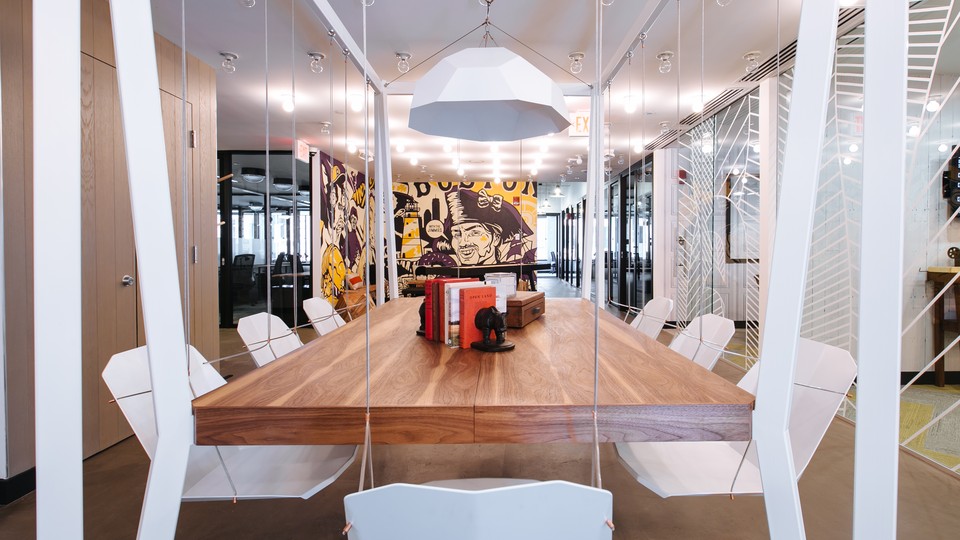 It's the Friday night before Valentine's Day and there's a little party taking place at the Boston branch of WeWork, a network of shared workspaces popular with freelancers and entrepreneurs. WeWork members leave their desks to gather around the enormous chocolate fondue platter that suddenly materialized in the kitchen. Scattered on the wooden tables—next to bowls of candy hearts and Hershey's kisses—are heart-shaped stickers that say "Do What You Love." Everybody is chatting: Three women are exchanging tips about throwing a product-launch event. Two twentysomethings are discussing a tricky coding problem over a ping-pong match. On a comfy grey couch strewn with purple throw pillows, a couple is drinking wine, deep in conversation. All around me—with pop music playing and beer flowing from a keg—people are conducting serious business. And it sure looks like fun.
Coworking spaces started mushrooming in the mid-2000s in response to the changing economy, as workers turned to freelancing or starting their own businesses instead of joining established companies. Some Americans chose this lifestyle because they were drawn to the possibility of working outside the strictures of a traditional 9-to-5 job. Others, however, were forced into less stable work as the economic downturn led to layoffs and prompted businesses to hire workers on a contract basis rather than full-time.
Shared workspaces first started as informal arrangements: Freelancers with extra space in their garage invited friends to work with them and groups of freelancers leased office space together to make it more affordable. Today, 53 million Americans—34 percent of the workforce—are independent workers. The bulk of these people are young: Seventy-eight percent are under the age of forty. A host of companies has stepped in to cater to this segment of the population by offering freelancers and entrepreneurs the amenities of an office: conference rooms, a reception desk to welcome clients, unlimited quantities of freshly brewed coffee. In doing so, these coworking organizations wind up at the vanguard of a movement of people who are prioritizing finding meaningful work, building community, and challenging conventional business practices.
Nearly two years ago, when Robert Crauderueff graduated from MIT with a master's degree in city planning, he hoped to find work shepherding companies through the process of becoming more sustainable. When he discovered that few organizations needed a full-time employee for that, he decided to launch his own consultancy, Crauderueff & Associates. He set up operations at a Manhattan coworking space called New Work City, which, for $375 a month, provides a professional setting where he can bring clients, investors, and contractors.
The space, he says, has also brought him many other intangible benefits. "I've found a community of individuals who each have some sort of unique take on how to contribute to the world that does not fit into the traditional corporate structure," he tells me. "This space brings together a particular type of personality that is drawn to the excitement of creating your own work and is willing to live with the uncertainty that comes with being an independent worker."
Working for yourself can be very isolating in many ways. For one thing, it means not having a support system when dealing with business problems. Independent workers have to pick up a range of skills that, at a bigger company, would be done by specialists. Crauderueff has had to quickly learn how to incorporate his business, handle marketing and PR, manage payroll and billing—skills he did not learn at MIT—all while securing new clients and executing major projects. He tells me that coworking has been instrumental in helping him navigate these challenges both informally, by giving him a network of friends eager to offer advice, and formally, through weekly support meetings.
New Work City's founder, Tony Bacigalupo, says he tries to create a culture where his members can offer each other practical advice and encouragement. "We specialize in creating a sense of belonging and being part of something bigger than yourself," Bacigalupo tells me. Manufacturing this kind of environment can be tricky, because it could easily come across as pushy or heavy-handed. People who are naturally introverted, for instance, may feel overwhelmed by forced interaction. Bacigalupo's solution has been to offer many different opportunities for connection—motivational meetings, new member events, online discussion boards and networking meetups—so people can determine what works best for them. Crauderueff says the support system at New Work City has allowed him to quickly learn the nuts and bolts of owning a business. He tells me that members also help one another through non-work related problems, like dealing with losses and breakups or struggling to find a new apartment and childcare, which might otherwise diminish productivity.
Bacigalupo was one of the first people to launch a dedicated coworking space in New York and very soon after starting it in 2005 many other shared workspaces rushed onto the scene. But Bacigalupo does not see these other organizations as competitors, since he has no intentions of taking on more real estate to grow his business. "This has always been a community project," he says. "We did this, in part, to show other people the potential of coworking, so I am glad that it has caught on and companies have made it possible for more people to experience coworking."
Other coworking companies have much grander ambitions. Currently, the biggest player in the coworking universe is WeWork, which launched in New York in 2010 and has brought on 20,000 tenants in less than five years.  It already has 13 locations in New York City alone and is rapidly expanding throughout the U.S. and around the world, with outposts as far away as London, Tel Aviv, and Amsterdam. WeWork launched in Boston one year ago and has already needed to acquire more space to accommodate demand. WeWork's pricing structure varies depending on the location. (In Boston, you can get a dedicated desk starting at $400 a month and a private office starting at $550 a month.) Given that it is slightly more expensive than other coworking facilities, it tends to cater less to freelancers and more to small businesses: Seventy-seven percent of WeWork tenants are companies larger than 3 people and the fastest growing segment of their business is organizations of over 20 employees. Well-known brands, like Silicon Valley Bank, Reddit, and Charity: Water have rented space at WeWork for employees to work remotely or to have a presence in other cities.
Adam Neumann, WeWork's co-founder, tells me that culture and collaboration are central to his mission. "From the beginning, we've found that community is what our members are really craving," he says. Given WeWork's scale, it takes a much more strategic approach to foster a sense of camaraderie. While New Work City emphasized allowing intimacy and emotional support to grow organically, WeWork appears to focus on building a strong business network among members. They've created a mobile app that allows members to connect online or post jobs virtually and WeWork's community managers are tasked with making introductions between members who might be able to collaborate on a project. According to their most recent survey, 51 percent of members do business with another at least once a month. "It's like a real life LinkedIn," Boston community manager Joshua Gaviria tells me, over a glass of wine and chocolate fondue at the Valentine's Day event. "You can walk down the hall to meet a venture capitalist instead of stalking him online."
Each WeWork space is slightly different, taking inspiration from the surrounding neighborhood, but the WeWork aesthetic tends to be a combination of homey and professional. "It's a science," says Neumann. "We cannot force community, but we can create an environment that encourages it. We've gathered massive amounts of data about how to design a space to foster collaboration." WeWork has done research into design questions as specific as the optimal number of couches and the ideal location of coffee machines to foster conversation.
As coworking spaces proliferate, they are increasingly being discussed in the language of commercial real estate and less in terms of community. At the Atlantic Avenue location I visited, WeWork was the largest tenant in an already very large building. While every corner of the WeWork space was beautifully designed and had cosy shared kitchens, it felt much more like a big corporation than a friendly gathering of like-minded independent workers. For those who are just beginning to freelance or start businesses, a space like WeWork will offer institutional support through networking events, insurance discounts and mobile apps, but it is unclear whether it will be able to foster the trust and intimacy that coworking once promised. Many people who strike out on their own will need help getting on their feet, both emotionally and in practical ways; large shared workspaces may seem overwhelming and alienating. Without a sense of community, coworking becomes just another way to rent out workspace.
Between New Work City, which has limited itself to 5,000 square feet and WeWork which has two million square feet and counting, there are many other coworking facilities around the country, each with its own character, pricing structure, and network of members. (As of 2013, the Commercial Real Estate Development Association identified 781 coworking spaces in the U.S.) For David Rose, the author of Enchanted Objects and a serial entrepreneur, coworking has been a way of life for 15 years. In 2001, he moved into the Cambridge Innovation Center, one of the earliest coworking facilities in the U.S., which was built to cater to the thriving startup scene in Kendall Square. He has launched three companies there including his most recent venture, an image analytics company called Ditto Labs. He often has mini brainstorms with people he meets on elevator rides or by the coffee machine where he can gathering feedback about a new product. He has forged a business partnerships with other tenants. He regularly stops for a chat with the VC firm on the 40th floor when he needs some advice. "There is an intangible energy that happens in places like this," he says.
As the economy continues to shift, many people will spend their entire careers in coworking environments, much like David Rose has. By 2020, the Bureau of Labor Statistics estimates that 40 percent of the U.S. workforce will be freelancers, temps, independent contractors and entrepreneurs who single-handedly run their own businesses. Some worry that the values and ideals at the heart of the coworking movement are becoming diluted as coworking spaces quickly spring up to cater to these people. People like Tony Bacigalupo, the founder of New Work City, are working to codify the principles of coworking so that they are easier to incorporate into new coworking communities. "There is a sense in the Zeitgeist that coworking is more of a real estate opportunity," Bacigalupo says. "But I really don't want coworking to be reduced to passively renting out space: that will leave a big chunk of the population feeling isolated and not having people they can really trust."