The Two-Generation Approach to Fighting Child Poverty
These programs know that giving parents educational and economic assistance helps children as well.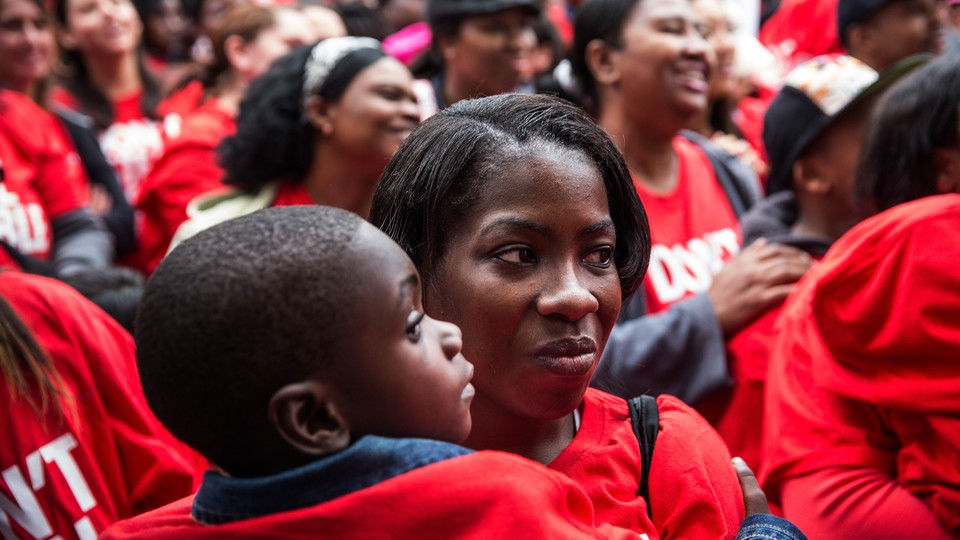 It is a universally accepted fact in the United States that one of the best ways to boost the lives of low-income and young families is to first help their kids. Paying attention to the care, education, and development of infants, toddlers, and young children can help close achievement gaps and ultimately save money in the long run on everything from social welfare programs to government assistance to the cost of prisons.
Programs such as Head Start and public preschools act "like preventive medicine," says Brenda Van Gorder, director of Pre-School Services for the Granite School District in Salt Lake City. The goal is to help prepare these students for kindergarten and to expose them to reading early on, so that "they're not lagging behind from the start," she adds.
Another dimension to helping young and low-income families is boosting the educational attainment and job prospects for the parents. Programs that help educate pregnant teenagers about motherhood and empower them economically, or send a parent back to school can ultimately change the fate of a family. "For all the strides we've made in investing in early education, we can't put all of the weight on the back of the child," says Anne Mosle, the executive director of Ascend, an Aspen Institute program that advocates for a holistic approach to educating families.
With this criteria in mind, we've reviewed dozens of programs dedicated to helping young and low-income families. Here are the 10 we believe are the most innovative.
Building Better, Smarter Daycares: Instead of just worrying about the development of young kids, what if policymakers and educators paid more attention to the adults in their day-to-day lives—particularly the childcare workers? The California-based David and Lucile Packard Foundation has decided to do just that by focusing on the training and professional development of early-childcare workers. The thinking is that a better-trained, more professional workforce, well versed in child development, will ultimately benefit low-income kids.
See National Journal's in-depth profile of the Packard Foundation's professional development plan here.
Briya Public Charter School: This Washington, D.C.-based charter school tries to fight poverty by sending both kids and parents to school. Originally founded as a family literacy center by a group of immigrants, Briya provides English-language instruction, basic computer skills, parenting classes, and child care during school hours, as well as preschool classes for 3- and 4-year-olds. The school embraces the "two generation" approach to pulling families out of poverty. Any family can apply by simply putting their names in a lottery to enroll for one or more of the 482 slots available at Briya under D.C.'s public school charter system.
See National Journal's in-depth profile of Briya Public Charter School here.
Colorado's College Savings Account: During this school year, the state of Colorado plans to open college savings accounts for students enrolled in state-run preschools. An added benefit? Private donors plan to match a portion of each family's savings with donations. The program is significant because research suggests that even small nest eggs can increase the odds that a child will go to college and earn a degree.
Education from the Inside Out Coalition: This national network of advocates and nonprofits tries to remove the barriers to higher education for people currently or formerly incarcerated. The group's research shows that the likelihood of a former convict returning to prison within three years drops from 43.3 percent to 5.6 percent for those with bachelor's degrees and to less than 1 percent for those with master's degrees.
Goldman Sachs' Use of Social Impact Bonds: Can Wall Street help to fund cash-strapped public policy programs and earn back its investment? That's the question that banking giant Goldman Sachs is trying to answer through its social impact bond program, which, so far, has financed everything from an expanded preschool program in Utah to a cognitive-behavioral-therapy program for juveniles incarcerated on Rikers Island.
See National Journal's in-depth profile of Goldman Sachs' social impact bonds here.
Jeremiah Program: This program out of Minnesota's Twin Cities, provides low-income single mothers and their young children with subsidized housing, on-site child care, and empowerment classes. The goal is to help two generations simultaneously get ahead. The program's own research shows the benefit of this holistic approach. Sixty-one percent of the mothers were unemployed as they entered the program. Compare this to the employment stats for the 2012 and 2013 graduates of the program: Roughly 77 percent held down jobs, earning an average salary of $16.25 per hour. The program has been so successful that it's expanding nationally to other cities such as Austin, Texas.
Job Training and Childcare for Single Moms: Jefferson State Community College and St. Clair County's Head Start in Birmingham, Ala., received a $25,000 grant to train single mothers (whose kids attend that local Head Start) as pharmacy technicians. The goal is to help the mothers move to higher-wage jobs.
Nurse Family Partnership: This national program, now in 43 states, pairs low-income, first-time mothers with trained nurses, who counsel the moms throughout pregnancy and until their children's 2nd birthday. The nurses offer guidance on everything from nutrition during pregnancy to breastfeeding to caring for a newborn. They play the role of social worker and encourage mothers to finish their educations, so they can support their families. The program costs roughly $4,800 per family per year; an analysis done by Rand in 2005 showed that NFP's interventions with high-risk families can save society, including the government, as much as $34,000 for every child involved.
See National Journal's in-depth profile of Nurse Family Partnership here.
San Francisco Safe Start: This citywide program works with families, with children ages 6 and younger, who have been exposed to violence. The services range from counseling to advocacy, support groups, and help finding shelter, food, or child care. All of the help is free and confidential, with services available in multiple languages, including English, Spanish, and Cantonese.
Too Small to Fail and the Word Gap: This national effort, rolled out in a handful of cities across the country, tries to boost the language skills of young children by encouraging parents and caregivers to increase the number of words they speak to their children. So far, the various campaigns are under way in places as diverse as Tulsa, Okla.; Chicago; and Providence, R.I., with financial assistance from organizations such as the George Kaiser Family Foundation and the PNC Foundation.