The Not-So-Good News About Friday's Jobs Report
Private-sector job growth is finally improving. Government jobs are another story.
Yes, there are a lot of good things in today's jobs report: Employment in professional occupations is growing at a fast clip, construction is finally showing signs of life, and health care continues to add employees. All in all in 2014, employers added an average of 246,000 jobs a month, making 2014 the strongest year for employment since 1999.
As one economist, Justin Wolfers, tweeted, "Over the past three months, the economy has created an average of 289k per month. That's the healthiest pace [in] basically forever."
But there is one area that is still worrying: state and local government, which has been anemic since the recession. Private-sector employment, which in December clocked in at 118 million, has grown 10.4 percent from its 2009 low. The nation has gained back all the jobs it lost during the recession, and added some more, and private-sector employment grew 2.5 percent last year alone. State-government employment, on the other hand, is 1.2 percent below 2009 figures, and state jobs have grown just 0.4 percent in the last year. Local-government employment—which includes teachers and police officers—registered at 14 million jobs in December, down 2.5 percent from 2009, growing just 0.6 percent for the year.
In 2013, the Rockefeller Institute for State and Local government wrote that "the depth and length of cuts in state-local government is unprecedented." It appears that the long winter for government jobs isn't over yet. Meanwhile, the U.S. population continues to grow, putting more pressure on state and local governments to provide services with fewer resources.
---
Government Employment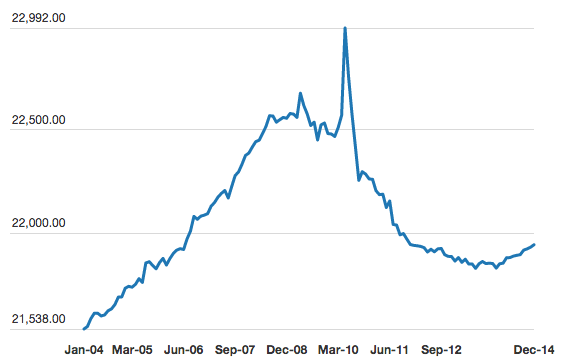 ---
Private-Sector Employment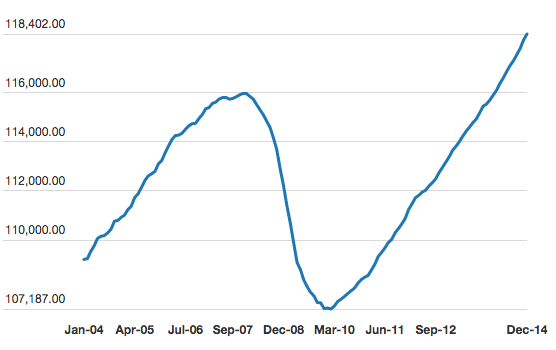 ---
State and local-government jobs aren't sexy—they may make you think of a bureaucrat in a government building, like Parks and Recreation's Leslie Knope, who spends time banning sugary drinks. But many state and local employees work in areas that have a direct impact on residents' day-to-day lives. Public-school teachers are local-government employees, as are policemen, and firemen. Some employees work in public hospitals, others drive buses, some work in prisons. They fix roads or build new ones. And some government employees work for courts—so fewer employees mean it could take longer to get a court date—while others work for the DMV.
Overall, state and local government accounts for more than 19 million jobs—about 14 percent of total employment in the U.S. Local-government employment is two to three times as large as state-government employment. But both have been slow to recover, said Lucy Dadayan, one of the authors of a 2013 report from the Nelson A. Rockefeller Institute of Government, The Depth and Length of Cuts in State-Local Government Employment is Unprecedented.
"We had the worst recession since the Great Depression and most governments are still facing the consequences," she said, in a phone interview. "During the recession they had to cut a lot of services, and they are just not back to providing those services."
State and local governments are often slower than the private sector to recover, said Esmael Adibi, the director of the Anderson Center for Economic Research at Chapman University. But the sluggishness of government jobs to recover is unprecedented. While the private sector started adding jobs again in early 2010, government employment started shrinking in 2009 and still is relatively flat.
"It's very unusual for government to be a drag—usually, in the old days, they would say government jobs are the safest jobs," he said. Indeed, many parts of government jobs, including the pensions, benefits, and union representation that went with them, have gone away.
---
Government Employment, Early 2000s Recession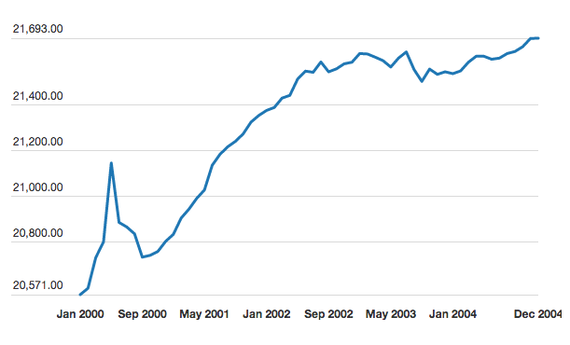 ---
Private-Sector Employment, Early 2000s Recession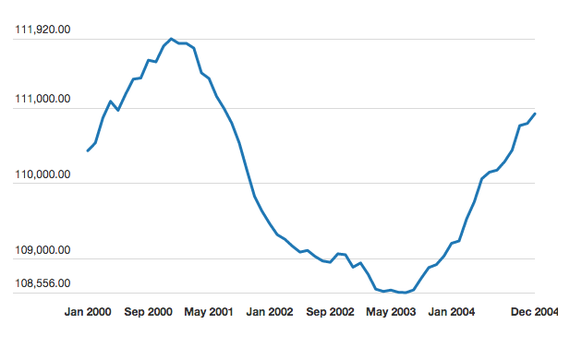 ---
In some states, government jobs have declined or remained stagnant because revenues aren't as rosy as anticipated. Sales tax is picking up in many states as consumers begin shopping again, but changes in the way people shop—think more online shoppers, fewer brick and mortar stores—means sales-tax collection may continue to be sluggish. One economist estimates that states now forgo $23 billion a year in sales-tax revenues because of consumers who shop online.
But often, state revenues are low because elected officials believe that their state will perform better with lower taxes and fewer government employees. Kansas, for instance, embarked on a program of cutting taxes to stimulate business, and instead ended up with a $1 billion deficit. Though private-sector employment has nearly reached its pre-recession peak in Kansas—growing 5 percent since 2009—government employment in the state is down 1 percent. Kansas has already made deep cuts, and expects more in state departments including transportation and corrections. The state cut education spending so much that the state Supreme Court last year ordered Kansas to potentially appropriate more money to some districts.
I visited Kansas a year ago to look at the effects of the cuts, and found that bodies were literally piling up in county coroners' offices because staffing levels were so low, and in one ancient elementary school desperate for renovations, gym, lunch, and music class had to be held in the same room—sometimes at the same time. (It is probably not that surprising, then, that Kansas House Speaker Ray Merrick recently came under fire for saying that government employees "produce nothing" and are a drag on the state because of their health expenses, during an interview.)
---
Employment in Local-Government Education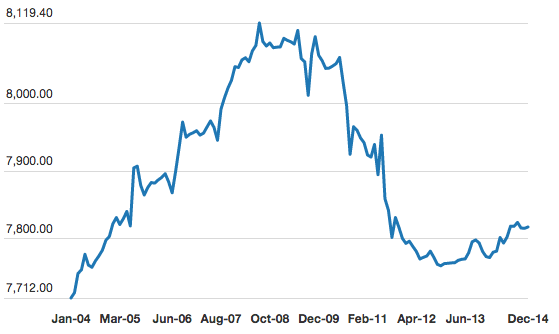 ---
Other states have tried to follow Tea Party-like tax cuts in an effort to stimulate the economy, which has usually led to lower revenue. In Michigan, where Governor Rick Snyder cut taxes after being elected in 2010, local-government employment has fallen by 20 percent in the last decade, according to BLS data (all state-specific numbers are based on November data, since state-jobs figures don't come out until later this month). The state's population shrunk just 2 percent over the same time period.
State and local-government jobs have also dropped in Florida, which recently surpassed New York to become the third-most-populous state in the country, and in Ohio, where a group called Cuts Hurt Ohio estimates there's been $1.5 billion slashed from local government over the past four years. In Florida, local-government jobs are down 5 percent since 2008 and in Ohio, local-government jobs are down 3.7 percent since 2010 and 7.7 percent in the last decade.
Some surprising states have been adding state and local-government jobs, including Kentucky, the conservative home state of Senate Majority Leader Mitch McConnell, and Texas, which has long attracted business with its claims of low taxes and small government. Kentucky has been steadily adding government jobs since 2009, with its state-government employment growing 14.5 percent since then. Texas reached a peak in all-time, local-government employment in September, with 14 percent more local-government jobs than it had a decade ago.