Suburbs and the New American Poverty
More people with low incomes now live outside of cities, and some areas are ill-equipped to deal with the influx of the poor.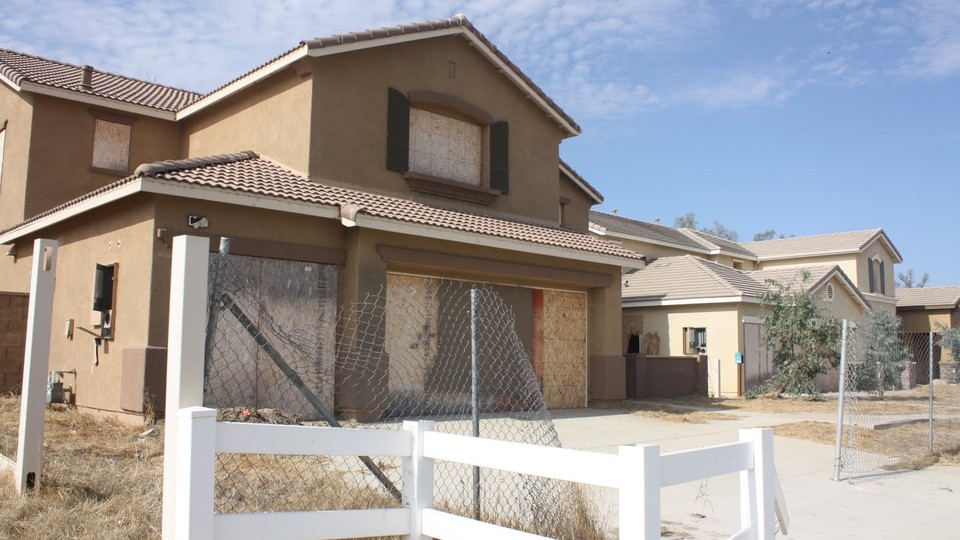 NORCROSS, Ga.—Every weekday around 3:15 p.m., a big, yellow school bus stops on Pelican Drive outside Norcross Extended Stay, near the intersection with Best Friend Drive.
Dozens of children file out, carrying their heavy backpacks away from the Wendy's and the AutoZone, towards the cluster of aging three-story yellow buildings where they live. Some are met by waiting parents, others trek by themselves to the shabby motel rooms, marching past broken-down cars, their tires flat, scattered around the parking lot, and discarded mattresses piled next to some of the residences.
That families are living in extended-stay motels like this one may seem surprising in a town like Norcross, founded in 1870 and named one of the best places to live in Georgia by Movoto, a real estate blog, last year. Gwinnett County, where Norcross is located, is, in parts, a collection of well-off towns like Duluth, home to NeNe Leaks, of Real Housewives of Atlanta fame. Its unemployment rate is just 5.7 percent and one of its schools, the Gwinnett School of Mathematics, Science, and Technology, was recently named one of the best in the nation by U.S. News and World Report.
But the suburbs of Atlanta no longer hold just the promise of good schools, clean streets, and whitewashed homes with manicured lawns proudly displaying American flags. They are increasingly home to the very poor, who find themselves stranded in suburbs without the kind of transit or assistance that they might once have found in cities' urban cores. They are stuck in places like Norcross Extended Stay, that see the same type of crime that families might have once seen in metro Atlanta. (A few years back, the Gwinnett County Sheriff's Department had to order 20 sex offenders to leave the motel, because it was located near a public pool.)
Joanna Watkins stays at home with her grandkids in one of the tiny rooms in Norcross Extended Stay while her daughter borrows her car to work as a waitress nearby. On the day I met them, Watkins' granddaughters lounged on the motel's polyester, flowered bedspreads watching TV while Watkins peered nervously out of the motel room's first-floor window.
"We don't let the kids go outside," Watkins told me, explaining that the family is looking for something better. She moved from Texas in September to help out with childcare, but with her daughter's low wages, they're still looking for a more suitable place to live.
Fully 88 percent of Atlanta's poor live in the suburbs, according to Confronting Suburban Poverty in America, by Elizabeth Kneebone and Alan Berube of the Brookings Institution. Between 2000 and 2011, Atlanta's suburban poor population grew by 159 percent, while the city's poor population remained essentially flat.
It's not just Atlanta—across much of the country, poverty is increasingly a problem found in the suburbs. The number of poor in the suburbs surpassed the number of poor in the cities in the 2000s, and by 2011, almost 16.4 million suburban residents lived below the poverty line, according to Kneebone and Berube.
---
Poor Residents in Cities and Suburbs, 1970-2012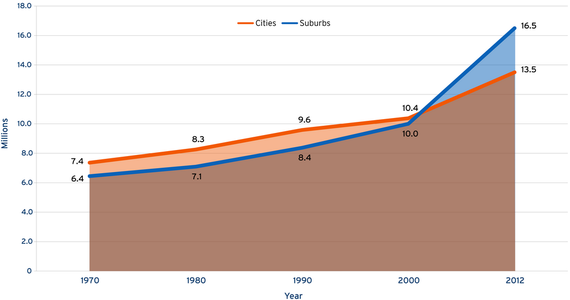 ---
The fact that more poor people live in the suburbs doesn't have to be a bad thing, Kneebone told me. If low-income residents have access to good job opportunities, affordable housing, low crime rates, and good schools, then the suburbs can provide a path out of poverty.
But poverty has increased so quickly in some suburbs that these areas are ill-equipped to deal with it, she said.
"Many of these communities lack the infrastructure, safety-net supports, and resources to address the needs of a growing poor population, which can make it that much harder for poor residents to connect to the kinds of opportunities that can help them get out of poverty in the long run," she said.
The problem speaks to a different kind of erosion of the American Dream, in which families strive to get to the much-vaunted suburbs, only to find out there's nothing for them there. And as suburbs see more and more poverty, they become the same traps that impoverished, urban neighborhoods once were, where someone born there has few chances to improve his economic standing.
There are more tangible problems that arise when poverty grows in the suburbs. Often, government structures change more slowly than the population at large, and residents find themselves represented—and policed—by people who don't understand their needs or concerns. The unrest in Ferguson, a St. Louis suburb, over the past year, reflects this conflict.
Suburbs also have less transit than urban areas, making it difficult for low-income residents to get to jobs or buy groceries. And social services have been slow to follow the poor to the suburbs, so many suburban poor find themselves isolated and without a safety net, hidden from those who might be able to help.
This all became extremely clear to the Reverend Harriet Bradley, who lives in an extended-stay motel in Gwinnett County, where a neon sign advertises rooms for $169 a week. She has no car, and depends on public transit to get around. It can take her three hours to get to church some days, and the public transit in the county doesn't run on the weekends.
She says she was called by God to talk to other public-transit riders about the need to expand the bus system, and recently decided to attend a public hearing of the Gwinnett County Board of Commissioners to ask them to divert more support to public transit in the county. After two long bus rides, she waited through hours of dull zoning appeals and then, right before the meeting ended, was given a few minutes to speak.
The crowd was diverse, but the commissioners were all white. Over the last decade, Gwinnett has become the most racially-diverse county in Atlanta. Between the 2000 and 2010 census, the county's African American population added 112,000 residents, growing 143 percent, while the county's Asian population doubled, adding 43,000 residents. The white population grew by a mere 1,680 residents. Still, the Gwinnett County Board of Commissioners is all white, as is the county school board, and all of the judges elected to county's state and superior courts.
Bradley, who is African American, cleared her throat and stood in front of a round table of white elected officials and staff, and asked for more transit funding.
"The bus schedules don't start early or run late enough," she said. "I've often heard people around me say, 'They don't realize that I can't get to work.'"
A person without a car who wanted to attend that very meeting would not have been able to get home afterward because the bus doesn't run late enough, she said (she'd arranged for a ride home). Gwinnett County residents without cars can't get jobs at the mall or local warehouses, or at Atlanta's airport south of the city—the busiest airport in the world—because the buses don't allow them to get to work on time.
"Many people have had to turn down jobs because they couldn't get there," she said, ending her speech.
Afterwards, she spoke individually to a few commissioners but felt mostly ignored. "The commissioners—they don't really want public transportation out here," she told me afterwards. "They wouldn't use it anyway."
* * *
There are a few reasons poverty is becoming so concentrated in the suburbs, according to Berube and Kneebone. One has to do with where it's possible to find affordable housing. After all, many suburbs were built decades ago as developers tried to offer up more spacious locations for growing families after World War II. As those homes age, the middle-class families who once lived in them leave in search of nicer, newer places being built either in farther suburbs, or in rehabilitated downtowns. More than 80 percent of units in some now lower-income suburbs like Penn Hills outside of Pittsburgh, or Webster Groves outside St. Louis were built before 1970, Kneebone says.
In other cities, gentrifications of downtowns push residents out of expensive, urban areas into more affordable suburbs. When housing prices in central Seattle started to rise, there was an out-migration of lower-income African Americans to the suburbs of King County, for example. As inner-city housing prices become more expensive, policy changes have allowed more low-income residents to use housing vouchers to live in the suburbs. In Atlanta, 79 percent of housing vouchers were used in the suburbs by 2009, up from 66 percent in 2000, Kneebone and Berube report.
But long-term changes in the jobs that are available, and where they are located are also contributing to the rise in suburban poverty. Jobs have become increasingly located in suburbs, but for every office park and factory that moves to the suburbs, services follow such as fast-food restaurants, hotels, and beauty salons. We've heard frequently that the pay of these jobs has not kept up with the cost of living, which means that the people who work at them do not have the income needed to maintain a suburban lifestyle.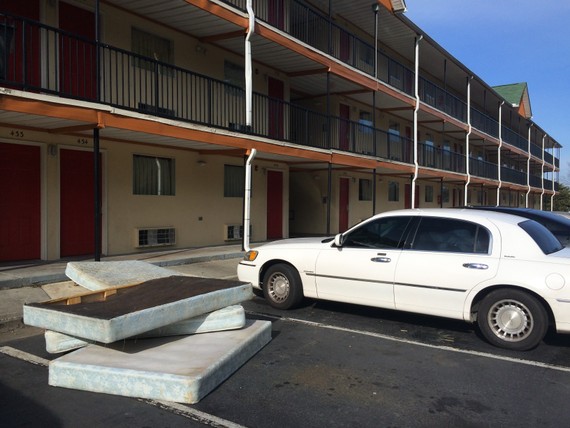 Gary Shelt, 52, just moved to a Norcross extended-stay motel where he pays $253 a week from DeKalb County, a more urban area inside the 285 beltway in Atlanta. I met him as he waited for a bus alongside a six-lane Gwinnett road, his bike leaning up against the bus shelter. Shelt, who makes a living doing odd jobs repairing homes and cleaning buildings, just moved to Norcross a few weeks ago because he'd heard there was more work out there.
He hadn't anticipated that transit would be such a problem. He'd biked to the bus stop, and planned take a bus to MARTA, the Atlanta-area transit system, to go meet a client who wanted help installing a television. But the bus was already 45 minutes late.
"I can make a living—it's not easy, but I get by," he told me. "I eat lots of ramen soup and stuff like that."
Some of the growth in suburban poverty can't be explained by migration alone. Instead, it's directly related to the stagnation of wages that many Americans have experienced after the recession. Between 1999 and 2008, median-household income dropped by $2,241 when adjusted for inflation, according to the Brookings Institution. During the same time, the share of households earning middle-class incomes have fallen by 1.8 percentage points.
It's possible that there's a higher share of low-wage jobs in Gwinnett County precisely because the region doesn't have much transit. Drive around the region and you'll see dozens of office parks with "For Lease" or "Space Available" signs. In many cases, employers no longer want to locate somewhere that will cause employees to spend a lot of time stuck in traffic or in transit. State Farm recently announced it was building a new national hub in Atlanta—in a development connected to a transit station.
The lack of middle-class jobs poises many residents on the brink of poverty. Even those who found they were able to make a good living in the city find that there aren't enough middle-income consumers in the suburbs to keep their businesses afloat. Many of the strip malls that once had grocery stores and other retail in Gwinnett County now have pawn shops and check-cashing services.
Shy Lindsay, a 32-year-old hairdresser, told me she moved to Norcross after being evicted from an apartment in DeKalb County. She initially felt good about her move to Gwinnett County, which she says is cleaner and safer than metro Atlanta.
"It's brighter and prettier here, and you get more for your money," she said.
But she's a hairdresser, and has had trouble finding good clients lately. Her boyfriend, who is trying to get into car sales, is having trouble making enough on commission, too.
* * *
Norcross Cooperative Ministry is located in a squat, brick building across from some of the low-slung homes of suburban Norcross. A few days a week, dozens of low-income residents of Norcross arrive at the center to wait their turn to meet with a counselor who will help them apply for rent assistance, donated Christmas presents, employment counseling, and financial-literacy classes. The cooperative is an alliance of church groups working to help low-income residents.
Executive director Shirley Cabe has lived in Norcross her whole life, and said that areas of town have changed dramatically in recent years.
"This pocket of Norcross has really transitioned from more of a middle-class area to a low-income-type area, with families really struggling to make ends meet," she said.
In some schools, for instance, the percentage of kids receiving free and reduced lunch is more than 90 percent. The cooperative had to cut off its Christmas gift program last year at 2,300 children.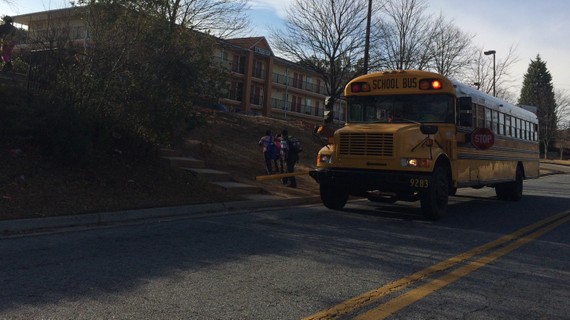 As poverty has grown in the suburbs, many of the social-safety-net programs aimed at reducing poverty are still located in urban centers. Philanthropy for nonprofits tends to concentrate in urban areas too. For example, Washington, D.C. is home to 277 nonprofit, social-service organizations, providing $1,834 in human-services funding per poor person, according to a study by Scott Allard and Benjamin Roth. Neighboring Prince George's County, by contrast, where suburban poverty is prevalent, has just 82 nonprofit, social-service organizations providing $189 in human-services funding per person.
What's more, social-service organizations are seeing hiccups in funding streams, and anticipate more funding cuts, according to the study. Nearly three-quarters of suburban nonprofits said they are seeing more clients with no previous connection to safety-net programs.
"The poverty keeps increasing, especially among young people—but the county tries to mask it," said Ellen Gerstein, the executive director of the Gwinnett Coalition for Health and Human Services, a directory of human-service groups. "We have an underclass of people who are the working poor, there's a lot of retail jobs because we have more shopping here than you could ever imagine."
The coalition runs a help line, and requests for homeless shelters have increased dramatically over the last year, Gerstein said. Most of the shelters in the county are run by church groups, rather than the government. The only official homeless shelter in the county has only 11 beds for women and children, Gerstein said.
Reverend Nancy Yancey, who runs Rainbow Village, another organization that helps the suburban poor in Gwinnett County, told me that she'd seen the number of calls for assistance double in the last year, to 300. Rainbow Village can only accommodate a few families at once through their program. Often, families end up at extended-stay motels instead, she said.
"These are the ghettos of suburbia," Yancey told me. "They have prostitution and drug rings and still families are spending $600 a month. We should take all of these places and turn them into emergency shelters."
Tyler Chase and his wife Ariel were recently forced to move into one such extended-stay motel, where their children, ages 13, 11, and 5, make up pallets on the floor.
The Chases were your typical middle-class family until Tyler, who ran his own security company, had a stroke.
After a doctor misdiagnosed him, the family entered into a medical nightmare as bills grew and the Chase's income disappeared. The family lost their house and filed for bankruptcy. Ariel Chase cooks dinner on a small, two-burner stove.
"We lost everything," Ariel Chase told me, outside of the cooperative's office. "This is all our kids know."
An increasing number of Americans are just one crisis away from poverty, according to Kneebone, of the Brookings Institution. Nearly half of households in the U.S. have less than three months worth of savings, according to CFED's Assets and Opportunities Scorecard.
In Georgia, and many states in the South, families experience a large amount of economic insecurity, defined as losing more than 25 percent of household income from one year to the next. On average, insecurity in Georgia rose by 57 percent between 1986 and 2010.
But these families often don't have the resources that they might have had in the cities, either because there simply aren't nonprofits there, or those who are in the suburbs are overwhelmed with demand.
"Even though the economy is improving, it's difficult in suburbia," Yancey told me. "These are working families with children, and they're often hidden."
* * *
Some regions have begun to address the problems created by suburban poverty, but they're finding the work is slow going.
After all, suburbs are often much more spread out than cities, and organization has to be done at a county-wide or multi-county level. To reach the same number of low-income families that an organization might once have reached in one urban neighborhood, groups have to work across counties or regions. It can be difficult to change how programs are administered. The federal government spends $82 billion to fight poverty, but it's funneled through 81 programs and 10 different agencies.
But some regions are succeeding. Montgomery County, Maryland, for instance, established a network to reach low-income residents who might not have been aware of the benefits available to them, with volunteers knocking on far-flung suburban doors to check in on residents, according to Kneebone and Berube. A community group in a Houston suburb founded a neighborhood center where residents could learn English, and even sparked the creation of a new bus line. Ways to Work, a Milwaukee-based nonprofit, offers low-interest car loans to help people who live in the suburbs get the transportation they need to get to work.
Some of these groups are starting to make progress in the Atlanta area, too. Groups like the United Way and the Partnership for Southern Equity are building coalitions to track and address problems of suburban poverty.
"We're beginning to have a ground game in Atlanta," Nathaniel Smith, the founder of Partnership for Southern Equity told me. "When you organize communities and educate people to speak for themselves, you're creating new structures of power and influence."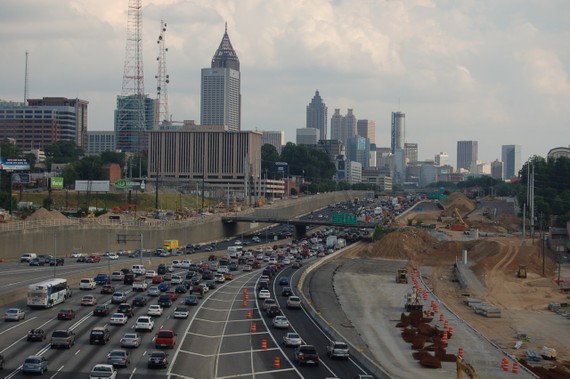 A lack of transit in the suburbs has been one of the biggest problems for the people Smith encounters. Many Atlantans have historically opposed transit in their neighborhoods because of the assumption that anyone who uses transit is poor, Smith told me. In 2012, Smith and others were disappointed when the Atlanta regional area—including suburbs like Gwinnett—had the opportunity to approve a $7.2 billion transportation plan that would have been funded by a 1 percent sales tax. Instead, voters rejected the tax, and Atlanta's traffic and transit woes continued to grow. Many parts of the far-flung, wealthier suburbs voted against the tax, while some pockets of suburbs, including parts of Gwinnett County, supported it.
"As we talk about issues of suburban poverty in metro Atlanta and income equality, access is a key component to lifting people out of poverty," Smith said. "If you can't have access to something, you're stuck."
But there are signs of change. Clayton County, which is just south of Atlanta's city center, had shut down its public transit in 2010 as a result of budget shortfalls. But the Partnership for Southern Equity and other local groups advocated better transit, and in the elections of November 2014, voters in Clayton County overwhelmingly approved a sales-tax increase to fund the expansion of MARTA, Atlanta's transit system, into the county. It's the first new county in the Atlanta region to add MARTA service since 1971.
"I think things are really changing," Smith told me. "If you look at what's happening in Atlanta around the belt line, there's a new push for another go at a statewide transportation strategy."
Of course transportation isn't the only solution to suburban poverty. But it's a start. And as the economy improves, people like Leila Randolph are starting to see their status improve, too. Until a few months ago, Randolph, 54, was homeless. She'd worked at a warehouse in Gwinnett County for two years until she and a handful of others got laid off because business slowed down.
But recently, she landed a minimum-wage job packing bread at a bread factory. She's able to afford a room at Norcross Extended Stay with a small kitchenette, and a car.
It's not her dream home, and the hours are tough—she works from 10 p.m. to 6 a.m., which makes it hard to see her family. But she's hoping to save up and move out someday.
"I can't complain—there's a roof over my head," she said. "I hear some real bad stories."