Should Urban Universities Help Their Neighbors?
The housing crisis decimated communities near the University of Chicago, now the school and other organizations are trying to stabilize them.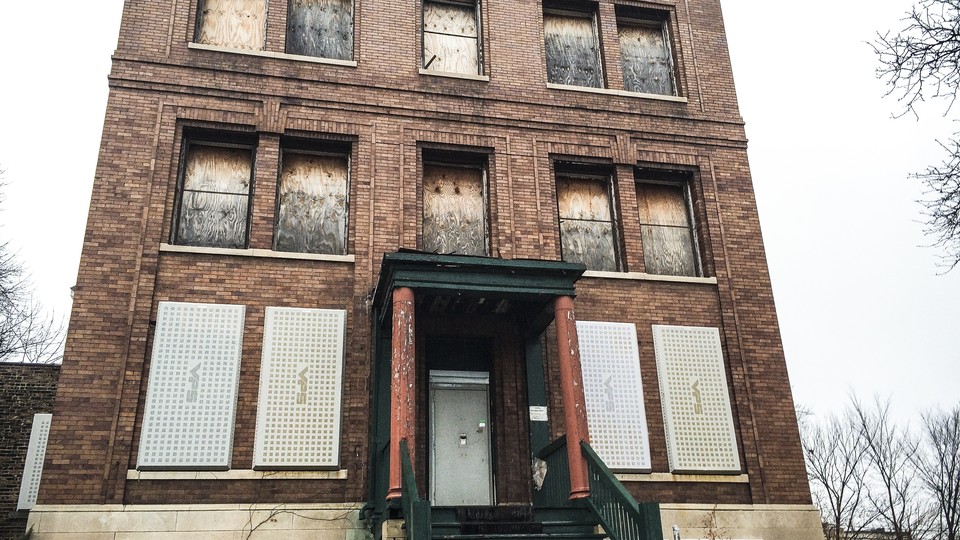 CHICAGO—When he moved back to Chicago after being away for 15 years, Maurice Samuels, 40, never thought he'd live in Woodlawn. He grew up in the area on the South Side of Chicago, and remembered its deterioration well. When he left in his twenties, Woodlawn "used to be run down," he said. There were vacant homes and walking around, he said, you didn't feel safe.
Woodlawn is the area directly south of the University of Chicago, in the heart of the city's South Side. The university is surrounded by parks on its east and west, and by Hyde Park, the neighborhood that was home to the Obamas, on its north. But the area to the south of the university is one of the most economically challenged in Chicago, with hundreds of boarded-up homes, and barely a coffee shop or restaurant in sight.
If there's something most people picture when they think of a "college town"— rows of bars and ethnic restaurants, posters advertising indie-movie screenings and dance performances, beautiful homes where professors can walk to campus —urban universities have more trouble achieving that vision than colleges with a whole town to themselves. The urban campuses have neighborhoods that have grown around them and that have changed over time as middle-class Americans moved to suburbs and city cores struggled with poverty and crime. Some urban universities have seen their neighborhoods' fortunes lift as cities once again became hip—think Columbia in New York or Penn in Philadelphia—but others continue to battle blight and crime.
That's especially true with the University of Chicago, founded in 1890 and now a juggernaut of a research university with 15,000 students and an endowment of more than $6 billion. But for all the university's successes—it was ranked as one of the top 10 global universities last year by U.S News & World Report—Woodlawn and some of the other neighborhoods surrounding the university, including Englewood and Washington Park, still struggle with crime, abandoned buildings, and a lack of retail.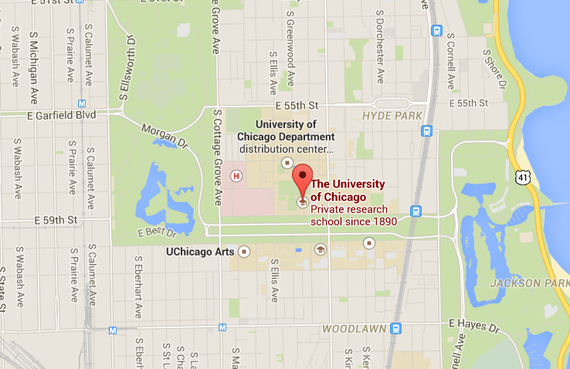 Woodlawn was a center of mortgage fraud during and after the housing crisis, and there are still homes that are so mired in confusing paperwork and ownership questions that they may have to be demolished. The empty lots are easy to spot on different blocks just a few steps from the university, gaps like missing teeth in the orderly rows of greystone and brick homes. In many college towns, employees and students hope to find somewhere to live that's walking distance from the university; in the area around the University of Chicago, which has 15,000 employees, there's a surfeit of vacant and abandoned homes that could be rehabbed if only they had less-murky title histories.
But that might be changing—albeit slowly—as the city, community groups, and even the University of Chicago, set their sights on certain South Side neighborhoods. Getting people into the vacant and abandoned homes in the area, planners say, could help attract more retail to the neighborhood and also reduce crime.
That's part of the reason why when Maurice Samuels moved back to his hometown for a job at the University of Chicago a few years back, he not only decided to live in Woodlawn, but he decided to buy a home there. The University of Chicago gave him $7,500 worth of downpayment assistance, and with his new employer's help and money from the Obama stimulus bill, Samuels was able to get a three-bed, three-bath condo for $199,000 and pay less for a mortgage than he would have paid in rent in some of the pricier neighborhoods in Chicago.
The Woodlawn he now lives in is different from the one he remembers, he said.
"Now I feel safe. I bike to work," he said. "It's a gamble," he said, "but I hope it pays off."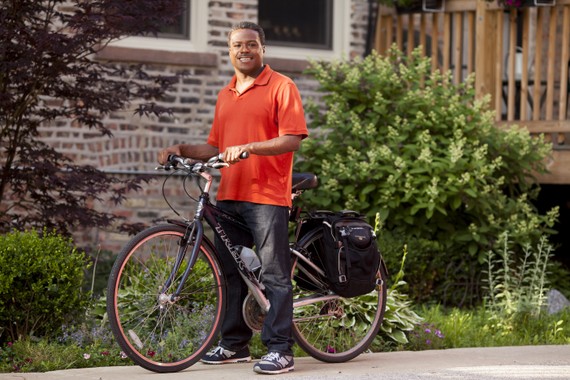 The program that helped Samuels buy his home, called employer-assisted housing, is one tool that the University of Chicago is using to try and mend the neighborhoods that surround it. It's a program that was pioneered in Chicago in the early 2000s with help from the city's Metropolitan Planning Council to help working families of all incomes buy homes in the city and the increasingly-expensive suburbs. While the initial goal was to help employees live near their workplaces and save money and time commuting, the program is now seen as an effective way to stabilize neighborhoods and promote mixed-income housing in areas hard hit by the housing crisis, said Robin Snyderman, who now works as an independent housing and neighborhood consultant but who helped launch the program with the planning council.
Since the University of Chicago launched its employer-assisted housing program in 2003, it has had 230 employees receive assistance to purchase homes in Woodlawn, North Kenwood, South Shore, Washington Park, and a few other nearby neighborhoods. The university is now relaunching its program to focus on Woodlawn. While employees previously received $7,500 in downpayment assistance if they purchased in a handful of nearby neighborhoods, they now can get $10,000 if they buy in the Woodlawn focus area—directly south of the university between Cottage Grove Avenue and Stony Island Avenue, and above 67th Street—and $5,000 for other neighborhoods. Renters are now eligible for university assistance, too—up to $2,400 if they rent in the focus area, which goes for seven blocks south of the university and 13 blocks east to west. To buy, employees must go through a mandatory homebuyers class, and must be able to put down at least a 3.5 percent downpayment towards the home.
"As we've rolled out this program, we've hoped that it that will spark interest in marketing this neighborhood in a different way," said Joanna Trotter, the director of neighborhood development in the university's Office of Civic Engagement.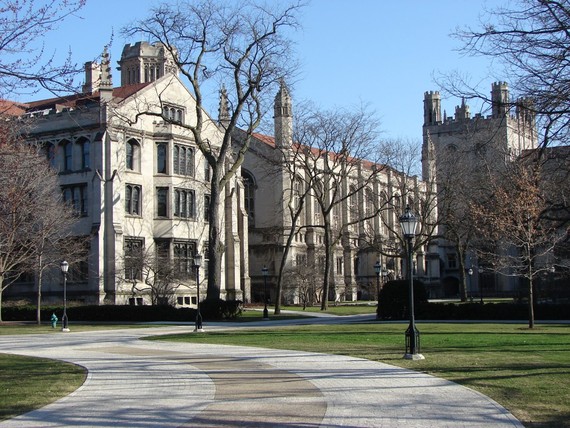 It's not just the university that's focusing on Woodlawn. The U.S. Department of Housing and Urban development in 2011 announced that the nation's first-ever Choice Neighborhoods Initiative grant would go to a national nonprofit, Preservation of Affordable Housing, to tear down a 504-unit, Section-8 housing complex called Grove Parc and turn it into mixed-income housing and retail and community space. The federally-funded Neighborhood Stabilization Program—targeted at neighborhoods hit hard by foreclosures, which includes Woodlawn—has provided more money to rehab vacant homes. And in 2011 the city launched its Micro-Market Recovery Program in a variety of neighborhoods, including West Woodlawn, to get residents into vacant properties and to help homeowners facing foreclosure.
Now, some residents say they're seeing changes in Woodlawn. A local ministry opened a coffee shop last summer on E. 61st Street, just a few blocks from the University of Chicago's law school—there was only one other non-university run coffee shop in the whole area south of the school, and it only opened a few years ago. A facility to teach inner-city kids squash is going up alongside mixed-income housing units where the Grove Parc complex used to be. The university recently completed a new arts complex, the Reva and David Logan Center for the Arts, on its south border, which is open for community events.
"There are some great things happening in the area," said Joel Hamernick, the executive director of Sunshine Gospel Ministries, which relocated to Woodlawn from the Cabrini Green projects in 2004 and recently launched a business incubator and the coffee shop. "It hasn't changed drastically, but in the last 2-3 years, there's been a lot more development."
Hamernick lives in Woodlawn with his wife and seven kids, and admits that for newcomers, "you have to be a little gutsy or have a community-development mindset to move into some blocks in west Woodlawn." But the proximity to parks, the lake, the university, and public transit mean the neighborhood has a lot of potential, he said.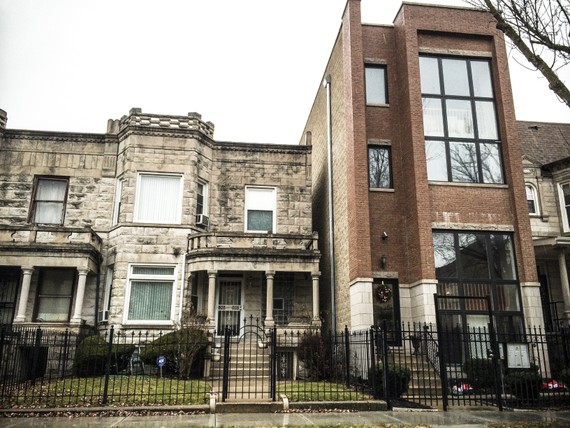 Still, the area has a long way to go—and the university could be doing more, said Tahir Abdullah, a local resident who works at the university and who was reading at Robust Coffee shop, an outpost of a popular Chicago chain which opened on 63rd Street in 2009.
"The university could do more—much more," Abdullah said. "I think the things that are being built are not centered around what people in the neighborhood really need."
* * *
Despite the different groups that have redoubled their efforts in Woodlawn, the last decade has left its scars. Drive down the neighborhood's streets and it's impossible to miss the brick buildings with plywood covering their windows and doors, or the apartment complexes boarded-up with DAWGS, the name of a door and window-guarding service, stamped on them.
Enterprising fraudsters had their way with the neighborhood in the early 2000s, inflating the values of condos and homes, said Cathy Gerlach, a senior-program officer with the Community Investment Corporation, a nonprofit lender that helps buy and rehab apartment buildings in Chicago. When those deals went belly-up, the city was left with buildings that it wanted to sell, but had a hard time figuring out who owned them. One ringleader, Mohammad Taghie Kakvand, bought 33 separate apartment buildings, convinced buyers to get loans for units in the buildings, and then absconded with the loans, leaving buildings vacant and dilapidated (he was convicted in 2007).
The neighborhood is also plagued by homes owned by people who have died and whose relatives either have not claimed the building or who can't afford the back taxes owed on it, Gerlach said.
There are at least 91 "zombie properties" in Woodlawn, which are properties where a foreclosure has been filed but not resolved for more than three years, according to a report by the Woodstock Institute, a Chicago-research nonprofit. All in all, almost 60 percent of foreclosures filed between 2008 and 2010 in Cook County were not sold at Chicago auction between 2009 and 2012, the report finds, but zombie properties are more likely to be concentrated in low-income neighborhoods.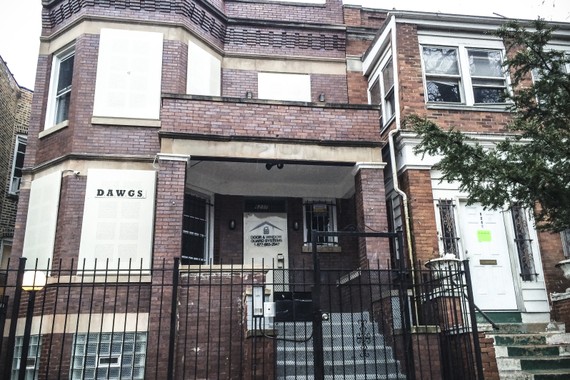 This is a drag on Woodlawn because it prevents developers or potential homeowners from buying buildings and living in them, which in turn keeps the population low enough that retailers don't want to move in, Gerlach said.
"When you have a high concentration of buildings that can't be bought because they're not for sale, it's a drag on residential redevelopment and on commercial as well—you have a situation where you don't have the population density that retailers want," Gerlach said.
The city's Troubled Buildings Initiative provides buildings with a guardian of sorts to guide the property through housing court and help transfer it to a new, responsible owner. But the problem was so widespread in Chicago that Mayor Rahm Emaunel decided to focus on nine neighborhoods that had potential for economic development, through what the city calls the Micro Market Recovery Program. The program now targets 13 neighborhoods in the city, including West Woodlawn.
* * *
It would take a whole book to describe why, despite the university's presence, Woodlawn and the surrounding South Side neighborhoods have faced so many economic headwinds. There is, in fact, a book called Making the Second Ghetto, about policies that created the segregation of the Windy City's South Side.
Created as an offshoot of the 1893 Chicago World's Fair, Woodlawn was a middle class, white neighborhood that started growing more diverse in the aftermath of World War II. Lorraine Hansberry's 1959 play A Raisin in the Sun, in which a black family moves into an all-white neighborhood, is set in the diversifying Woodlawn. As black residents moved in, many whites moved out to the suburbs. The university tried to keep black residents out of Hyde Park during that time, said Hamernick, of the ministry. New Woodlawn residents, seeing the university's actions in Hyde Park, worried that they'd be pushed out of their homes, and got the university to pledge that it would never acquire property south of 61st Street.
But the neighborhood struggled, with its population dropping to 27,086 in 2000, from 81, 279 in 1960. The 21st century wasn't kind to the neighborhood, either. Chicago's bid for the 2016 Olympics, which would have put a massive stadium in Washington Park, west of the university, fueled real estate speculation, Gerlach said.
Then over the last decade, as Chicago began to tear down its infamous housing projects and give residents vouchers to use for housing, many ended up in Woodlawn because they had family there. But they also brought the gangs of the housing projects, Hamernick said, leading to an upsurge in violence as fractured gangs battled for territory.
Rose Woodfork and her family have run a convenience store on the corner of 61st and Eberhart for four years—she lived in the neighborhood for 32 years before moving out a decade ago. Though it's only five blocks west of the university and one block south of Washington Park, this is no college-convenience store where underage students flock to buy beer and ramen. There have been shootings out front, and Woodfork says she's losing customers as crime increases.
Woodfork says she wishes the university did more for the neighborhood, whether it be policing or building more retail. It would help her business.
"We're trying to stay, but business has been slow," she said.
It's a tricky question in the neighborhood—whether or not the university should get more involved in development in Woodlawn. When it developed neighborhoods in Hyde Park in the 1960s, thousands of households were displaced, said Rachel Weber, a professor of urban planning and policy at the University of Illinois at Chicago. And there's some tension over the jurisdiction the university's police department—one of the largest private forces in the country—has over residents who have nothing to do with the university. But some locals think the university could be doing more in other areas, like hiring, training and educating local residents, Weber said.
"There's a sense that they could be doing more on the employment side," she said. "Elite institutions have the ability to kind of create bubbles around themselves, and the University of Chicago is no exception."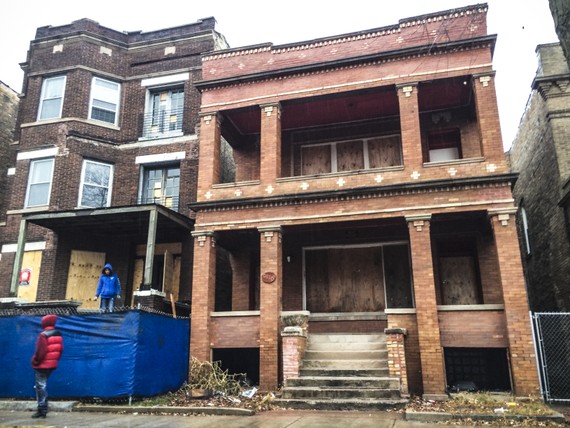 This could be in part because the university is so elite. Its academic reputation is so stellar that people are willing to commute large distances and make sacrifices to attend the university, or to teach there. The school may feel like it doesn't need the neighborhood around it.
But the university also knows that crime doesn't do anything to help its reputation. When graduate student Amadou Cisse was shot and killed in Woodlawn in 2007, it was the first time a student had died as a result of violent crime on or near the campus since 1977, and created a lot of discomfort on the campus.
The university is aware that helping stimulate the neighborhood around it can enhance its own competitiveness too. That, of course, launches its own problems—the university created a kerfuffle this week with details of its proposal to locate the Obama library in a public park to its west.
"Creating a vibrant and stable community helps people at all levels, whether they're looking for employment or they're looking to live here," said William Towns, an assistant vice president in the university's Office of Civic Engagement. "It also benefits those residents that aren't even associated with the university."
* * *
Universities don't have to be either overbearing or impotent in their neighborhoods, said Kim Zeuli, the director of the research and advisory practice at Initiative for a Competitive Inner City, a Boston-based think tank.
"Universities used to be in the ivory tower, they didn't think about their surrounding neighborhoods, they would just do eminent domain and a lot of them ran into community resistance," she said. But "the momentum has been growing—for universities, if not for hospitals. More and more universities are coming online, increasing engagement over the years."
Many universities were spurred to action after students or employees were killed or assaulted in their neighborhood, Zeuli said, or after employees complained about blighted conditions. Things became so bad at some of these urban universities that some would have picked up and moved, had that been feasible, Zeuli said.
The University of Pennsylvania, for example, often cited as a model of what an urban campus can do, took action in its neighborhood in West Philly in 1996 as crime increased to "troubling" levels, said Anthony Sorrentino, the executive director of the Office of the Executive Vice President at Penn.
Beginning in the 1990s, the university launched a far-reaching initiative to engage with its surrounding community. It launched a homeowner-assistance program that would help employees living in the neighborhood buy or renovate a home. It spent $90 million to develop a parking lot into a retail and hotel complex, donated land to the city to build a public-elementary school, and made a pledge to buy supplies from local, minority-owned vendors.
"There's a new way of orienting economic development around those most-reliable institutions—you can say to a hospital or university, 'you're not going anywhere, you're providing great services, but how else are you contributing to the place you call home?'" Sorrentino said.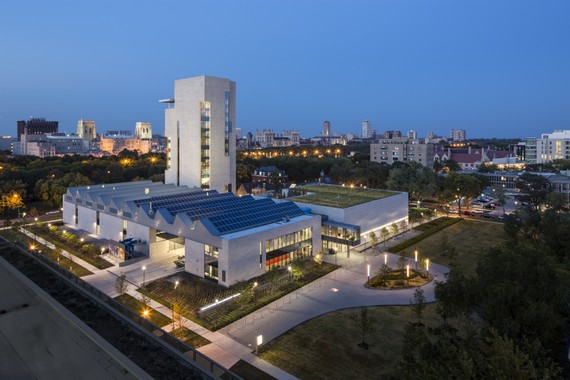 Other universities are taking a page from Penn's successes. Howard University, in Washington D.C., worked with the city and Fannie Mae to create 300 housing units and $65 million in commercial development, according to ICIC. Virginia Commonwealth University built a technology park with the city of Richmond and the state of Virginia that led to the creation of 26 new companies.
And the University of Chicago, too, is getting more involved. In March, the university launched a program called UChicago Local to help local mid-South Side businesses better compete for university contracts. UChicago Local will train local businesses in how to compete for vendor contracts and take a "more strategic approach" to buying and hiring decisions to "have a greater impact in local communities," according to Derek Douglas, a former Obama advisor who now works for the university's Office of Civic Engagement.
* * *
Gerlach and others who work in the neighborhood hope that this will be the year that more buildings move out of gray legal area and into the hands of developers or homeowners who want to invest in them. There are homeowners who will buy in Woodlawn, despite its reputation, she said. They see the changes in Woodlawn and the South Side, and think that they're making a good investment.
They include Natasha Rodwell, who works in the radiology department the University of Chicago Medical Center, and who went through the University of Chicago's downpayment-assistance program in 2012. She already lived in Woodlawn, and had decided that she wanted to buy a home by the time she turned 30. She's worked at the university for a decade and decided that she wanted to know who her neighbors were, especially since she's raising two kids, aged 11 and 6.
"I wanted something for my kids to say, hey, this is home, this is our home, that's really really important to me," she said.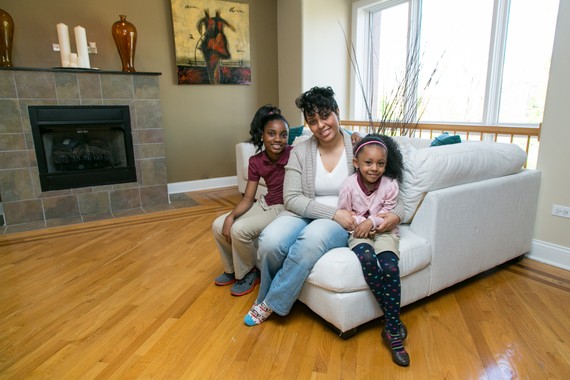 Rodwell took the homebuyer class required of all employees who purchase a home with the university's assistance, and worked with a university representative to get all of her paperwork in order and iron out some issues with her credit (someone had used her name to buy erotic-magazine subscriptions in North Dakota). Rodwell found her house by herself—it was a modern brick duplex on a curvy street of homes just a few blocks south of the university.
She bought the house for $104,000 in 2012, and her mortgage, after the help from the university, is less than the $1,250 in rent she was paying. At one point during the bubble, the house had been listed for $270,000.
Rodwell grew up in Englewood and left the area for school, but feels optimistic about being back in the South Side. Things are changing, she says—there's the new coffee shop, and other boutiques and restaurants will surely follow.
"You know, what they're doing in this area is positive," she said. "Long-term wise, it will be a bang for any individual's buck who has bought a home, if they wanted to rent or if they wanted to sell."