Is Airbnb David or Goliath?
Opponents and advocates of the short-term rental platform both say the service is disrupting the country's biggest housing market: New York City.
On Tuesday morning, a merry troupe of New Yorkers⎯artists, working stiffs, freelancers, hipsters, and a few likely owners of multiple cats⎯gathered at city hall to rally in defense of Airbnb, the online platform that enables apartment tenants to share or rent out their apartments to the paying masses.
The New York City Council had slated a hearing with the semi-rhetorical name "Short Term Rentals–Stimulating the Economy or Destabilizing Neighborhoods?" and Airbnb was set to be demonized for turning thousands of New York apartments into "illegal hotels," driving up the cost of housing in a city where the rent is infamously too damn high.
One immediate irony was that if you asked some of the Airbnb hosts amassed outside city hall, they'd tell you that it's the high cost of housing that impelled them to use the service in the first place. "I was actually unemployed for a little while," Rod, an Upper West Sider, said. "I lost my unemployment and had to find a way to pay the rent." There are more harrowing tales like that of Lee Thomas, Jr., a cancer-stricken man in Queens, who rented out his guest cottage to help pay for his treatment.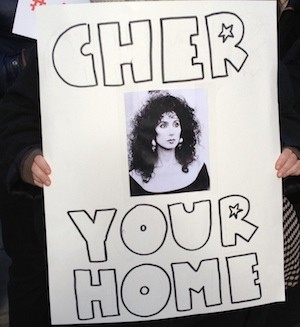 Airbnb public policy head David Hantman echoed this sentiment in a letter to New York officials last week, in which he estimated that 87 percent of hosts rent out their apartments in order "to pay their bills and stay in their homes."
Rod said the opposition to Airbnb was led by the "hotel industry," which he said is throwing its weight to keep travelers to New York locked out of the "sharing economy." Joining him were about 150 others, the surreal in-the-flesh realization of an online community, diverse in age and race. "Airbnb is the only way I can make it work in New York," Paul, a freelance photographer from Brooklyn, said.
Witnessing this alone, it would be easy to side with Airbnb, which fancies itself quixotically as a purveyor of "global belonging" and a leveler of the playing field. But Airbnb is also Goliath.
In an October valuation, the company's worth was placed at $13 billion. On Tuesday, Quartz noted that the company, which boasts roughly 17 percent of New York City's hotel supply, seems poised "to outpace the largest hotel companies" in terms of total guest bookings within the next few years.
Indeed, the company, which profits on both ends of a transaction between host and guest, had a deep bench of staffers at city hall on Tuesday. A young crew handed out everything from handwarmers, Airbnb stickers, and t-shirts to protest signs and flyers touting the site's positive impact on the economy ($768 million in economic activity). Other coordinators directed Airbnb supporters at the rally to use their phones to bombard their local elected officials with calls.
Phones weren't necessarily required. New York City Council Member Mark Levin was one of the many officials addressing an anti-Airbnb rally that took place minutes after the pro-Airbnb rally ended.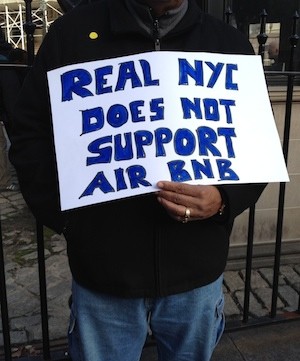 "I have a question for the advocates," he began his speech. "Do we want illegal hotels in our city?" (A smaller, but vocal crowd flanking him shouted "No!")
"Do we want Airbnb to follow the law?" ("Yes!")
He went on to characterize Airbnb's recent public efforts to convince New Yorkers that the site is good for the city as "a very crafty campaign of misinformation." According to New York State law, tenants who rent out a spare room or owners who rent out a one or two-family house and even people who sublet their apartments for more than 30 days are all complying with the law.
"Your co-op or lease might not agree, but we have no problem with that," Levin said, adding, "But if that were the end of the story, we wouldn't be here."
The problem, he said, citing a report by New York Attorney General Eric Schneiderman, is that 72 percent of Airbnb listings in New York City are "illegal." This means the listings violate zoning, housing laws or tend to benefit commercial operators, who squeeze full-time residents out of affordable apartments to profit on short-term rentals.
There was, of course, no shortage of New York panache in the opposition. Many derided the "sharing economy" as the "selfish economy." "@Airbnb, your business is a parasite on my neighborhood," one sign read. "I don't want strangers as neighbors," read another.
State Senator Liz Krueger spoke to the latter issue, namely stranger-danger and the matter of safety. "Terrible things are happening," she told the crowd. "They [Airbnb guests] are partying until all hours of the day and night, they have no respect for the rules of the building," she said.
Shortly after her speech, the partisans lined up on each side of city hall to enter the hearing. Meanwhile, a city remains corralled in between the special interests of a hugely successful start-up and a long-influential hotel industry⎯a city that propelled its mayor to office with 73 percent of the vote after he stumped on the issue of affordable housing throughout his campaign.
Those who rent out their apartments infrequently (and illegally) in order to live in New York cut a sympathetic figure just as the many who are crowded out of affordable housing by shady operators and landlords do. Even if regulations are changed or laws are more strictly enforced, the issues that wrought the sharing economy still exist. Airbnb may be a tenant of the grand outrage today, but it's really just a short-term renter.