Florida Without Oranges
A disease is decimating the citrus industry, leading some to wonder what's next for parts of the Sunshine State.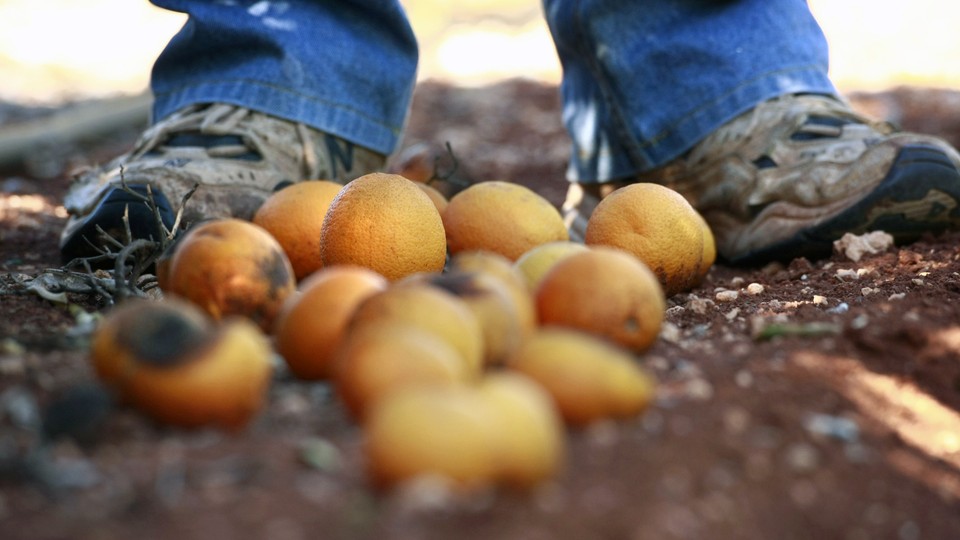 PLANT CITY, Fla.—More than a century ago, Martha Sue Hawkins' ancestors homesteaded on this flat land in central Florida. Her grandfather planted the first orange groves in the 1900s, and then her father added more trees as Americans started getting used to the idea of orange juice on their breakfast tables.
By the time Martha Sue and her husband Richard Skinner took over the property, they had 2,600 trees stretching out across 15 acres in neat rows, and made a handy profit selling the oranges to processing plants each year, which would make the fruit into juice.
But in 2012, the Skinners pulled up every single tree. Their groves had been infected by the Asian citrus psyllid, a tiny bug that carries a bacteria which attacks a tree's vascular system, eventually killing it. The disease, which showed up in Florida in 2005, has created a phenomenon known as citrus greening that is decimating the orange and grapefruit industries in the state.
Florida may produce as few as 89 million boxes of oranges this year, forecasters say, down 63 percent from the 242 million boxes the state produced a decade ago. In a state where citrus is on the license plates and 75,000 people made their living from it just a few years ago, this could have a huge impact. It's not just growers like the Skinners who are feeling the pinch—citrus generates jobs for the companies that fertilize the trees, the people who pick them, the processing plants that make the juice, and the advertisers that figure out how to sell it.
One report, released in December by the University of Florida, estimated that citrus generates $10.68 billion annually in the state, contributing $326 million to state and local coffers. But because of citrus greening, the study estimated, the industry in the 2012-'13 season employed 18 percent fewer people than five years ago, and generated about $1 billion less each year since 2007. There are now 476,000 acres of citrus in the state, down from 750,000 in 2000.
---
Florida Citrus Production, Thousands of Boxes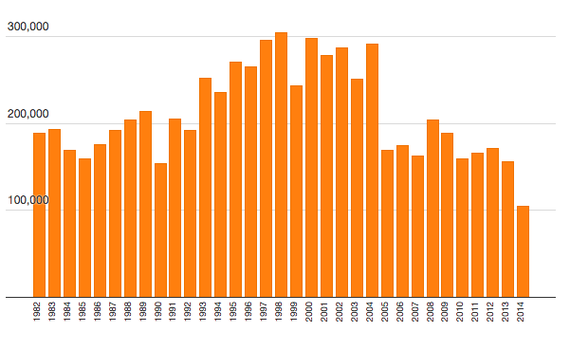 ---
With no cure in sight, some in Florida are starting to wonder if the industry could be completely gone in a matter of years—and what the state will do without it.
"We would be hard-pressed not to have citrus—it is critically important to the state, not only financially, but as a big part of our export business," said Dominic Calabro, the president of the government watchdog Florida TaxWatch.
It's not just greening that driving growers to give up on the industry. Freezes in the 1980s, hurricanes in the early 2000s, and a disease called canker made it increasingly difficult for small growers to stay afloat. Packing plants have been consolidating and shutting down for decades, and in coastal areas, developers have long been pulling up citrus groves and putting up homes and hotels.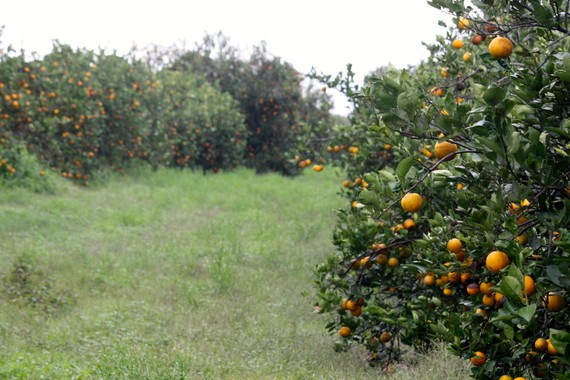 In addition, calorie-counting Americans seem to be less interested in orange juice than they have been in decades. About 90 percent of the citrus harvested in Florida goes into juice, which is now competing on the shelves with different types of waters, sodas, and teas. In the 2003-'04 crop year, Americans consumed an average 5.49 gallons per person of citrus juice each year; in 2012-2013, they drank just 3.95 gallons, according to Florida Agricultural Statistics Services.
Grapefruit production is also shrinking as a younger generation doesn't seem to have a taste for it and an older generation is told to stay away if they're taking certain medications. The state produced 18 million boxes of grapefruit in 2013, half of what it produced a decade ago.
"There's been a tremendous contraction in fresh fruit production in Florida," said Thomas Spreen, a professor emeritus at the University of Florida's Food and Resource Economics Department. "There have been a series of events that knocked the industry down again and again."
It's hard to imagine Florida without citrus—it would be akin to Vermont without maple syrup, Iowa without corn, or Georgia without peaches, Spreen said.
"Citrus is very much a part of the fabric of Florida," he said. "It would be kind of like if Texas didn't have any cows anymore—Texas wouldn't blow up economically, but it would take something out of the culture of Texas."
Still, thousands of people throughout Florida, including the Skinners, are trying to imagine that very future. Other growers have pulled up their trees and moved on to strawberries or blueberries or pine trees, Richard Skinner told me, and indeed, the roads into Plant City are dotted with workers bent over strawberry fields.
If Skinner looks out the front window of the shack where he now sells peach and plum trees and other plants from a nursery, he can see his neighbor's property, where rows of pine trees now stand. The Skinners want to farm something because they get a property tax break from the state for running an agricultural operation—they're thinking of growing hay.
"I just knew that I was between a rock and a hard place," Skinner told me. "I had to make a decision, otherwise I had to pay the tax man a whole lot more money than I wanted to pay."
Eventually, Skinner told me, he hopes to grow olives, as other farmers in northern Florida have done. But so far there's no processing plant to handle them, though he thinks that may change soon.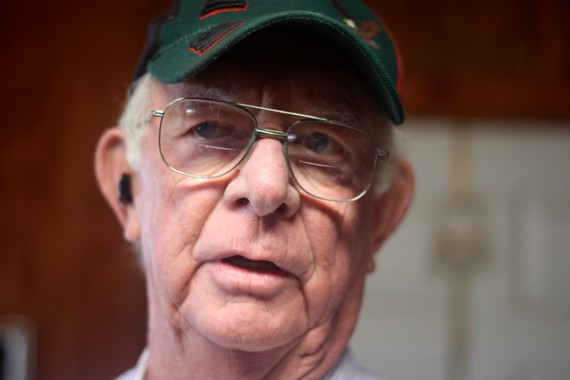 Some growers have just given up and abandoned their groves without pulling up the trees, which can worsen citrus greening, since the psyllid will feast on trees that don't have pesticide, and then fly to nearby groves and infect those trees. There were 126,000 acres of abandoned groves in Florida in 2014, and 7,300 acres of forested areas that have abandoned citrus in their canopies, according to the USDA.
There are some measures that arrest or slow the spread of the disease, but they're costly. Growers are now treating their trees eight times a year or more to reduce the number of psyllids on them, they're also adding fertilizer and other nutrients to the trees' roots to help them fight the disease. A citrus grower now spends $2,250 an acre to grow trees—prior to greening, he would spend $850 an acre, according to Florida Citrus Mutual, an industry association.
"The smaller growers seem to be really thinking about the economics, a lot of them are deciding to throw in the towel and are selling their groves," said Dean Saunders, a real-estate broker who served in the state House of Representatives and comes from an agricultural family.
As many growers give up, the infrastructure to support citrus is shrinking, too. United Indian River Packers, Inc., one of Florida's oldest packinghouses, announced last year they were auctioning off their properties in order to focus on other businesses. A Naples store where customers could buy fresh produce before it was shipped elsewhere closed in May, the land sold to a builder.
"You kind of scratch your head and wonder—is there even going to be an industry?" Saunders said. "I don't believe that but I understand why people would ask the question."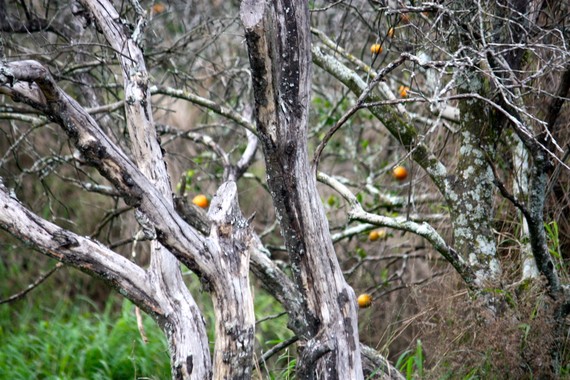 In many coastal areas where tourism can replace citrus and the market for second homes is picking up, there are other jobs and types of industry. But in inland areas, the decline of citrus could be more of a challenge—and its complete disappearance could be devastating.
"If I planted a new tree today, it would get greening this week and it will be dead in five years for sure," said Scott Young, a fourth-generation farmer who owns 400 acres in Polk County, which is located between Tampa and Orlando. "It's kind of grim."
Young is looking to sell all but 150 of the acres his family owns. He'd initially thought he could find buyers to develop the land into homes, but Polk County was hit hard by the housing bust and is still suffering. Developments were abandoned and commercial spaces lost their tenants. He's now hoping he can sell to someone who will run cattle on the land, or plant blueberries, but he's doubtful anyone will want citrus.
"Unless they find a cure for this disease, there will not be citrus in this state," he said. "It's going to have a major impact to the state, as far as the interior of the state goes."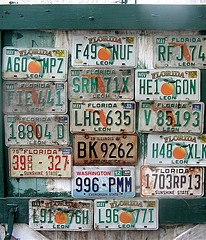 Indeed, landlocked Hendry County, which has Florida's highest unemployment rate at 9.7 percent, is one of the areas most dependent on citrus. In 1998, 13 percent of all the acreage in Hendry County contained citrus, now just 8 percent do, said Electa Waddell, a county spokeswoman.
"Agriculture is a chief industry in Hendry County and as citrus and other agriculture declines, it creates a ripple effect throughout the local economy," she wrote, in an email.
As growers give up, other businesses are shuttering too. Duda Farms Fresh Foods, for example, closed its LaBelle citrus packinghouse in Hendry County, in 2008. A company spokesman said at the time that industry forecasts of further decline made it not worthwhile to run the packinghouse anymore.
Ron Reyes, the manager of Vision Ace Hardware in LaBelle, said that many local citrus companies have been making fewer charges on their accounts in the store, and nothing else has come to replace them.
"Almost all businesses feel the pinch as citrus revenues decline—there is less cash in the local economy and growers buy less fuel, fewer pickups, computers—there are lots of ripple effects," said Gene McAvoy, who works at the Hendry County Cooperative Extension, an affiliate of the University of Florida that provides research on agriculture.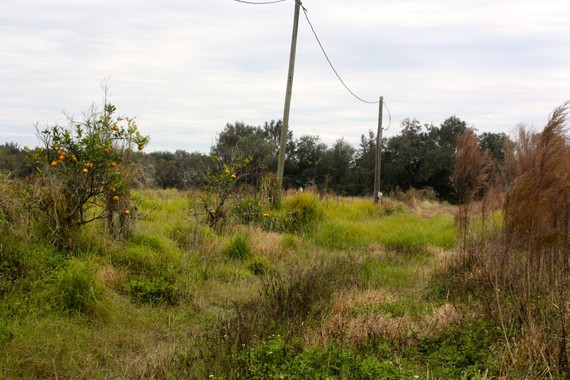 Other inland counties grappling with the decline in citrus include DeSoto and Hardee Counties. Hardee County manager Lex Albritton said that the county has seen an effect from declining incomes of residents who once worked in the citrus industry.
"I've lost 3 percent of my tax base for each of the last two years," Albritton said. "I expect it to get worse."
Hendry County is trying to diversify its portfolio of businesses, said Gregg Gillman, the president of the Hendry County Economic Development Corporation. Leaders there are working to add a new cargo and logistics space with a 12,000 foot runway to an existing general aviation airport for use as an alternative to the busy port of Miami. The county also recently attracted a new biomass plant that will create 75 jobs, he said.
Eventually U.S. Sugar Corporation, headquartered in Hendry County, and landowners Hilliard Brothers hope to create a new development in the area with 18,000 residential units and 25 million square feet of industrial, retail, and office space, tied in part to the new airport.
"In the last four years, there's been a very concerted effort to take on this diversification of the economy and create new opportunities for our people," Gilman said.
Still, many in Florida are sticking with citrus, hoping that scientists will find a cure for greening. The biggest growers are taking advantage of the little guys getting out of the business and buying more acres, doubling down on citrus.
"We're fighting for it—the growers are fighting tooth and nail," said Mike Sparks, the CEO of Florida Citrus Mutual. "I know this is the most devastating challenge we've ever faced, but we're going to whip this disease, period."
Some growers are optimistic about a program announced as a part of the 2014 Farm Bill, which will provide up to 50 percent of the cost of tree removal and 65 percent of the cost of replanting trees, including labor, to replace trees affected by greening since October of 2011.
Others are hanging on because they don't know what else to do. They include Jay Clark, who has 400 acres of citrus. He took me around some groves near Wauchula, a small town in Hardee County, to show me the effects of greening.
Up and down the neat rows of trees, oranges were scattered on the ground, a sign that a tree is infected, since it releases fruit earlier than it is supposed to. Clark took a leaf in his hands and pointed out its yellow tint, another sign that the tree is infected. Other trees in his grove had barely any leaves.
"As the growers say, you can throw a cat through some of these without hitting any limbs," he said. He picked a puny orange off one of the trees and handed it to me. It was slightly larger than a golfball. It was too small to even be squeezed for juice, he said.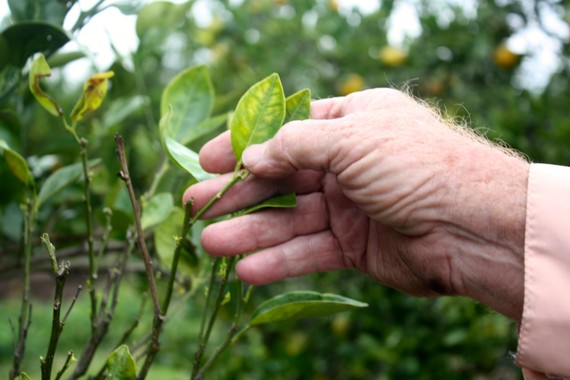 Driving through the rural roads of Wauchula, Clark kept pointing out groves that no longer produce citrus. On one, grass had grown up through a field where only a few sickly-looking trees stood. Another was fenced in, but instead of neat rows of trees, only a few remained. Another field now has rows and rows of blueberries, although its owners grew citrus just a few years ago.
Clark runs cattle on another 5,000 acres of land, but says it doesn't make sense to turn his orange groves into grazing land. It takes three acres to run a cow on, and Clark can get $500 for a calf. But three acres will grow you a lot of oranges; an acre can produce about 600 boxes, which could fetch about $3,000.
"There's no profit in it if you compare the two," he said.
Clark drove me by a grove where the owner had invested thousands of dollars trying to save his trees—they towered above most of the other groves, since they hadn't been torn down and replanted. But even those trees will soon grow sick, he warned, unless scientists can find some sort of silver bullet to cure greening, rather than just slow its progression.
Still, he's going to keep fertilizing his trees and hoping that scientists find a way to prevent the disease in new trees. He might even acquire a few more groves.
"When you've been in it all your life, you try not to give up. If there's any kind of ray of hope out there, somewhere, you keep on going," he said.