It's Here: ESPN Without Cable
The TV bundle continues to molt: A new product from Dish makes ESPN and a handful of other channels available over the Internet for $20.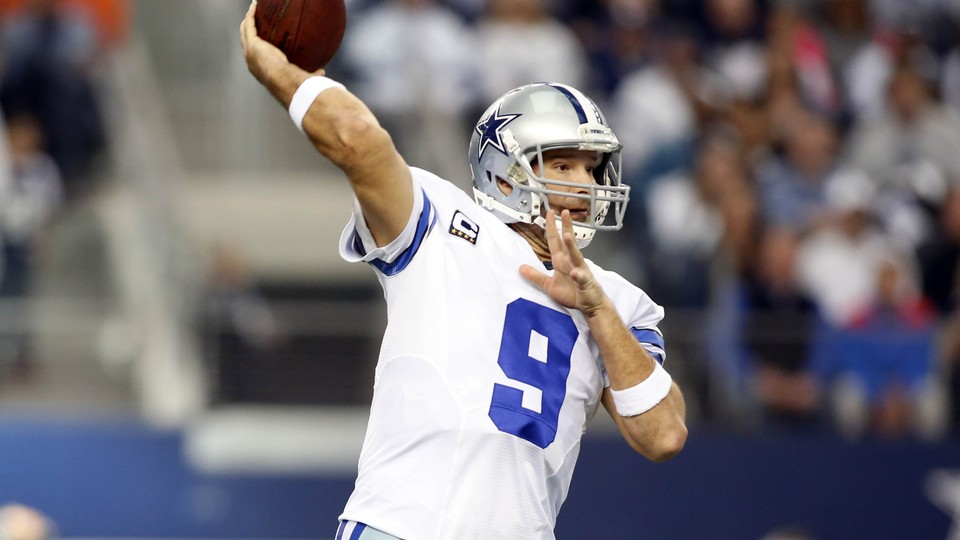 In 2012, I wrote a
column
for
The Atlantic
magazine explaining why Americans were prisoners of the cable bundle. We could dream about escaping $90-a-month fees for hundreds of channels we didn't need, but such flights of imagination were, in the short term, hopeless, due to the arrangement of the pay-TV business and fruitful economics of bundling. In 2013, I wrote another
column
explaining how ESPN had become perhaps the most lucrative entertainment company in the world by gleaning $5 a month from every cable-watching household, even those that had never watched a second of SportsCenter.
Two years ago, cable television stretched like a massive arch across the entertainment landscape and ESPN was its keystone. The future, I said, would probably look a lot like the present. Architects don't carelessly part with their keystones. Cable wasn't going anywhere.
Well, two and a half years later, I'm not ashamed to say that I'm beginning to look like an idiot. On Monday, ESPN announced that it's teaming up with Dish to offer a new Web-only product, Sling TV, that will allow viewers to stream a small bundle of channels including ESPN for just $20. The worldwide leader in sports joins HBO and CBS (including Showtime) in giving cord-cutters a way to watch their channels without buying the full cable package.
Put more dramatically: The most prestigious cable network, the most-watched TV network, and the most expensive cable network have all announced plans to side-step the traditional cable bundle—since just October. (For the next four months to continue the trajectory of such drama, the NFL would have to be shut down for the 2015 season, and Congress would pass a law banning further production on NCIS.)
The economics behind Sling TV are straightforward. There are 10 to 15 million American households with a broadband Internet connection and no cable. Right now they are paying TV companies practically nothing. TV companies would like them to pay something. So they'll try to thread the needle by creating a product that is good enough for this group—a.k.a.: the cord-cutters or the cord-nevers—but not so good that cable subscribers trade in their $90 monthly payments.
Whether this offering will "work" is unknowable at the moment. Dish has been buying up lots of wireless spectrum nationwide to make Sling TV work smoothly, but anybody who's tried to watch live TV on their computer knows it can be a hair-tuggingly awful experience.
But whether it "works" is also a secondary story. The real story is that it's happening in the first place. The cable bundle is coming apart, and there's basically no way we're ever getting back to 2012.
The very concept of television has unbundled completely. The word itself means radically different things for different generations. To a teenager, television might mean YouTube, Vine, and Facebook videos. To a twentysomething college grad, it is (their parents' password to) Netflix and (their roommate's sister's password to) HBO Go. To a family of four, it's the plain old cable bundle. To a sports fanatic living alone, it's $90 a month to watch ESPN.
Going forward, it seems TV fans will have three options: (1) A La Carte, where viewers cobble together Netflix, Hulu Plus, and other Internet fare, little of which is live; (2) The Little Bundle, like Sling TV and other cheap packages of live channels; and (3) The Big Bundle.
The eulogies for TV are too much: We're not standing over the grave of cable television. Instead, we're standing at the top of the mountain of the Big Bundle's growth and seeing a gentle slope coming down beyond the peak. Total subscribers declined last year for the first time ever by 166,000 households. Some top channels
lost even more viewers
. The future of video points away from the Big Bundle. Cable has what my friend in the industry calls The Fox News Problem: The product is wildly successful today, but its best customers are old, are getting older, and aren't likely to live forever.
The Walt Disney Company (which owns ESPN), released the following statement this afternoon:
"We are excited to see our innovative efforts with Dish come to fruition with this value package targeting the 12 million broadband-only households.  This will support the overall multichannel subscription model, while offering viewers yet another way to access Disney and ESPN content."
ESPN hopes that it is providing a purely additive product that takes nothing away from its cable juggernaut, the Big Bundle. Perhaps it's right. But it is also participating in the unbundling of television, as a whole—not just the product, but also the product category, the very concept of TV. ESPN became the richest property in entertainment by conquering a simpler age of cable television. That was last century's peak. Onto the next mountain.