The Real Christmas Village Is in China
Stockings and fake trees aren't made by elves. They're made 150 miles southwest of Shanghai, in the city of Yiwu.
The Chinese city of Yiwu, about 250 kilometers from Shanghai, is often referred to as China's "Christmas village" thanks to the massive amount of holiday-related merchandise made there. Xinhua, China's state-news agency, claims that 60 percent of the world's Christmas goods come from Yiwu. The products are often assembled by hand in primitive conditions.
Unknown Fields Division, a "nomadic design studio" that's exploring the source of consumer goods, traveled to Yiwu with photographer Toby Smith to see the locals at work, and has just released a short, enlightening video of what they found:
As the video shows, making the world's Christmas decor is a messy, labor-intensive affair that relies more on human beings than automation. "From a health and safety perspective the exposure to harmful chemicals and solvents is disturbing," Smith told Quartz. "I also witnessed manufacturing techniques with machines that could easily be criticized from a Western vantage point. However the social working environment, working hours and general atmosphere of the factory was actually more pleasant than I have experienced in other manufacturing sectors."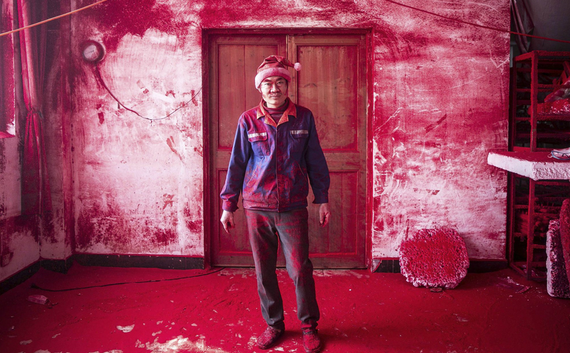 Tim Maughan, who traveled to Yiwu this summer, reported for the BBC that he was both mesmerized and appalled by what he saw there. "I watch a girl sew white fur trim on to red felt at the rate of about two hats a minute, and as she finishes each one she simply pushes them off the front of her desk where they fall, silently, onto an ever increasing pile on the floor," he wrote. "Upstairs is the plastic molding room, mainly staffed by young men, stripped to the waist because of the heat….The men feed plastic pellets from Samsung-branded sacks into machines to be melted down, and then pressed into molds to make toy snowmen and Father Christmases."
Yiwu is likely to be one of the world's biggest suppliers of Christmas merchandise for many years to come. The city is such a vital part of China's export engine that it is one end of China's new rail link to Spain.