Sperm Donor, Life Partner
Just because women can create and raise a baby alone doesn't mean they want to. An increasing number of women and lesbian couples are seeking an involved father for a donor.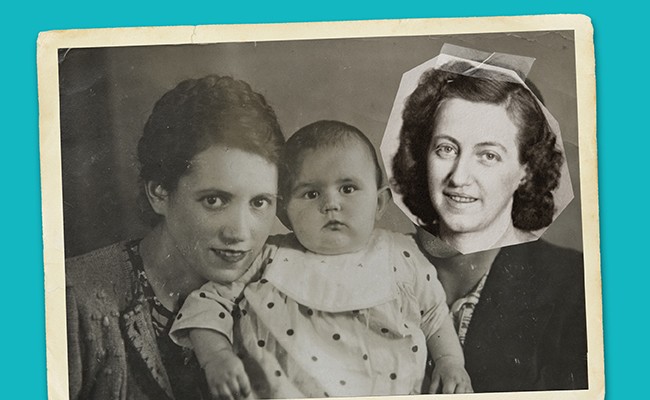 Dawn Pieke's relationship imploded just before she reached 40. Pieke had a miscarriage and shortly after, her boyfriend, whom she'd dated for almost a decade, met someone else on a business trip and had an affair. The two broke up and Pieke found herself in a tailspin: She knew she wanted a family, but she also knew her biological clock was ticking, and she wasn't sure, after two separate, decades-long relationships, that she could go through it all again.
A glass of wine in hand, she steeled herself for more dating, signed up for Match.com, and started going on dates in Omaha, Nebraska, where she lives.
"I thought, 'These guys look like jerks...I just want a kid, why can't I just have a baby and not worry about if it's the guy?'" she told me, in a phone interview. After eight months, she hadn't clicked with anyone.
Pieke, who works in sales, started diligently researching her options, but soon got discouraged. Adoption didn't seem like a good bet: She knew three separate couples trying to adopt, and it was taking forever for them to get approved—a potential single mother would have even more trouble, she figured. Pieke didn't love the idea of going to a sperm bank: She and her twin sister were raised by a single mom and they grew up always wanting to know more about their father. She wanted her child to know both parents, if possible.
"I always thought I would be married and have kids by the time I was 25, but it just didn't turn out that way," she said.
Then one day, she stumbled across something on the Internet that seemed like it might work: A website that connected people who wanted to have kids and raise them together, but without a romantic relationship. She paid a small fee and registered, and right away, a guy in Australia caught her eye. But she didn't contact him. Everyone she knew thought she was crazy to even consider having a child with a stranger.
"My family and friends thought I was nuts, they were like, 'chill out, you'll meet someone,'" she said. "But I thought, 'wow, this could maybe be something.'"
A few months later, Pieke was on the Facebook page of the co-parenting site and she got a message. It was from someone asking if she was looking for a co-parent, and it just happened to be from the very same man she'd seen on the website before, who was living in Australia.
He was gay, and from New York, and shared her beliefs about spirituality—she describes herself as spiritual, but not religious. The two struck up a correspondence. She liked that he was dark-haired, since she is blonde, and figured they might make a good-looking kid, and they agreed on lots of things. Most importantly, they had similar ideas about parenting: They would be gentle and nurturing, with no yelling or spanking, and would not use baby talk, but would instead speak to the child as a "person already full of intelligence," Pieke said.
"It felt like speaking to an old family member," said Fabian Blue, the man she met on the site. He made a documentary about his efforts to find a co-parent, called The Baby Daddy Project with the clever tagline, "No Sex, No Marriage, Just the Baby Carriage." Blue would set up his laptop with Pieke on Skype for dinner parties and special events, and the two would talk daily, sharing their hopes and fears for having a family, getting closer and closer to the conclusion that they might just want to make and raise a child together, though without any sort of romantic involvement.
They met in person for the first time in downtown Omaha on Thanksgiving 2011, when he pulled up in a horse-drawn Cinderella carriage, handed her a bouquet of red roses, and asked, "Will you be my baby mama?" When she said yes, they gave each other high-fives and got into the carriage (you can see footage in this video Blue made about their meeting).
After that, he didn't go back to Australia. Instead, they started experimenting with an at-home insemination kit—basically a cup and a syringe (you can also see somewhat awkward footage of this—G-rated—in Blue's video). Two months and two tries later, Pieke got pregnant. Their daughter, Indigo, was born in October 2012 (yes, there's footage of that, too).
"Women my age hold out for romantic partnerships, if they don't find it, they say, 'well, I guess I'm not going to have kids,'" Pieke told me. "That's where I was when I turned 40, but I said, 'I'm going to make this happen, whether I find a guy or not. I'm not going to wait on guys anymore.'"
It's been decades since Louise Joy Brown, the first "test-tube" baby was born, allowing women to have biological children through in-vitro fertilization, and without a husband. Since then, millions of babies have been born to single women, through both natural conception and in-vitro, who couldn't find the right partner or want to go it on their own. In 2009, 19 percent of births to women aged 35-39 occurred outside of marriage, up from 5 percent in 1970, according to Child Trends, a Washington research group.
But that doesn't mean that women necessarily prefer to do it all themselves: Being a single-parent is financially and emotionally taxing. Studies show that single-parents are more likely to live in poverty, and that mothers earn and learn less, since they have to pay for child care and take more time off from work to care for a child.
That may be why more single women are trying to find a sperm donor who is also involved in a child's life. Sites like Modamily.com, PollenTree.com and Familybydesign.com serve as places for people to meet potential co-parents: They're kind of like a Match.com for people who want to have kids without having sex.
"This could be a seismic shift in how people view what a family is," said Ivan Fatovic, the founder and CEO of Modamily, which launched in Feburary 2012. Fatovic started the site after talking with some girlfriends in a bar in New York: They were all approaching 40, and hadn't found a mate, and were worried about finding the right partner for them—and father for their children—in a few short years.
"We thought—we can introduce people who share the same vision and values. We're not saying it's better or worse, but we think it's an additional option."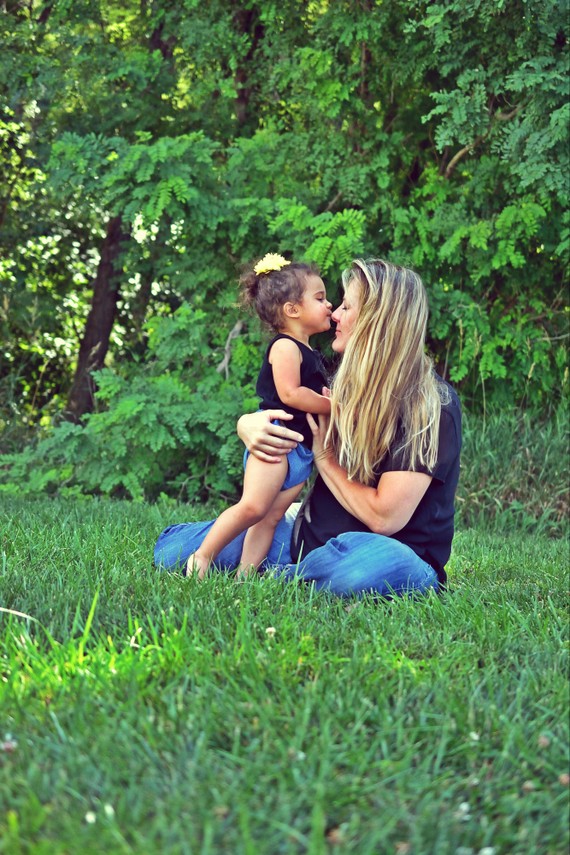 It's not just single women looking for involved parenting partners, either. Increasingly, lesbian couples who want to have children are turning to men they know for genetic material, and are sometimes asking him to share some parenting responsibilities. It's possible that gay men who use a surrogate to have a child are involving the mother in the child's life too—at least if you believe the premise of the failed 2012 NBC comedy The New Normal.
"We are seeing a growing trend of a female, same-sex-couple parenting with the man who provides the genetic material but does not relinquish his rights as a sperm donor," said Diana Adams, a New York lawyer who advises families on issues like these.
To be sure, this new type of family can create a minefield of legal issues. A Florida judge last year allowed the names of three parents on a birth certificate after a sperm donor sued a lesbian couple, who had been his friends, after they asked him to cede parental rights. Last October, California amended its family code to provide that a child can have more than two parents. And the case of Jason Patric, who donated sperm to his ex-girlfriend on the condition he wouldn't be involved in the child's life, and then changed his mind and sued for custody, got widespread media attention in 2012 after Patric started lobbying for more rights for sperm donors.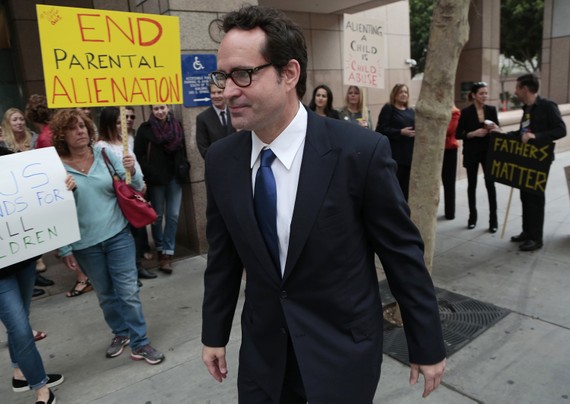 "Three-parent families will be one of the next major legal issues for the LBGTQ community," Adams said.
Laws vary state-by-state regarding whose name goes on the birth certificate and who is responsible for child support. Generally speaking, in a sperm donor context, if a woman gets pregnant through at-home insemination, the biological father is responsible for child support if there is no donor-insemination contract in place, although the mother might not file for it.
Adams and other lawyers recommend that families decide whether a sperm donor will be a co-parent or just a donor, and sit down with a lawyer to draw up an agreement. If they are planning on co-parenting, there are a few other things they should iron out too: Whether the family is going to share a bank account and retirement accounts, who will cover the financial costs of raising a child, whether the parents want to commit to living in the same city or not. What will happen if one of the parents meets a romantic partner? What if someone gets a career opportunity in another city? What is the division of responsibilities for child care and decision making? What will they do about vaccinations, and medical interventions, and schooling?
Often, just having the conversation is just as important as putting the decisions into a legal document and submitting it to a family court, Adams said.
The legal issues can get even stickier when there are more than two people involved. Fatovic, of Modamily, said he helped a straight couple find a birth mother, because the woman in the couple couldn't have kids and the man wanted his own biological child. All three are involved in parenting. Usually gay couples want the donor or surrogate to cede all parental rights, but sometimes don't draw up any such agreement, Adams said. New York State even bans paid surrogate pregnancies, part of a response to a 1980s court case in which a surrogate mother refused to give up custody of the baby (the parents who sued to be recognized as legal parents were straight, and eventually won parental rights in court).
Despite the legal issues, more parents can be better for a child's welfare, argues Rachel Hope, author of Family By Choice: Platonic Partnered Parenting, published in January. Hope might be one of the first people who tried platonic parenting in recent times—she had a son, who is now 24, with a colleague and best friend. Hope, who is 43, met her second platonic-parenting partner, Paul Wennaro, the creator of the Garden Burger, in Hawaii about 15 years ago. She asked him to be her parenting partner in 2007, and they have a 6-year old daughter, Grace. They all live together in Los Angeles.
But Wennaro is 67, and when Hope decided she wanted another child, he said he wanted to spend his time and energy on Grace. So Hope began an extensive search online, and after three years, found a 58-year-old ER doctor who already has a 13-year-old with a lesbian parenting partner he met on Craigslist. The two clicked, and are starting IVF in January. The three parents are hoping to live together, or at least close to one another, and be a new type of family with their children.
"Throughout history, the model that has worked for humankind was extended family—a village, a tribe," Hope told me. "It's only recently that we've started doing the nuclear family, with one mom and one dad, and it's really a failed experiment."
It's an especially good alternative to single parenthood, Hope said, since single parenting can be so fraught with stresses and challenges.
"The single parents I know are some of the most miserable people I've ever met," she said. "I've met quadriplegics who are happier than the single parents I know."
Of course, there are flaws to be found with this type of parenting. Although there isn't any research about the outcomes of children born into these non-traditional families, W. Bradford Wilcox, the director of the National Marriage Project, said that this type of family could create instability, which studies say is definitely bad for children.
"My concern about platonic parenting is that such an arrangement will not last," he wrote, in an email. "In most cases, one or both of the parties will develop a non-platonic attraction to someone else and move on."
A healthy sexual relationship is what contributes to the emotional and physical bond that keeps many parents together over the long haul, he said. Platonic parents wouldn't have any such relationship.
It's not just the sexual bond: It's that children of platonic parents will miss out on the organic parts of living with a mother and a father who work together to raise them, said Glenn Stanton, director for Family Formation Studies at Focus on the Family.
"Parenting is not a time share," he said. "It's something you've got to own completely and full-time."
If women don't find a man they feel they want to marry and raise children with, he said, they should think about the child's welfare before deciding to have a child. After all, humans often desire a number of things that they sometimes can't have, he added.
It's true that sometimes people marry and have children with the best intentions and then split up, but they raise their children "doing the best they can in spite of the curveball life has thrown them," he said. "The idea of putting yourself intentionally in that situation is a whole other matter."
I asked Stanton whether he thought platonic parents were really any different than two people who marry without a strong romantic bond. You might remember "Marry Him!," an article from The Atlantic in 2008, in which single mom Lori Gottlieb caused a firestorm by advising women in their thirties who want children to marry someone without considering passion or an "intense connection."
"My advice is this: Settle!" she wrote. "Marriage isn't a passion-fest; it's more like a partnership formed to run a very small, mundane, and often boring nonprofit business."
Could a platonic-parenting relationship really be that different?, I asked Stanton
Yes, Stanton said. Children learn from parents who have committed to sticking together, bumps and all, whether they're perfect life partners or not.
"That's what husbands and wives do, they say, 'I'm going to link up with you, for good and for bad, we're going to make it work.'" he said. "There's something wonderful about that that changes them and makes them better people, and the child learns from that."
But platonic parents commit to a lifetime commitment to raise a child in much the same way, Hope and Pieke argue. Before even trying to get pregnant, the parents nail down plans to make sure the emotional and financial support their child needs will be present from birth. Sometimes more effectively than married couples do, Hope said, since so many marriages end in unhappy divorces with a child torn between two feuding parents.
"We're releasing the expectation that building a family on the shifting sands of a romantic high is a smart thing to do," she said. "This is about building a family on common values, which really makes sense, has staying power, and is what's going to work for the kids."
For women in their thirties and forties, choosing someone to co-parent with can be a smarter decision than trying to find a mate because it takes the pressure off to marry or reproduce with someone you barely know, said Adams.
"A traditional model would have been a woman at 37 scrambling and trying to create a family with a romantic partner who she's known for two months," Adams said. "Wouldn't she be able to create a more stable family bond with her gay best friend of 20 years?"
There are alternatives to platonic parenting: Many single parents find that there are sufficient supports in things like cohousing, where families move into complexes with family dinners, shared living spaces and people in situations like theirs. Teri Hupfer moved into one such complex in the San Francisco area because she had two children, aged 15 months and seven years, and didn't know anyone else with kids.
"I wanted to move somewhere my kids would be able to run around outside and see other kids, but as a lesbian with biracial kids I couldn't see myself in a suburban home," she told me, in an email. Cohousing did the trick. There were lots of families with young children, and they would take turns watching the kids while other parents cooked common meals, worked late, or even went out on dates. Some of the single moms in the complex turned out to be close friends, and their children grew up together too.
When she moved into the complex, six of the 32 families were single moms. Now, there are only two, she said, and some are lobbying for no more single mothers, because they are sometimes considered needy, she said. They ask for favors more—help babysitting, or picking up a child from daycare—and can only give back half as much time as couples can.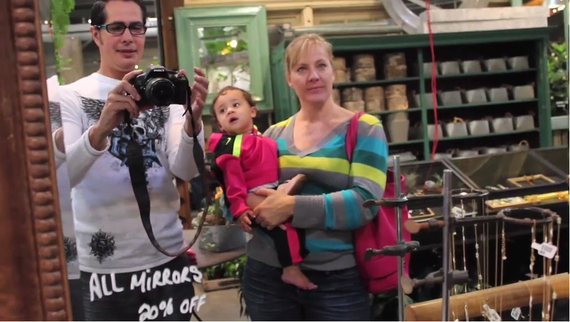 Dawn Pieke and Fabian Blue feel lucky that their daughter will know both of them, and have both of them involved in her life—they're so happy with their experience that they're trying to write a book about it. They also feel that they've vetted each other more extensively than married couples do. They performed extensive background checks on each other and shared tough moments that they might have tried to hide from a potential romantic partner, like when Pieke called Blue sobbing, nearly incoherent, because her dog died.  They did testing to see what their fertility chances would be, and got various medical tests to make sure a potential child wouldn't have any genetic problems. Blue had come close to committing to other potential parenting partners, but something in his gut had told them that the other women weren't the right fit, but Pieke was.
The two felt so comfortable with each other that they didn't even create a co-parenting agreement—when couples get married, they don't sign a co-parenting agreement, Pieke points out. They're just trusting one another to stay involved. It's challenging at times—Pieke needs to stay in Omaha to care for her mother, who has Alzheimer's, and Blue needs to go where he can find a job. He works in high-end hotel management, and is currently based in Alabama. But he flies back frequently, and they're still on the same page about rearing Indigo. They split the costs 50-50.
They're still both looking for romantic partners who will accept their alternative lifestyle. If they don't find them, that's okay too. It's a totally different place than Pieke was in just a few years ago, after her relationship ended and she was left single and afraid that she'd never be able to have a family. She's even glad—in a weird way—about the breakups that led her to where she is now.
"I'm so thankful that everything did happen, because Indigo wouldn't be who she is without her dad," Pieke said. "She's amazing and funny and she's just awesome. Now that she's here, its hard to look back and say I wish this or that would have happened. She's here because of all of that."