What's Behind November's Remarkable Job Surge?
The U.S. economy added 321,000 jobs last month, which could make 2014 the best year for hiring since the 1990s.
On Friday, the Labor Department announced that the U.S. economy added 321,000 jobs in November, the strongest month of hiring in nearly two years.
The news, which defied a more modest prediction of 230,000, immediately inspired a digital ticker-tape parade. Some were quick to note that the total addition of 2.65 million American jobs in 2014 would make it the biggest since the late 1990s. November's report also meant that the American economy has added jobs for 50 consecutive months, an all-time national record.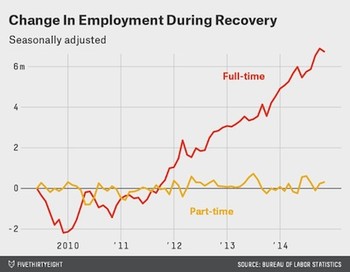 There was more good news yet. FiveThirtyEight's Ben Casselman highlighted that job growth during the recovery has largely consisted of full-time jobs while others noted that even unemployment among millennials (ages 25-34) had dropped to 6.1 percent from 7.4 percent in just one year.
Of course, there are always plenty of reasons to pour on the pessimism. Wages might have surged (with a 0.4 gain) last month, but some industries saw no job growth and the news that Canada lost nearly 11,000 jobs last month reflects a broader sluggishness elsewhere.
But America can be like a teenager with a diary sometimes; the only time the entries are written are when things go bad. So with the good news in mind, here are some explanations.
One of the biggest stories over Thanksgiving was the increase of holiday drivers, who were goaded by low gas prices to hit the road rather than fly or take a train. Many are also thanking falling gas prices for the good economic news. The Times explained that on Monday, "gas prices in the United States averaged $2.77 a gallon, according to the Energy Information Administration, compared with $3.26 in December 2013. If gas prices stay where they are, the typical household will save roughly $600 over the next 12 months."
Meanwhile, the monthly jobs report has always inspired political response. As the Democrats crowed, the Republican National Committee issued a statement, offering that while the gains were good, they should be "the norm" rather than an aberration. The statement added:
Millions of Americans still need jobs. Millions more have just given up looking. We're still faced with Carter-era levels of labor force participation.
Others yet, found a way to credit Republicans, whose vast gains in the midterm elections supposedly made job creators feel "secure to ramp up hiring."
The dollar is suddenly looking great against the euro and the yen. Many are now expecting that the Federal Reserve will increase the interest rates in the coming months. But let's argue about that later.