M.F.A.s: An Increasingly Popular, Increasingly Bad Financial Decision
Like many graduate degrees, a Master of Fine Arts carries rising costs and brings limited job prospects So why are more Americans pursuing one?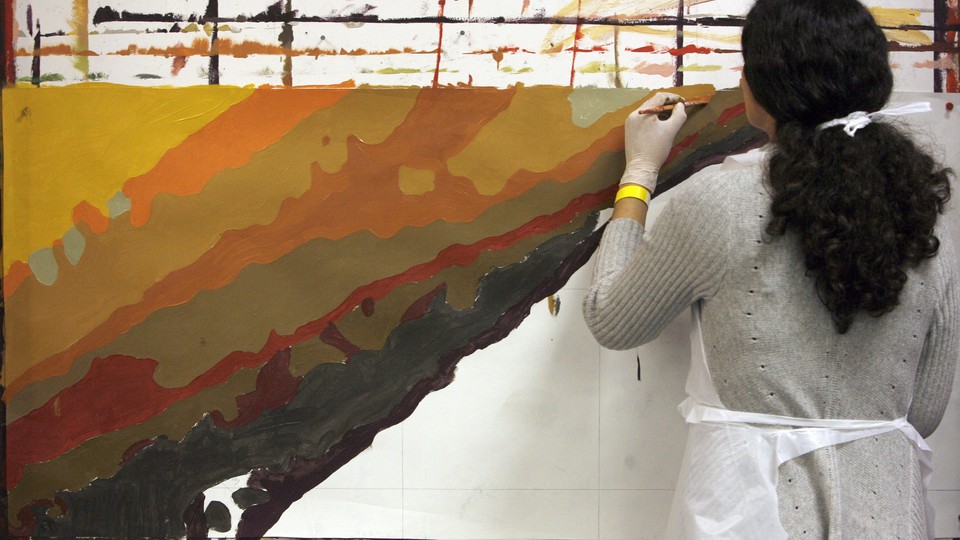 There's an argument that's gained traction in recent years in vastly different fields, and it's don't go back to school. Don't go to graduate school, there are not enough tenure jobs to go around. Don't go to business school, just move to the city that has the industry you're looking to enter and start a business. Don't go to journalism school, just start reporting. Don't go to law school, there are way too many lawyers. Heck, don't even go to college. And whatever you do, don't go to art school.
The last item on the long list of schools-not-to-go-to was recently highlighted by art critic Jerry Saltz, who called Master of Fine Arts (M.F.A.) degrees "straight-up highway robbery." No doubt, Saltz is referring to the issues familiar to all those considering graduate school of any major: rising costs and poor job prospects. This question is perhaps most salient for practicing artists than people in any other field. With tuitions at the 10 most influential M.F.A. programs averaging around $38,000 per year, Saltz is right to estimate that the ticket price for a 2-year program—adding in room and board—would run a student around $100,000.
Furthermore, data for undergraduates specializing in art, music, and design found that they rack up a lot of student-loan debt, with the median debt just over $21,000 (though working in public or non-profit arts qualifies for loan forgiveness). A study by the Hamilton Project at the Brookings Institute found that early career earnings of those with a fine-arts bachelor degree are among the lowest. Payscale ranks M.F.A. earnings very low in the pack.
The real objection seems to be that the high costs of an M.F.A. are especially unreasonable given that artists have little hope of dependable returns on investment. Assuming that artists don't consider the financial consequences of their education is becoming less and less legitimate. Saltz highlighted artist Coco Fusco's essay, which argues that, considering the financial risks of going to art school, now is a more pertinent time than ever to ask whether the M.F.A. experience is worth the money. Elsewhere on the Internet, M.F.A.s have already been called Ponzi schemes.
The real mystery—amid all this criticism—is that the number of M.F.A. graduates only seems to be rising. Consider this chart from the group BFAMFAPhD—a collective of artists studying the numbers of being a working artist—which shows that degree recipients of both BFAs and MFAs have been rising. According to the National Center for Education Statistics, data dating back to 1970 shows that the number of Master's degrees granted in the visual and performing arts has been rising every year in the last decade.
---
Master's Degrees Earned in Visual and Performing Arts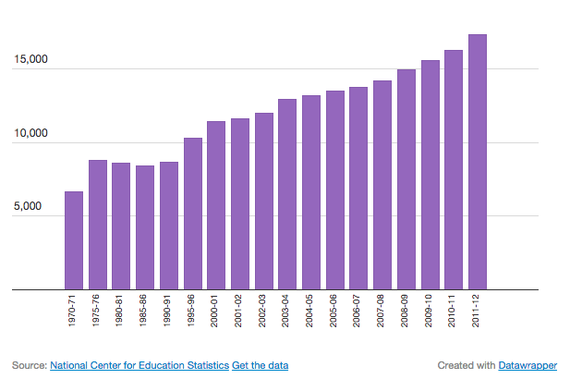 ---
It's clear that the cost is not (yet) driving young artists away from getting educated at M.F.A. programs. It might be that no one studies art for the financial returns: Even as auction houses break records—Peter Lik's photograph "Phantom" just went for $6.5 million—resale royalties for artists in America have yet to be legislated. Then there's another common saying: that artists don't need to get rich because they already are rich. Looking at Bureau of Labor Statistics data, Planet Money reported that artists do tend to have wealthier parents.
One piece of the puzzle might be that for those who choose this career path, the act of becoming an artist is an achievement itself that's worth a lot. A group of sociologists took a look at what it means to be an artist, and wrote this in the conclusion of their study: "Seeing oneself as a professional artist is an achievement that compares to entering other elite status groups." With artists being only 1.35 percent of the U.S. workforce, it's a small group indeed.