Converting a Union Skeptic
Audra Rondeau wasn't a fan of labor groups—then home-care workers in her state organized, and she gave them a second chance.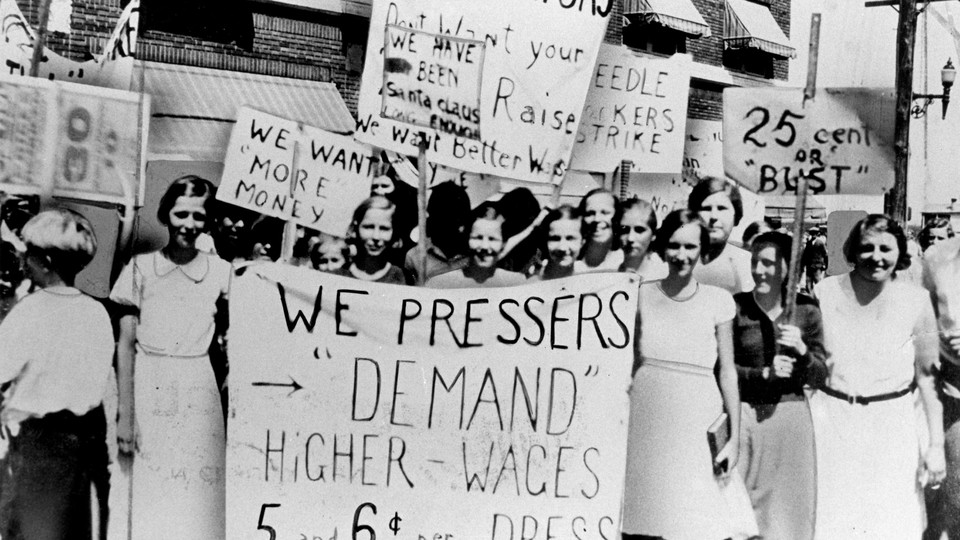 ENOSBURG, Vt.—When the union representatives first came knocking at Audra Rondeau's door in this rural part of the state, near the Canadian border, she turned them away.
They wanted her to join an effort to organize Vermont's 7,000 or so home-care workers. But Rondeau had been raised with a healthy skepticism about unions: Her 93-year-old grandmother, who she says "still scares the beans out of me," has a strong aversion to labor organizing.
But then they came back, and this time they asked Rondeau what she'd want changed in the home-care industry, where she works taking care of two young girls, one with autism and one with severe depression.
"They said, 'What's irritating you about the program you're in?' And I just started going off," said Rondeau, who is 47, as she potted a plant in her kitchen, in the house she built herself.
The state kept cutting funding for programs, putting her clients in danger, she told them. Without anyone to look after them, her clients might not be able to feed themselves or get out of the house. She also made less as a home-care worker than she did when she started thirty years ago, and there was so much red tape around billing that it was sometimes hard to get paid.
They listened and came back again, and this time, they invited her to ride along with them to visit other home-care workers. One man she visited had quit his job to care for his ailing parents and lived in a trailer with them—all three huddled under blankets because they didn't have enough money to pay for heat.
"I went riding around with Bill, and started seeing the conditions that everyone else was dealing with, and I was like, yeah, this has got to change," she said.
The organizers eventually succeeded, getting home-care workers to vote last fall to form Vermont Homecare United, an affiliate of the American Federation of State, County and Municipal Employees. Being in a union has changed a lot of things for home-care workers, even skeptics like Rondeau.
The union negotiated its first contract with the state of Vermont in June of this year, bringing in a wage bump to workers. Some had been making the federal minimum wage of $7.25 an hour, the new contract bumped them up to $10.80. Those who were making more than minimum wage got a 2.5 percent pay increase, and those who worked long, overnight shifts also got a slight pay raise.
"It's made a big difference—I've got an extra $80 a week in my paycheck," Rondeau said. "It's enough to keep me happy for now."
The experience of Vermont's home-care workers is a unique one: In many states around the country, union membership is shrinking and unions' bargaining power is being eroded. In Vermont, 13.2 percent of workers were represented by unions in 2013, up from 11.7 percent a decade ago. By contrast, in Michigan, once a big union state, 16.9 percent of workers are represented by a union, down from 23 percent a decade ago. In Ohio, only 14.1 percent were represented by a union, down from 18.1 percent a decade ago, according to the Bureau of Labor Statistics.
---
Percentage of Workers Represented by a Union, by State
---
"The feeling for many workers in Vermont is that there won't be retribution by employers if they vote to join a union," said Gary Chaison, a professor of industrial relations at Clark University. "It would be a lot different in South Carolina or Texas."
Indeed, unions suffered a bruising blow in February, when workers at a VW plant in Chattanooga, Tennessee voted not to join the United Auto Workers: The union alleged workers were worried the company would locate a new plant elsewhere if they joined.
But even those represented by unions in other states have not been able to gain the pay raises the home-care workers achieved in Vermont. In Wisconsin, for example, Act 10, passed in 2011 by Governor Scott Walker, severely curtailed the power of public-employee unions to bargain collectively. Since that law was passed, teachers' salaries in many districts have been frozen, membership in state employees' union has dropped significantly, and with it, union coffers.
A Michigan right-to-work law went into effect in early 2013, mandating that unions cannot require members to pay dues, which experts say could have a big effect on the state's representation when current contracts expire.
Meanwhile, Americans' estimation of unions has been shrinking for years. In 2010, only 41 percent of Americans said they had a favorable opinion of labor unions, down from 58 percent in 2007, according to the Pew Research Center for People and the Press. Six in 10 Americans said they agreed with the statement "labor unions have too much power," up from 51 percent a decade before.
Older Americans, like Rondeau's grandmother, have some of the most negative views of unions: Only 29 percent had a favorable opinion in the Pew poll. That could be because many were around in the 1950s when Teamsters president David Beck invoked the Fifth Amendment 117 times to avoid incriminating himself during hearings on union corruption (he was convicted). Public opinion polls in following years showed many Americans believed unions to be corrupt.
It's possible some of those negative opinions may be turning around in the wake of fast-food strikes and demonstrations by Walmart workers seeking to organize unions. When Pew asked about labor unions again, in 2013, 51 percent of Americans said they had a favorable view of the organizations.
And there's a very real economic case for workers to join unions. Service-sector workers represented by unions made, on average, $746 a week last year, compared to the $467 a week nonunion workers made. Hispanic workers represented by unions made $838 a week, on average, while nonunion Hispanic workers made $547 a week, according to the Bureau of Labor Statistics.
Benefits increase for union members too: Around 95 percent of union workers had health benefits available to a spouse, as opposed to 69 percent of nonunion workers; more than half of union workers had benefits available to same-sex partners, as opposed to just 28 percent of nonunion workers, according to the Bureau of Labor Statistics.
But for many Vermont home-care aides, the biggest benefit of being in a union can't be quantified by numbers. It's that they're able to communicate directly with the state of Vermont, and improve workplace conditions.
"Since we've had a union, we've been seeing issues being heard and addressed in our contract," said Amanda Sheppard, another home-care worker. "Previously there were a lot of unanswered questions—now we're advocates and liaisons for our clients around the state."
Audra Rondeau says being in a union has allowed her to speak up when her clients are getting a raw deal. Her 9-year-old patient lost benefits because the state said she aged out of needing a home-care aide; a few weeks after Rondeau stopped working with her, the girl's mother injured her at home in a fit of anger. The girl now is back in Rondeau's care. Being in a union has helped Rondeau and others speak out against proposed cuts to healthcare services in the state and make sure that her clients receive the care they need, she said.
"Last I heard, we're looking at a 5 percent decrease in services, but I'm going to fight it," she said. "You can't take it away—what are people supposed to do?"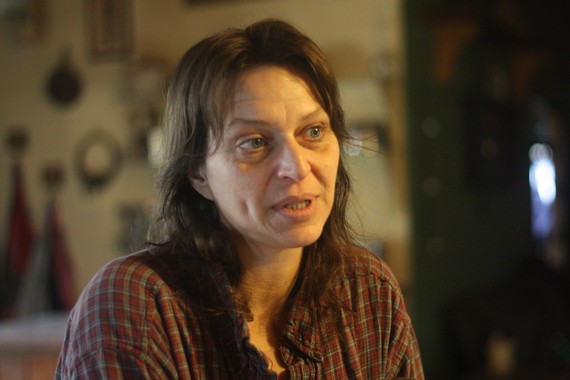 One unique thing about Vermont's ability to organize the home-care industry is that these workers never go into an office where they'd interact with each other: They each work very much on their own. But they still chose to join the union, even if they'd never meet most of the people they'd be working with.
"Workers who felt excluded from the labor force are suddenly feeling like they have a voice," said Chaison, about the organizing efforts in Vermont. "This is really something unique for many of these workers, who have never had a legally binding document before."
Many home-care workers nationally don't even get minimum wage and overtime protections—the Obama administration had promised to extend those protections to workers, but later delayed that plan.
It's not just home-care workers in the Green Mountain State who have come together. Organizers in Vermont have had a golden touch lately: Early-childhood educators are currently voting on whether to join a union, and local papers have been deluged with letters of support. Clerical workers at the University of Vermont are soon voting to organize a union and last month, adjunct faculty at three colleges in the Burlington area voted to form a union.
"A labor movement can happen in waves, and we're trying to promote the idea of organizing and collective action as a way for people to come together to create change together," said James Haslam, the executive director of the Vermont Workers Center.
Of course, there are some tough parts to organizing a group of workers who don't see each other on a daily basis. Only about 1,100 home-care workers have actually joined the union and pay dues, although all of the workers in the state got a raise after the contract negotiations. That's part of the free-rider dilemma that some unions now face after a Supreme Court decision this summer in the case of Harris V. Quinn, which was about home-care workers in Illinois. The court found that home-care workers did not have to pay union dues, even though they were represented by a union (for decades, employees represented by a union, but who did not join, still had to pay a portion of dues). Rondeau herself didn't actually join until she got nominated for secretary-treasure of the union, and realized she couldn't be elected if she wasn't a member (she won).
Some workers aren't joining because the forms are mailed to them, and it's easy for them to get lost in the mail, Haslam said. And others worry that pushing for higher wages could lead to fewer hours. It's unclear whether there are proposed cuts to the program because the state is having budget issues, or because the cost of providing the program is higher now. The contract the union signed with the state added $4 million in labor expenses to a program that costs about $50 million a year, according to Vermont Public Radio.
"A lot of people right now are discouraged because we've got the raise and services are being cut," Rondeau said.
And there are still many in Vermont who don't believe in unions—and who make that opinion known. Rondeau works a few jobs to make ends meet, including a part-time job at a cheese factory down the road. She went to an AFSCME convention in Washington, D.C. to meet other union members, came back to Vermont, and got a call telling her not to come back to work, ever.
Rondeau says that her opinion of unions has improved, but that she still wouldn't support union members who make $50 an hour and are out striking for more money.
In Vermont over the past few months, workers for FairPoint, a communications company, have been on strike because the company is trying to cut wages and benefits. Some workers make $90,000 a year at the company, which has turned some public opinion against the strikers.
But all-in-all, for Rondeau, the benefits are worth the hassles. Being in a union means extra money, which is important for someone living paycheck-to-paycheck. It means talking to colleagues she didn't know she had about how to improve her profession, and it means speaking out when the state proposes cutting services—and knowing someone has listened.
And here's what surprises Rondeau the most: Being in a union also hasn't raised her grandmother's hackles as she thought it might.
"My grandmother asked me, 'When I go to bed at night, do I feel good about what I do,"' Rondeau said. "And I was like, 'Yeah." And for her, that made it okay."