How Common Is Child Labor in the U.S.?
Budgets for agencies that monitor workplaces are shrinking as some states roll back laws meant to limit the hours and jobs kids can work.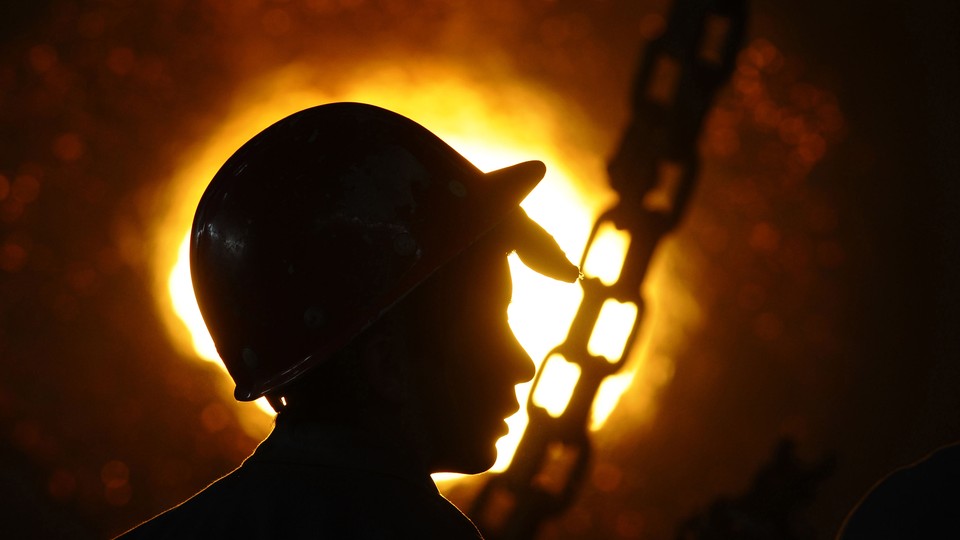 On a warm day last summer Josh Bassais, a union organizer, went down to a non-union construction project in Edina, a Minneapolis suburb where new elementary classrooms were being built, to check out safety on the site.
He saw something surprising: a boy, who appeared to be about 12 or 13, wearing jeans and a fluorescent work vest, smoothing mortar on a brick wall. It was a clear violation of child-labor laws, which prohibit 12 and 13-year-olds from working most jobs, except on farms, and also say that youths aged 14 and 15 may not work in hazardous jobs, including construction.
When others in the Laborers Union went to the site, they saw a boy too, this time driving a bobcat and cutting concrete with a saw.
"When our staff reported it to me, I wasn't sure I believed it," said Kevin Pranis, a spokesman for the union. "We sent him back to take a picture, since we didn't want to make a report without knowing for sure the kid was underage. We observed him four or five times until we were really sure."
The union told the school district what it had seen, and also reported suspicions of child labor to authorities, who identified the boy and prohibited him from returning to the job site.
But a few weeks later, the union stumbled across another kid on a construction site, this time in Minnetonka. Though the contractor at the time said the worker was 18, and that his father owned the company, the union followed-up by tracing the license plate of the car the worker got into, and found he was actually 14.
"No one's going around looking for child labor on construction sites, except for us," Pranis said. "The resources just aren't there."
It's possible to view this merely as a ploy by a union to highlight the problems that occur on non-union construction sites. But the fact is, child-labor standards—and labor-enforcement standards in general—have been rolled back in many states over the past few years. And with budget cuts to the agencies, at both the federal and state level, in charge of enforcing labor laws, there's no sign that there will be more attention to possible violations anytime soon.
The Occupational Health and Safety Administration, or OSHA, had fewer health and safety inspectors in 2011 than in 1981, even though there are now twice as many workplaces, according to a report from the Center for Effective Government (OSHA is responsible for conducting workplace inspections and following-up on complaints about labor violations, including child-labor laws).
When adjusted to 2013 dollars, OSHA's budget for the upcoming fiscal year is $535 million, compared to $592 million in 2010, said Katie Weatherford, regulatory policy analyst for the Center for Effective Government. There were 864 federal inspectors in 2014, down from 1,469 in 1980, she said.
In February, a whistle-blower group in Washington said that workers in California have less protection on the job now than at any time in a generation because of cutbacks to Cal/OSHA. The state had 11 percent fewer inspectors last year than it did in 2011.
"We are concerned—having less budget means they have less ability to protect workers," Weatherford said. "We're going to see more injuries and fatalities if we don't raise the number of inspectors."
The child-labor violations the agency has turned up in the last few years, despite its smaller budget, raise the question of what else is happening that the agency hasn't uncovered. Last year, inspectors found that a Tennessee lumber mill was employing a 14-year-old who was operating a chainsaw, removing lumber from a conveyor, and loading scrap wood into a wood chipper. Inspectors also found that grocery stores in Iowa and Nebraska had employed young workers operating meat slicers, bakery machines, and even motor vehicles.
Some of the rollback of investigations stems from concerns at a state level that government regulation is hampering business.
"State legislators across the country have launched an unprecedented series of initiatives aimed at lowering labor standards, weakening unions, and eroding workplace protections for both union and non-union workers," said Gordon Lafer, a professor at the University of Oregon, in a report "The Legislative Attack on American Wages and Labor Standards" he wrote for the left-leaning Economic Policy Institute.
Lafer attributed the passage of some of the laws to the dramatic changes in many state legislatures after the 2010 midterm elections, when Republicans gained unprecedented control at the state level. In that election, 22 legislatures changed majority control, all to the GOP.
Soon after the 2010 midterms, the changes began. A Missouri elected official had called in 2011 for the elimination of funding for the state's nine labor investigators, saying that he'd heard they were "harassing and picking on" non-union contractors. By 2014, the state had just six investigators.
The department received 19 child-labor complaints and found 467 child-labor violations in 2010, according to a state report; the next year, they found just 191 violations, on 26 complaints.
After the 2010 midterms, four states rolled back child-labor regulations, according to Lafer.
After a parent protested, an Idaho school district stopped a program that allowed children to work serving lunch in schools. Then the state passed a bill allowing students 12 and above to be employed by school districts for up to 10 hours per week.
"It teaches job skills, you have to be on time, you have to do what your supervisor tells you," said district spokesman Eric Exline, defending the program to a local TV station, and adding that the program saved the school district from having to hire additional employees.
Soon after that, Wisconsin lifted restrictions on the number of hours 16 and 17-year-olds could work during a school week—previously they couldn't work more than 26 hours, now they can work unlimited hours, as long as they go to school, too. Michigan also increased the number of hours students could work during the school week, to 24 from 15.
Maine also upped the number of hours a minor could work each week—to 24 from 20. The bill's backers had wanted students to be able to work until 11 p.m. on school nights, but in a compromise, the legislation set the curfew at 10:15 p.m.
Republicans gained even more seats in the 2014 midterms, winning majorities in various chambers in Nevada, West Virginia, New Hampshire, Colorado, New Mexico, Maine, and Minnesota, indicating that rollbacks of labor standards could continue.
Maine Governor Paul LePage already said earlier this year that he wanted the state to go even further and allow 12-year-olds to work. He had previously proposed a subminimum wage for young workers of $5.25.
A law went into effect in August in Minnesota creating a youth wage of $6.50 an hour for workers under 18 (there had previously not been a separate youth wage).
To be sure, there are some benefits to allowing minors to have jobs and earn money. Newt Gingrich may have been excoriated for saying, during his 2012 presidential run, that child labor laws were "truly stupid," but data shows there are benefits to learning a work ethic at an early age. Young employees can learn to be on time, to respect supervisors, to work hard and to save money. After all, what kid hasn't gloated over the cash he's earned on a newspaper route, babysitting, watering the plants, or mowing a neighbor's lawn?
But what's concerning about recent developments is that some of today's working minors don't seem to be performing innocuous jobs that will instill in them a strong work ethic and understanding of responsibility. Rather, they're in jobs that can—and have—jeopardized their health and safety.
For example, agricultural employers are largely exempt from the sections of the Fair Labor Standards Act that prohibit minors from working. That's led to 13-year-olds working in tobacco fields, where they can be exposed to nicotine poisoning.
A Human Rights Watch report published earlier this year found that in states such as Kentucky, Virginia, Tennessee, and North Carolina, child workers spend 50 to 60 hours a week in tobacco fields, where they are "exposed to nicotine, toxic pesticides, and other dangers."
The group interviewed 141 child tobacco workers between the ages of 7 and 17, and 75 percent of the children said they had sudden onset of nausea, vomiting, headaches, dizziness, and difficulty breathing while working in the fields.
"I can stand the heat for a long time, but when they spray [pesticides], then I start to feel woozy and tired. Sometimes it looks like everything is spinning," one 14-year-old told the interviewers.
Many countries, including Brazil and India, prohibit children under 18 from working in the tobacco fields, according to the report. In 1999, the U.S. ratified a International Labor Organization Convention Covering the Prohibition and Immediate Elimination of the Worst Forms of Child Labor, which included prohibiting children under 18 from work that "is likely to harm the health, safety or morals of children."
In 2011, Hilda Solis, then the Secretary of Labor, proposed prohibiting farmworkers under 16 from working in the tobacco fields. She also suggested strengthening child-labor laws around agricultural work with animals, pesticides, timber, manure pits, and storage bins (two teenagers died in 2010 after being trapped in a grain bin).
The reaction was swift, with complaints about what happens when "big-city bureaucrats try to craft policies for rural America." Some farmers protested that it would keep their kids from doing chores around the farm (Solis also suggested an exemption for children of farmers).
State legislatures across the country introduced bills asking their Congressional delegations to oppose changes to the child-labor exemptions.
The Obama Administration scrapped the proposed rules in 2012.
"Why does agriculture deserve an exemption for kids working on farms not owned by their parents?" asked Reid Maki, director of child-labor advocacy at the National Consumer's League.* "Is it safer than other workplaces? The answer is categorically no. It's one of the most dangerous workplaces in America."
Child labor on farms helps fuel a cycle of poverty where kids drop out of school or perform poorly so that they can work as many hours as possible, he said. Accidents on farms can be particularly grisly: Last year, one teen lost his arm to a farm machine in Virginia, and a 14-year-old worker was killed in a collision with farming equipment in Idaho, according to Cultivate Safety, an advocacy group.
Going forward, whether people under age 18 are allowed to work in various jobs will probably depend on what state they live in. Missouri passed a law last year exempting children under 16 who work on farms from certain labor requirements—just in case the federal government tries to pass new standards again. Alabama tried to pass an income-tax credit for businesses employing people under 19; Iowa introduced a bill allowing people aged 16-17 to work in laundry establishments (previously they had been prohibited).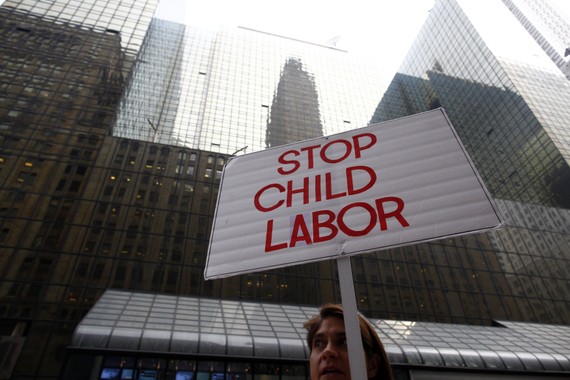 New York, on the other hand, passed a bill increasing protections for child models. And in October, a North Carolina Tobacco Growers Association issued a policy suggesting that tobacco farmers not hire children under 16, even with parental permission. Altria Group, parent company to Philip Morris USA, also said on Thursday that it would prohibit growers in its supply chain from hiring children under 16. About 90 percent of tobacco grown in the U.S. is farmed in North Carolina, Kentucky, Tennessee, and Virginia.
But evidence shows that once employers feel they have leeway in employing children, they start to flaunt more laws, said Maki, of the Consumer's League.
"Our feeling is that there has got to be a certain level of enforcement for employers to really pay attention," he said. "Once they get a sense that the laws aren't being enforced at all, it's like a carte blanche."
---
* This post originally misspelled the name of Reid Maki. We regret the error.