What Makes a Good Employer?
When it comes to satisfaction at work, some Americans say that money isn't everything.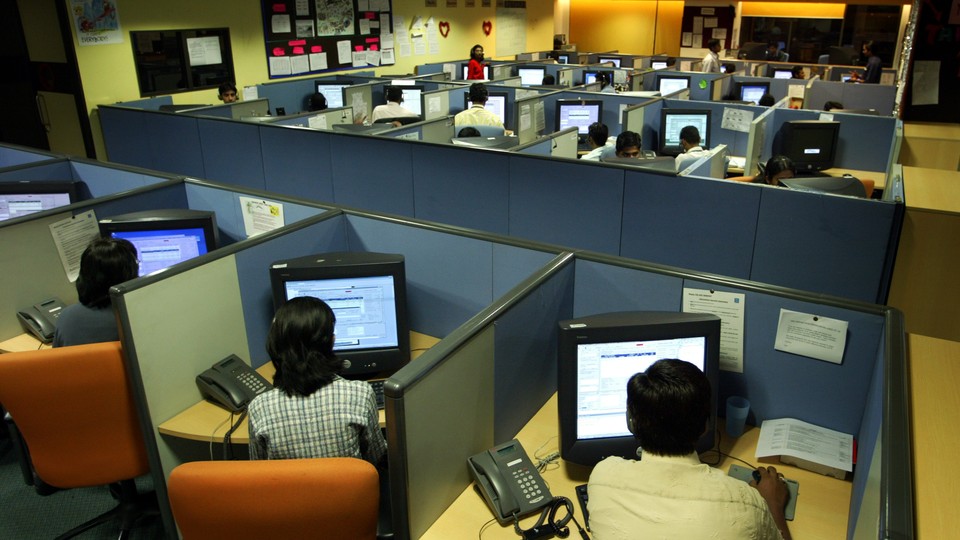 How do you feel about your employer? Seems like a simple question, but the answer isn't always clear-cut. Satisfaction with your employer can be a more involved concept, one that includes opinions about company culture and policies, feelings about how an organization treats its employees, and maybe even some thoughts on how the work your company does impacts the community or society.
The most recent Allstate/National Journal Heartland Monitor Poll asked Americans to consider this multi-faceted question in order to get a sense of how people really view the organizations that employ them. An overwhelming majority of people had mostly positive things to say about their employers. According to the poll, which surveyed 1,000 adults, 87 percent of respondents would consider their company or organization a good place to work, and would recommend it to others. And, 88 percent of people surveyed said that they believed in the mission and purpose of their company.
For example, Jennifer Cornelius, a data analyst at an insurance company in Alabama, says that she thinks of her employer as a good workplace. Why? Well, the fact that she can work from home helps—a lot. "The flexibility is a huge bonus," says Cornelius. "I live about 45 or so minutes away from the office, it saved me fifty-odd dollars a week, just in gas." The ability to work from different locations is also great for peace-of-mind Cornelius says, since workers know that they have more options when it comes to balancing their personal and professional lives.
But it's not just saved gas money or the ability to work in her pajamas that has endeared Cornelius to her employer. She's most proud of the health benefits package her company offers. The firm that Cornelius works for was recently sold: It changed hands from Humana, a large, well-known insurer to a smaller, Chicago-based company. Instead of slashing the more expensive benefits package that was easily provided by Humana, Cornelius says the new owners "bent over backwards" to provide a comparable level of health care coverage. The fact that the new, smaller firm went out of their way to continue providing  the same level of health benefits, which was important to workers, really made an impression on Cornelius.
When it comes to employee pride and affinity, size seems to matter. Companies with 100 or fewer employees had higher employer-approval ratings, with about 90 percent of their employees saying that their company was a good place to work compared with less than 80 percent for companies that had over 2,500 employees.
How is support for employers so overwhelming despite long hours and virtually stagnant wages? Even among part-time workers, some of whom openly expressed a desire for more hours, 84 percent of individuals still had positive opinions of their employers. Approval might be so high because some employees, like Cornelius blame the economy, more than their companies, for lackluster salary increases. "Would I like to be paid more? Absolutely. But do I think they can afford to pay me more? Not in the current climate," Cornelius said. "They're doing their best."
And money might not matter as much as you think. When given the choice between a job that paid less, but provided more flexibility, and a more highly-paid job that required more hours, more than two-thirds of respondents said that they would opt for lower pay. That puts the potential for more satisfied workers, even in difficult economic circumstances, in the hands of management, or at least it seems that's how employees feel. While some believe that employers don't have the capability to raise salaries right now, the majority of Americans said that even during these tough times, companies could still institute more flexible work schedules, which would produce happier and more productive employees.