Unemployment: How Much Progress Is Enough?
A look at the five states that had the highest jobless rates in 2010 and how they're doing now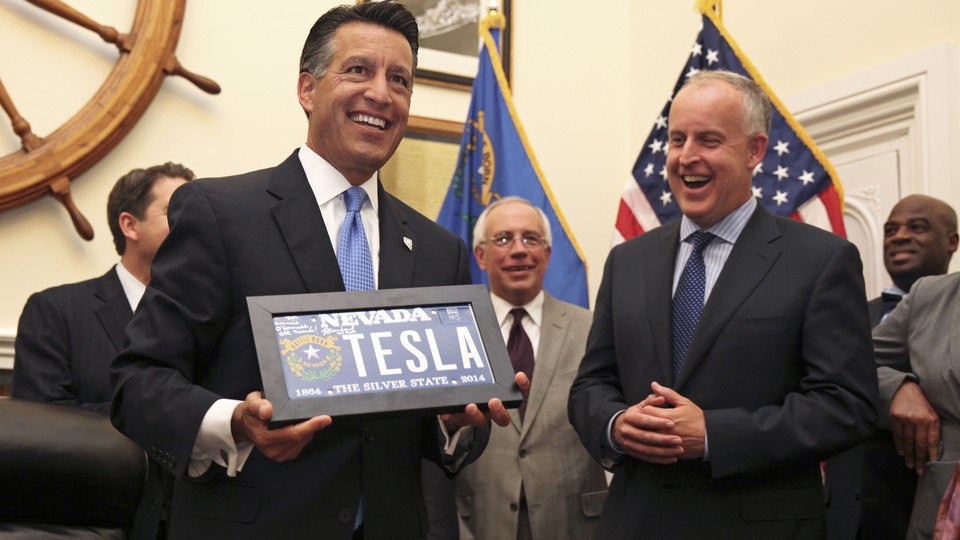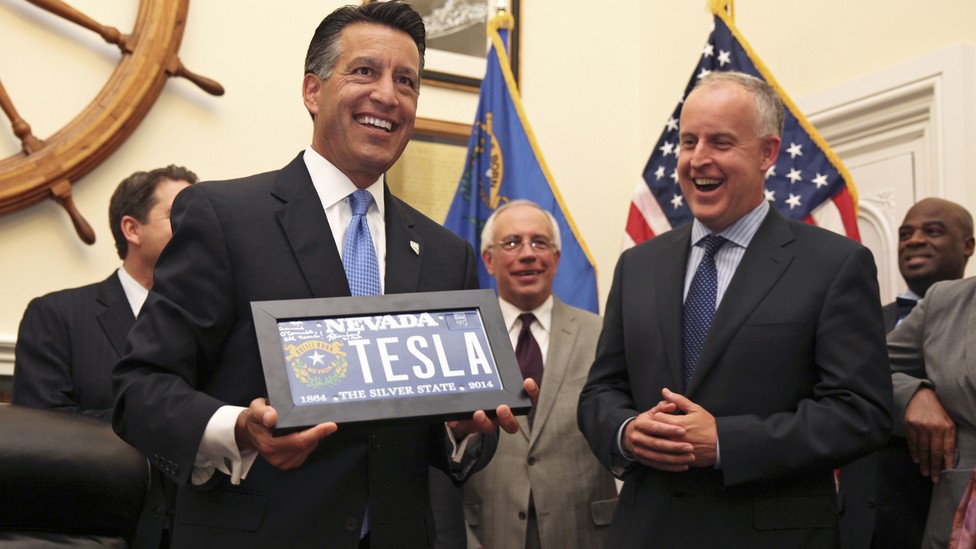 Since the last midterm election, the unemployment rate has dropped in all 50 states. For governors that ran for reelection, this meant they could all claim to have boosted employment in their states.
But the degrees of progress vary greatly. Generally speaking, states that suffered the most during the recession made the biggest gains. For instance Nevada, whose unemployment rate was a devastating 13.9 percent in 2010, brought that figure down by 6.3 percentage points to 7.6. Though such improvement appears remarkable, the five states with the highest percent unemployed in 2010—Nevada (13.9), California (12.4), Michigan (12.4), Rhode Island (11.7), and Florida (11.3)—all continue to have rates that remain well above the national average.
For incumbent governors that ran for reelection in these five states, having presided over improving job numbers meant victory in yesterday's election, despite persistently-high jobless rates.
---
Changes in Unemployment Rate by State, Sept. 2010-Sept. 2014
---
So why did all of these states opt to retain current leadership? Here's a more in-depth look at the five states that had the highest unemployment rates during the 2010 midterms including why they were hit so hard in the first place, and what their leaders did to combat unemployment in the years since.
Nevada
Nevada had the highest foreclosure rate in the country after the recession, which wreaked havoc on the state's construction and manufacturing sectors. Jobs lost in these sectors have not come back. The unemployment rate has improved because the other sectors like, like green tech, have grown to fill in the void. The actions of Republican Governor Brian Sandoval have helped, too.
In 2011, Sandoval's economic-development team
commissioned a report by the Brookings Institute
, which looked at ways to reform the Nevada economy. The report recommended a "sector strategy" that would focus on the state's competitive advantages in tourism, health care, IT, clean energy, mining and manufacturing, logistics, and aerospace. It also suggested a new governance structure led by "regional development authorities" to allow for locally focused economic development. Nevada had a major advantage in its proximity to Northern California's burgeoning green-tech industry. As a result, it was able to woo Tesla's lithium-battery giga factory to the Tahoe-Reno Industrial Center. The Silver State's commission and successful implementation of the recommendations made by the Brookings report is
a major reason why its economy bounced back
. Sandoval's successful strategy for reducing unemployment earned the incumbent governor an easy win in the 2014 election.
California
Like Nevada, California's construction and manufacturing sectors were hit hard by the recession. But the state's economy has rebounded. Between September 2010 and September 2014, California's unemployment rate dropped by 5.1 percentage points, from 12.4 percent to 7.3 percent.
Job growth, however, has been uneven. The California State Controller's Office observed in June, "In general, gains in the services sector have countered losses on the goods side. There are important exceptions. For example, the mining sector, including oil exploration and drilling, has added jobs, while information services, retailing, banking, and government are still trailing their prior highs." Health care has gained more than 350,000 jobs, an increase that has counterbalanced the 200,000 jobs lost in construction.
Despite the state's high unemployment rate, job creation and a strong Democratic base helped Jerry Brown to a landslide victory.
Michigan
Michigan's unemployment rate dropped from 12.2 percent in September 2010 to 7.2 percent in September 2014. Michigan differs from the previous states mentioned because a loss in construction jobs was not the state's primary reason for such high unemployment in 2010: What hurt Michigan was the struggling automotive and manufacturing sectors.
In response to this crisis, Republican Governor Rick Snyder instituted a smaller and less burdensome corporate tax in order to attract startups and businesses considering relocation. In 2012, he passed a right-to-work law that instituted greater protections for its workers. Snyder's economic record has won him acclaim from the business community, which has embraced generally lower taxes and reduced regulation. After a tight 2014 race, Snyder bested Democrat Mark Schauer to remain governor.
Rhode Island
Unemployment in Rhode Island experienced a 4.1 percentage point drop between September 2010 and September 2014, from 11.7 percent to 7.6 percent. Rhode Island saw huge losses in the construction industry, where employment fell by 30 percent after peaking in January 2007. Manufacturing also suffered, bleeding out 18,000 jobs. Because of the weak economy, Rhode Island could not hang on to many of its most highly-educated workers: Alumni of Rhode Island's universities tended to relocate after graduating, or commute to nearby Massachusetts or Connecticut.
Governor Donald Carcieri, a Republican who was in office from 2003 to 2011, bore the brunt of the criticism for the state's economic struggles. He is famous for having invested $75 million of state money in baseball player Curt Schilling's video game company. After two years, the company filed for bankruptcy, and Rhode Island is still paying back the bonds it sold in order to cut Schilling a check.
Since Lincoln Chafee, took over the governorship in 2011, Rhode Island's economic situation has improved considerably. Chafee cut the corporate tax rate and increased the estate-tax threshold. He also passed education reforms and allocated money to workforce development. Though Chafee, who was elected as an independent before joining the Democratic party in 2013, did not run for reelection, Rhode Island residents elected his party-mate Gina Raimondo over Republican Allan Fung in this year's election.
Florida
The unemployment rate in Florida dropped by 5.2 percentage points, from 11.3 percent to 6.1 percent, between September 2010 and September 2014. The recession took such a toll on Florida because the state is so dependent on its housing sector. When the housing bubble burst, so did Florida's economy.
Republican Governor Rick Scott claims to have created more than 600,000 jobs. About half of the improvement in the unemployment rate is the result of discouraged Floridians who have dropped out of the labor force. It would take about 900,000 new jobs to employ the same number of workers as before the recession. So far, the majority of new jobs that have been created are mostly low-paying service jobs. After a close race with Democratic challenger Charlie Crist, Scott managed to secure another term as governor in this year's midterms.