'Tis the Season for Sickly Sweet Coffee Drinks
On Wednesday, Starbucks released its latest sugary holiday cash-in, the Chestnut Praline Latte. It has 39 grams of sugar. I downed all of them.
On Wednesday morning, I did something I hadn't done in about five years: I went for a jog before work. I wasn't turning over a new leaf or starting a fitness ritual just before the winter cold preempts it (though I have done that before). No, the urge corresponded with something that also hadn't happened in five years, namely the Starbucks release of a new holiday drink, the Chestnut Praline Latte. And I knew I would need extra energy to get through one.
The Chestnut Praline Latte, a Starbucks spokeswoman told Fox, is "inspired by the time-honored holiday tradition of warm roasted chestnuts… with freshly steamed milk and flavors of caramelized chestnuts and spices." Devotees of the Pumpkin Spice Industrial Complex have already hailed it for its richness.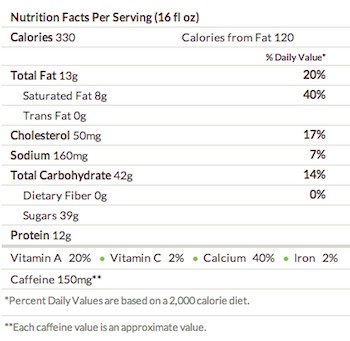 Just how rich is the Chestnut Praline Latte? Pretty rich.
The basic 16-ounce grande incarnation topped with whipped cream and made with two-percent milk is a whopping 40 percent of your daily saturated fat intake. I knocked that down to 22 percent by ordering one with nonfat milk. But even that adjustment didn't affect the sugar count, which is a whopping 39 grams.
Thirty-nine grams of sugar, depending on your perspective, may be a mind-boggling number. Consider that there are also 39 grams of sugar in a 12-ounce can of Coca-Cola. Then, perhaps consider that there are only 1o grams of sugar in an original glazed Krispy Kreme donut.
As I sidled up to the counter at my regular Starbucks, I really had no idea that I was about to imbibe the same amount of sugar as nearly four Krispy Kreme donuts. But I did. And it was incredible.
Holiday drinks typically do coffee chains well. As the New York Daily News pointed out, "Last year, Dunkin' Donuts trotted out red velvet lattes and salted-caramel hot chocolates—and got a 27 percent boost in revenue." Starbucks, compelled by the 12 percent jump it gets during the holiday drink season, released its Pumpkin Spice Latte offering early this year, during the dog days of August.
In spite of its saccharine finish, what struck me the most about the Chestnut Praline Latte is that it's actually healthier (or less bad for you) than the Pumpkin Spice Latte or the Caramel Brulée Latte, which was part of the last Starbucks holiday drink expansion back in the 2009. That latter concoction has about 110 more calories and 13 grams more sugar in its basic grande two-percent iteration than its Chestnut Praline sibling.
Despite all this, my morning's indulgence almost entirely offset the caloric credit that lumbering nearly three miles at a sluggish 11-minute pace had afforded me earlier in the day. Also, despite the caffeine, the Chestnut Praline brew also sapped me of my energy.
"The rich, earthy, sweet, roastiness of chestnut is a perfect foil to espresso," Amy Dilger of the Starbucks research and development team said of the new creation. That much is true. Fifteen minutes after I finished, the sugar wore off and I was ready to go to sleep.