The NFL's Indentured Servants
At the Tampa Bay Buccaneers' stadium, employees forfeited their wages to a local shelter in exchange for room and board, according to a new report.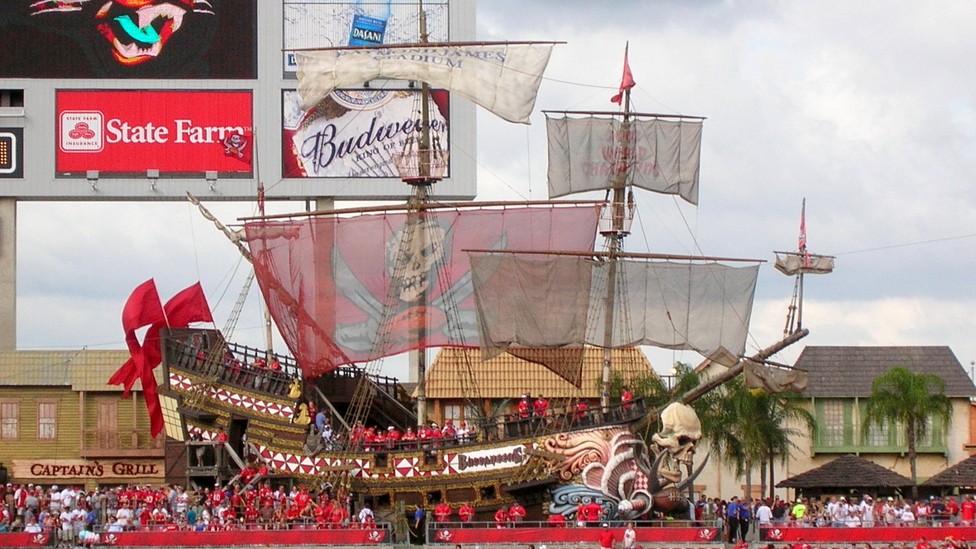 For years, fans attending Tampa Bay Buccaneers games at Raymond James Stadium have bought beer, hot dogs, and other food items from vendors supplied by New Beginnings, a local shelter housing many drug and alcohol-addicted residents. The workers, however, aren't paid directly for their work. Instead, their wages go to New Beginnings, which in turn provide them with free food and a place to live.
To New Beginnings CEO Tom Atchison, the arrangement with the Buccaneers is a social good, and part of the residents' "work therapy." But labor advocates think a different word, one once relegated to middle-school history textbooks, is more apt: indentured servitude. And that—according to a long investigation in the Tampa Bay Times published on Sunday—may not be legal.
The Buccaneers are not the only organization to use New Beginnings residents. The city's other two professional sports franchises—baseball's Rays and the NHL's Lightning—have also employed the workers as vendors, as has the Daytona 500 auto race and the Florida state fair. In addition, Atchison has assigned workers to jobs in construction, landscaping, and even in grant writing, according to the Times report. Former residents have accused New Beginnings of confiscating Social Security checks and food stamps in addition to wages, a charge Atchison denies.
Technically, it isn't illegal to compensate workers with food and shelter, as the Salvation Army has done for many years. But doing so requires companies to provide evidence that the value of their compensation equals or exceeds what the workers would earn through federal minimum wage. In addition, New Beginnings may violate labor laws by contracting workers to for-profit organizations. According to the Times, an organization similar to New Beginnings was found guilty of violating New York City labor laws in 1998.
For the Buccaneers, currently slogging through a miserable 2-10 season on the field, the New Beginnings revelation may turn into the organization's second labor-related headache of this year. In May, former Bucs cheerleader Manouchcar Pierre-Val sued the team for violating federal and state wage laws, one of a number of similar lawsuits filed against six different NFL teams in 2014. Reports from Bloomberg Businessweek, Cosmopolitan, and Vice have documented numerous instances in which cheerleaders received little to no compensation despite the physically demanding, high-profile nature of their work.