The Economics of Thanksgiving Dinner
Turkey is cheaper this year, but your holiday dinner will be more expensive.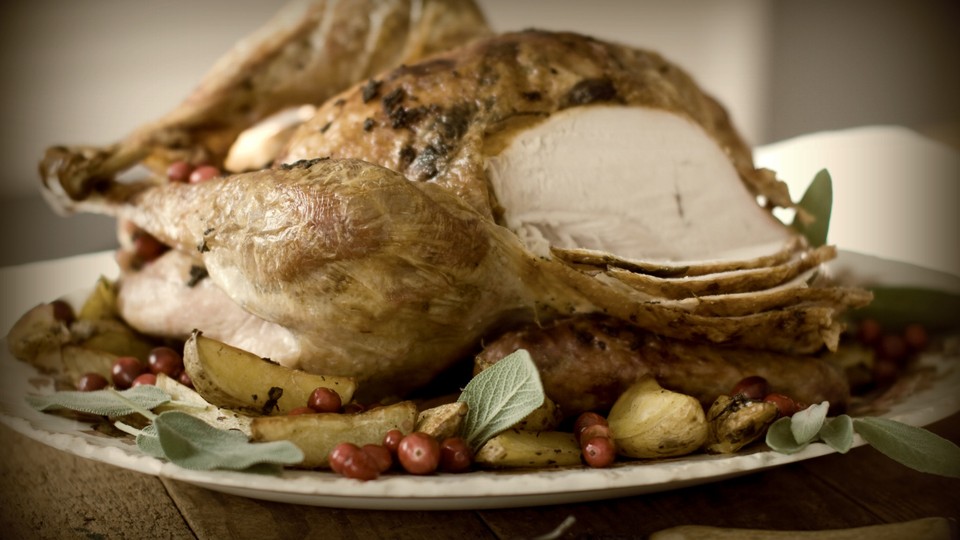 From negotiating family politics at the dinner table to managing the misery of holiday travel, the entire Thanksgiving enterprise is fraught with challenges for which we're supposed to be grateful. (And, of course, we are.)
Even the annual traditions, like the constant of the Thanksgiving dinner, is subject to the whims of the universe. On Thursday, for example, the American Farm Bureau Federation announced that the price of Thanksgiving dinner is going slightly up this year. Using an informal survey of typical Thanksgiving offerings, the group determined that "the average cost of this year's feast for 10 is $49.41, a 37-cent increase from last year's average of $49.04."
And while price increases seem to be a steady part of the tradition too, this year's presumptive Thanksgiving feast offers an interesting insight into how the economy is functioning. According to the U.S. Bureau of Statistics, turkey is actually 13 percent cheaper this year, despite the rising cost of most other meats. As the Columbus Dispatch noted, "at $1.58 a pound for a frozen bird at retail in September, the latest data available, turkey was 24 cents per pound cheaper than at the same time in 2013."
The greater trend though, it adds, snaps the wishbone less in favor of the consumer: In 10 years, the per-pound price of turkey has risen 50 cents.
So if falling fuel prices are dovetailing with a drop in corn and soybean prices (making turkey a bit cheaper), why is the overall cost of Thanksgiving dinner going up? The AFBF says prices for other staples like "sweet potatoes, dairy products and pumpkin pie mix" all jumped up in price.
Meanwhile, in terms of actually getting to the table, driving seems to be the way to go. As the AP reported:
Amtrak says its ticket prices have increased an average of 2 percent over last year. Same goes for flying. The average price of an airline ticket for travel this Thanksgiving is $307.52, not including an average $51 in taxes and fees, according to the Airlines Reporting Corp.
The secret may be out though. According to AAA estimates, over 46 million Americans will drive 50 miles or more to their Thanksgiving gatherings. That's 4.2 percent increase from last year and the highest number since 2007.